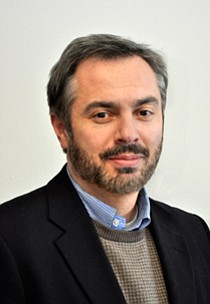 Todd Stauffer is the publisher and co-founder of the Jackson Free Press and BOOM Jackson magazine. In the past, Todd Stauffer has worked as a technical writer and book author, magazine writer and TV/radio host. He grew up in Dallas, Texas, and current resides in Belhaven with Donna Ladd and her cats. He attended Texas A&M University.
Recent Stories

"If a male politician elects to follow the "Billy Graham Rule," it really is incumbent upon him to make the accommodations necessary to meet with women—reporters, constituents, policy advisers and advocates."

"It's up to men to solve sexism." We were at breakfast when Donna said that to me. I was immediately struck by the profundity of the statement—in part because it resonates with another one that I've internalized from my years of volunteerism as a racial-healing dialogue participant and facilitator.

As the weather gets a little more accommodating, I encourage you to take advantage of opportunities not only to have a little fun but to support local artists, local organizations or to lend your support to an important cause.

This issue of BOOM Jackson serves two major purposes. One, it's a three-month look ahead at arts and cultural events in the Jackson metro. Two, we do the BOOM edition quarterly, with a focus on local entrepreneurship and economic development—stuff I love!

Each year, we use Best of Jackson to highlight the best local businesses, people and organizations in the city.

For the better part of two decades, the JFP has been proud to present the one, authentic, local and first "Best of" competition that seeks to promote the unique people, businesses and organizations that make life in Jackson metro what it is.
Proponents of the "One Lake" project on the Pearl River have a high bar to clear, and I don't think they're doing it yet. Their problem is simple: lack of transparency.

The Rainbow Co-op Board of Directors, which voted to seek Chapter 11 reorganization protection in March, has now decided to close the grocery, which has been open since 1980.
Let's jump right to it—we're announcing exciting changes with this issue. We've been planning for months how we will best serve the reader, how we serve local businesses and help make Jackson the best place we can moving forward.

One of the biggest letdowns of the modern era—and the money involved in American politics—is the complacency that sets in once someone gets into office.