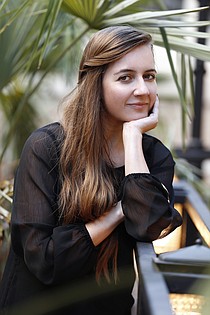 Arielle Dreher served as state reporter of the Jackson Free Press from June 8, 2015, until June 20, 2018.
Follow her on Twitter at @arielle_amara.
Recent Stories

One day before public comment closed on the "One Lake" flood-control and development project proposed along the Pearl River, the Mississippi Department of Transportation sent a letter to the Rankin-Hinds Flood Control District attorney Keith Turner.

This year will be an entertaining ride for Mississippi voters, who will have elect all four congressional representatives as well as two senators to represent the state in Washington, D.C.

Mississippi leaders' refusal to expand Medicaid under the Affordable Care Act left about 300,000 Mississippians without access to health care and led to the closure of several rural hospitals deprived of funds—which has emerged as a 2018 issue in the midterm elections.

The Rankin-Hinds Pearl River Flood and Drainage Control District, often called the Levee Board, is supporting the "One Lake" plan, the latest version of a years-long strategy to create a lake development along the Pearl River through Jackson.

NFusion Metro is a community-based mental-health-care program primarily for ages 11 to 18 years old in the Jackson area. During the summer, counselors are doing themed weeks for their lesson time.

Federal funds cannot pay for abortions, but anti-abortion rights advocates and lawmakers object to funding Planned Parenthood at all with federal and state dollars due to the fact that they still offer abortions.

Howard Sherman won the most votes (about 31 percent) on June 5 in the Democratic primary for Sen. Roger Wicker's Senate seat.

David Baria knew he was fighting an uphill battle when he decided to run for U.S. Sen. Roger Wicker's long-held Senate seat. Baria's first challenge, however, is securing the Democratic spot on the November ballot.

Democratic U.S. Senate contenders David Baria and Howard Sherman share a common interest in basketball, at least for campaign metaphor purposes.

Matthew Riley has been on the road a lot lately. As the state re-entry coordinator, Riley visited all 82 counties in Mississippi in the past nine months in search of employment opportunities for returning citizens leaving the state's corrections system.