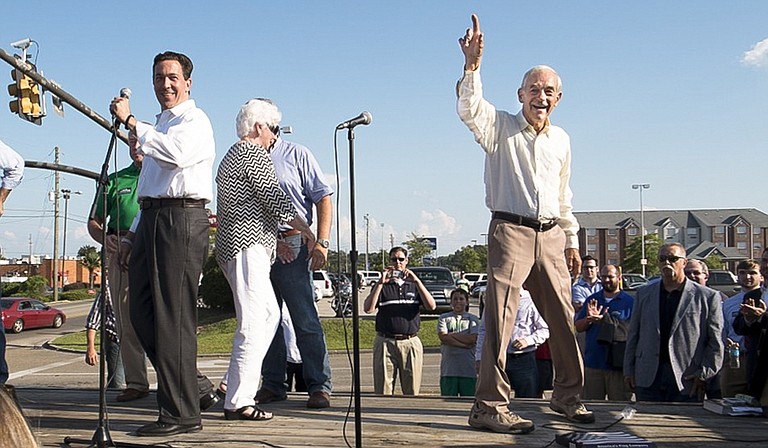 Thursday, September 20, 2018
Former Texas Congressman Ron Paul urged voters to elect "courageous leaders" like Mississippi State Sen. Chris McDaniel, R-Ellisville, "to stand up to the establishment in Washington" in an endorsement McDaniel's campaign announced via press release Wednesday.
"Conservatives who want more liberty and less government should get behind Chris McDaniel in Mississippi," said Paul, an icon among right wing libertarians, who also endorsed McDaniel in his first bid for U.S. Senate in 2014.
McDaniel praised Paul for having "inspired so many Americans to get involved in politics and to engage the system."
"Dr. Paul is a champion for civil liberties and opponent of government overreach and out-of-control spending, and I'm very excitred to have his endorsement in our fight for liberty in Mississippi," McDaniel said.
A History of Controversy
Like McDaniel—who spent the past week warding off criticisms that he insulted black Mississippians in an episode of MSNBC's Morning Joe last week—Paul is no stranger to race-related controversies.
When Paul ran for the Republican nomination for president in 2008, old newsletters from the late 1980s and early 1990s issued under his name resurfaced. "I think we can safely assume that 95 percent of the black males in (DC) are semi-criminal or entirely criminal," one newsletter read; "Order was only restored in L.A. when it came time for the blacks to pick up their welfare checks," another read; "Homosexuals, if admitted, should be put in a special category and not allowed in close physical contact with heterosexuals" and gay AIDS patients "enjoy the attention and pity that comes with being sick," read others.
Paul also praised former Ku Klux Klan Grand Wizard David Duke for taking a stand against the "establishment."
Asked about the newsletters in 2008, Paul said he had never read them and did not know who wrote them; the articles contain no bylines. A corporation Paul helped form in 1984 called Ron Paul & Associates published the newsletters, including Ron Paul's Freedom Report, the Ron Paul Survival Report, the Ron Paul Political Report, and the Ron Paul Investment Letter.
As a candidate for the Republican nomination again in 2011, Paul drew fire after saying he would have voted against the 1964 Civil Rights Act had he been in Congress at the time. In Paul's view, government shouldn't force businesses to not discriminate on the basis of race; people would simply choose not to patronize such a discriminatory establishment, he argues.
Defender of Russia
Paul, the father of Republican Sen. Rand Paul of Kentucky, is a frequent guest on Russia Today, the Kremlin's English-language propaganda network. In a July apperance, Paul called Special Counsel Robert Mueller's investigation into Russia's attacks on U.S. election systems a "propaganda stunt" and said the media is "wrong" to "cast Russia as an enemy."
Paul also defended Russia after the Obama administration accused Russia of bringing down Malaysian Airlines Flight MH17 in 2014, shifting the blame to Ukraine. Last year, he said chemical attacks by Russian-backed Syrian President Bashar al-Assad were a "false-flag operation."
Paul joined several high profile conservatives in endorsing McDaniel four years ago, including former Alaska Gov. Sarah Palin, the 2008 Republican nominee for vice president, and former Sen. Rick Santorum, R-PA. So far, neither Palin nor Santorum have endorsed McDaniel this time around.
Mississippi's U.S. Senate special election is on Nov. 6, 2018, the same day as the national midterms. Mississippi's other U.S. Senate seat and House seats in each of the state's four congressional districts will also be on the ballot. Polls in Mississippi are open from 7 a.m. to 7 p.m.
Ashton Pittman covers politics and elections for the Jackson Free Press. Follow him on Twitter @ashtonpittman. Email him at [email protected]. Read more 2018 campaign coverage at jfp.ms/2018elections.