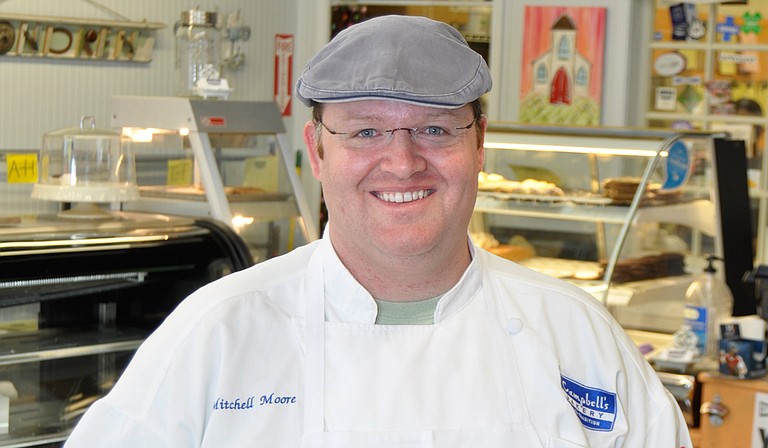 Tuesday, September 11, 2018
Mitchell Moore, owner of Campbell's Bakery (3013 N. State St.; 111 Colony Crossing Way, Suite 120, Madison), recently announced plans for a new branch of the business called Campbell's Craft Donuts, which will be located at the currently in-development Belhaven Town Center.
"We plan to start construction on a new building on the corner of Jefferson and Manship in September for Campbell's Craft Donuts," Moore told the Jackson Free Press. "It's going to be a scratch donut shop, which means that everything we serve will be made from scratch in-house. This new shop is going to offer specialty crafted large donuts, similar to what you'd find at District Donuts or Voodoo Doughnuts in New Orleans.
"We're going to be bringing the same level of commitment to quality we have at our other shops in Jackson and Madison to Belhaven. Everything from tortilla shells to toppings for donuts will all be made in-house."
Campbell's Craft Donuts will also offer a food menu that includes breakfast tacos, sandwiches and more, and will partner with local coffee roastery BeanFruit Coffee Company to offer a full coffee bar.
Moore said the store will be a two-story, 3,000-square-foot building with retail space on the ground floor and offices on the second. He plans to open the shop in the second quarter of 2019.
Kebab & Curry Opens in Madison
Jeetender Anand, a local chef who previously cooked for restaurants such as Spice Avenue and Bombay Bistro, opened a new south-Asian specialty restaurant called Kebab & Curry (160 Weisenberger Road, Madison) on Friday, Sept. 7.
In addition to its titular foods, Anand's restaurant includes Indian dishes such as biryani, butter chicken, mixed vegetable pakora, samosas, tandoori, tikka and more. Kebab & Curry is currently in a soft-opening phase, during which only buffet service is available, but customers can view the lunch and dinner menus online.
Anand was born in Hyderabad, India, and got his start as a chef working for Carnival Cruise Lines in 2000. He moved to California that same year, and later opened a restaurant called Panpra in 2002. He also operated an Amber India location in San Jose before moving to the Jackson area in 2004.
"When I moved to Jackson, the food here reminded me of what my mother, who was half English, used to make in her kitchen, and that appealed to me," Anand said. "I like to call the food I make here at Kebab & Curry 'soul food with a kick,' and I think anyone who likes that kind of food will also like what they find here."
Kebab & Curry is open Monday through Thursday from 11 a.m. to 2 p.m. and 5 p.m. to 9 p.m.; Fridays from 11 a.m. to 10 p.m.; Saturdays from 11 a.m. to 2:30 p.m. and 5 p.m. to 10 p.m.; and Sundays from 11 a.m. to 2:30 p.m. For more information, call 769-300-2493 or visit mykebabandcurry.com.
Downtown Fitness Celebrates One-Year Anniversary
Downtown Fitness, powered by Baptist Health Systems (100 E. Capitol St., Suite 107), will celebrate its one-year anniversary on Friday, Sept. 14. The facility was previously the University of Mississippi Medical Center's University Wellness Center Downtown. Chris Baker, who formerly managed the University Wellness Center, now serves as Downtown Fitness' executive director.
"At Downtown Fitness, we're not selling anything we feel people don't need," Baker said. "We're here to help people develop a healthy habit. I want to change lives in Jackson and make everyone's lives a little healthier."
The 17,000-square-foot center offers group exercise classes, executive-style locker rooms, a total-body-toning boot camp, indoor cycling, low-impact and high-output cardio machines with integrated TVs, total-body-training strength machines and a comprehensive free-weight training area.
Downtown Fitness' anniversary celebration will be from 11:30 a.m. to 1 p.m., and will have special group exercise classes, snacks and a drawing to win one of a dozen prizes, including free one-month trial memberships, free personal training, T-shirts and more.
During the event, the center will also offer two membership specials. For the first, visitors can pay a $99 enrollment fee and pay nothing else until January 2019. Alternatively, visitors can pay in full for a one-year membership and get a 25-percent discount.
For more information, call 601-487-6462 or visit mbhs.org.