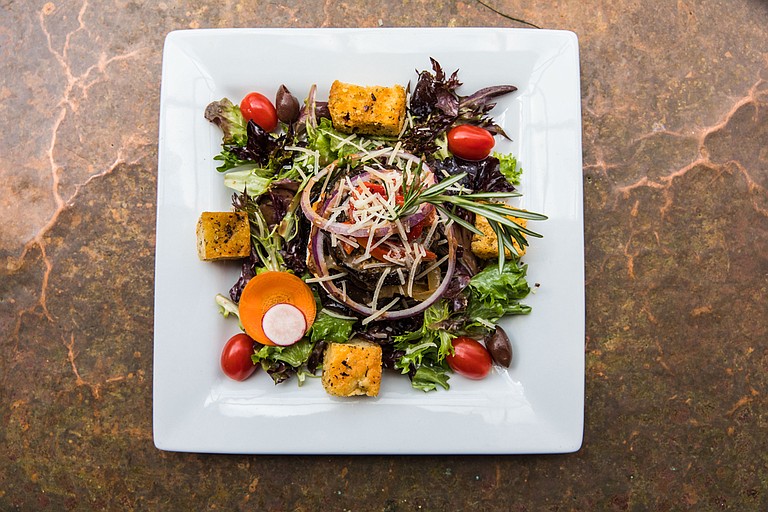 Tuesday, October 23, 2018
BRAVO! Italian Restaurant & Bar (4500 Interstate 55 N. Frontage Road) launched a new vegan menu on Thursday, Oct. 18. The menu includes wood-oven roasted cauliflower, grilled portabella mushrooms, veggie burgers, salads, risotto, vegan pizza, chocolate cake, sorbet and other items.
"We felt that vegans were a culture in our community that hasn't received enough attention and wanted to address it," Tanya Burns, service manager for BRAVO!, told the Jackson Free Press. "We want everyone to always have exactly what they're looking for when they go out to eat in a group. There's always going to be something for everyone to eat here, and vegans can find consistency in our menu. We also have a gluten-free menu for anyone who is in need of it."
For more information, call 601-982-8111 or visit bravobuzz.com. View the complete menu at bravobuzz.com.
Fleet Feet Coming to Flowood
Lesley and Matthew Holleman, co-owners of Fleet Feet Jackson (500 Highway 51, Suite Z, Ridgeland), plan to open a second Mississippi location in the Lakeland Commons shopping center at 153 Ridge Way in Flowood later this fall.
"We've been considering opening a store in Flowood for a long time because it is an underserved market for specialty running gear," Lesley told the Jackson Free Press. "My husband and I have wanted to come here since around 2013, but our children being born had us needing to put it off. It was last year that we started looking for a space to make this happen and found just what we needed."
The new Fleet Feet store will be roughly 2,000 square feet and will host fun runs and training programs for beginning 5K runners beginning in March 2019, she said. Fleet Feet Flowood will also offer training programs for The Big Run 5K in June 2019 through the Fleet Feet Running Club. The training programs will begin in March 2019.
The store will also employ outfitters who will use Fleet Feet's "fit id" system to measure and assess customers for the type of shoe that best suits their fitness needs. The system creates a three-dimensional scan of a customer's foot, after which outfitters interview the customer to find running wear to fit their activity and biometric needs.
The Hollemans plan to hold a grand opening with specials, giveaways and a running event when the store is ready to open, which Lesley said she anticipates will be in time for Thanksgiving this year.
For more information, call 601-899-9696 or visit fleetfeetjackson.com.
Rainbow Co-op Building to Become Fondren Fitness
Jackson architectural firm Wier Boerner Allin has partnered with Sean Cupit, who owns Fondren Public and CrossFit 601 in Ridgeland, to purchase the building that previously housed the Rainbow Co-op grocery store to turn it into a new fitness center called Fondren Fitness.
Rainbow closed in July after http://www.jacksonfreepress.com/news/2018/jul/10/rainbow-co-op-closing-froogels-buys-mcdades-and-sb/ its board of directors declared bankruptcy. The new owners purchased the building on Friday, Oct. 19.
"We're hoping to create a dynamic space for Fondren and fill the void (Rainbow's closing left) with a fitness center that many of us have been looking for in the neighborhood," Michael Boerner told the Jackson Free Press. "So far, we've received nothing but glowing support both from the City and from the residents of Fondren for our plans."
Fondren Fitness will be a multidisciplinary fitness facility that offers classes for all ages, he said. The owners are currently working to obtain a special-use permit from the city, as the property is not currently zoned for use as a fitness center.
Once they have a permit, the group plans to begin renovations, which will include replacing the building's current tin facade with a glass wall. Fondren Fitness will also have two floors, three classrooms, locker rooms with showers, and a locally owned smoothie shop.
Boerner said he and the other owners are discussing plans with the building's neighbors—Cups, Montgomery Ace Hardware, Fondren Public and Hops & Habanas—to renovate the parking lot in front of the center.
They are also looking into solutions for the persistent flooding problem in the space, which was one of the contributing factors to Rainbow closing. Fondren Fitness should be ready to open by spring 2019, he said.