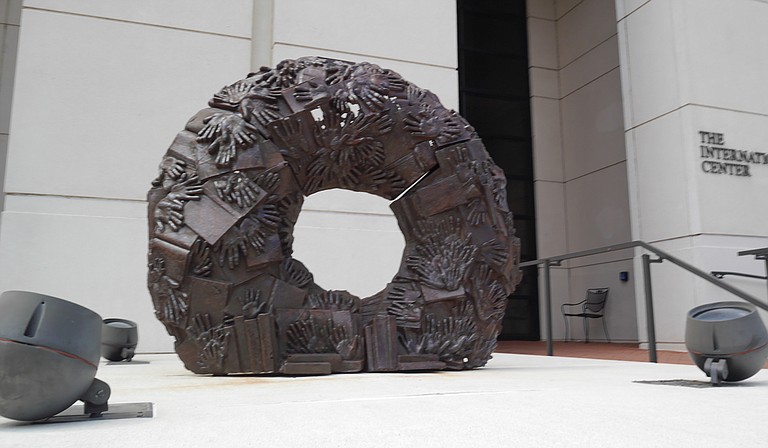 Kristen Tordella-Williams, an assistant professor of art at Millsaps College, is one of four artists whose work is on display as part of the University of Southern Mississippi's Outdoor Sculpture Exhibition.
The exhibition will be on display in front of USM's International Center through March 2020. The other three featured artists are Noah Kirby, Chris Wubbena and Phil Proctor.
"Eudora Welty Wreath," the iron sculpture that Tordella-Williams created for the exhibition, features castings of handprints from patrons of the Eudora Welty Library in Jackson, as well as cast-off books from a book sale at the library. Tordella-Williams was able to complete the project thanks to a creative artist grant from the Greater Jackson Arts Council and a grant from the Mississippi Arts Commission.
Tordella-Williams teaches drawing, digital arts, sculpture, performance art and papermaking at Millsaps. She has been an artist in residence at Salem Art Works in Salem, N.Y., and Franconia Sculpture Park in Franconia, Minn. She is also a member of the Mid-South Sculpture Alliance and is one of the founders of the annual VergeJXN arts festival in Jackson.
MSU Opens Community Garden
Mississippi State University held a ribbon-cutting ceremony for its new Community Garden on Monday, Oct. 15. The ceremony also served as the launching point for the university's Green Week, which included activities focused on recycling and sustainability, as well as the cleanup of a local stream.
Cory Gallo, an associate professor of landscape architecture at MSU, is in charge of the Community Garden. The garden is in the courtyard of the landscape architecture facility, next to a rain garden that the university created in 2017 with a grant from the Environmental Protection Agency.
The Community Garden features 19 large raised planters and eight accessible planters. It also houses a pair of autonomous farming robots, which the members of the MSU Students for a Sustainable Campus organization operate. Students collect food from campus dining halls to use as compost for the garden, which also features a pair of 2,000-gallon cisterns that collect rainwater and condensation from a nearby air-conditioning unit.
The garden will also serve as an outdoor laboratory for sustainable and healthy food courses at MSU and as a research site for the Mississippi Agricultural and Forestry Experiment Station.
For more information, visit communitygarden.msstate.edu.
Tougaloo College Founders' Week Events
Tougaloo College is celebrating its 149th anniversary with a series of events this weekend as part of Founders' Week, which began on Monday, Oct. 15, and runs through Sunday, Oct. 21.
Today, Friday, Oct. 19, Tougaloo will hold its 26th annual Hall of Fame Banquet at 7 p.m. at the Hilton Jackson hotel (1001 E. County Line Road). Honorees at the banquet include Sylvia Burkhead Gray, Jeannie Coe Flood, Ethel Jean McLaurin Gibson, Dr. Rosie Walker McNair, Rev. Marvin Love and Tougaloo President Beverly Wade Hogan. For ticket information, call the Office of Alumni Affairs at 601-977-7836.
The college will host a Sesquicentennial Celebration Kick-off Party on Saturday, Oct. 20, from noon to 4 p.m. on the Owens Health and Wellness Center lawn. The free event will include a children's village, bounce houses, face painting, pizza and giveaways from radio station WRBJ 97.7, which will also broadcast live from the event.
Founders' Week will culminate with the Founders' Convocation on the Woodworth Chapel lawn on Sunday, Oct. 21, at 10 a.m. Tougaloo alumnus Jarvis McInnis, an assistant professor of English at Duke University, will be the keynote speaker.
For more information, call 601-977-7700 or visit tougaloo.edu.