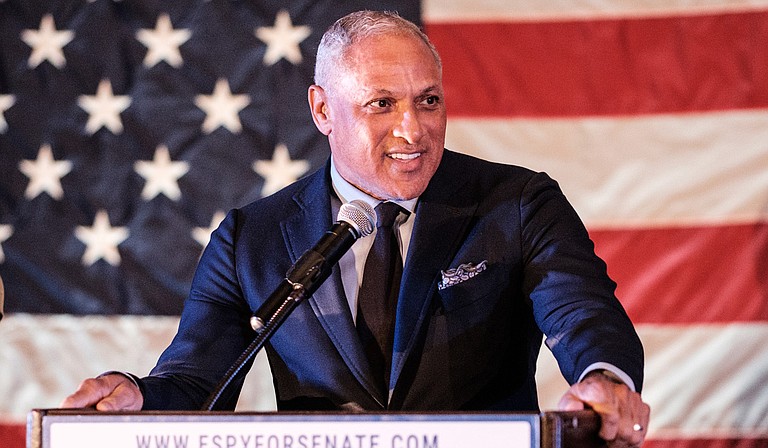 Friday, November 30, 2018
JACKSON — On his 65th birthday, Democrat Mike Espy filed Friday morning to run for the U.S. Senate seat held by incumbent Republican Sen. Cindy Hyde-Smith when it is up again in 2020.
The filing comes just two days after Espy lost to Hyde-Smith in Tuesday's special election, though he came closer to winning a U.S. Senate seat than any Democrat has in decades.
"We flipped four counties that voted for Trump in 2016 and outperformed Obama and Clinton," former Espy campaign Communications Director Danny Blanton told the Jackson Free Press Friday afternoon. "Nobody, no Democrat had done what we did in the state of Mississippi since 1982."
Blanton, who stressed that there is currently no official campaign staff, himself included, said the relative strength of Espy's performance is what compelled him to file to run again in 2020.
"I think it was just the momentum, and I think Secretary Espy did a lot of soul searching and determined that there's still too much to be done in Mississippi and wanted to put himself in a good position if he does decide to run," Blanton said. "He's very interested in doing it. As Mike said in his concession, this isn't the end—it's the beginning. We did things we'll be able to build on."
Blanton said he believes Espy outperformed past Democratic candidates because of his focus on issues like affordable health care, protections for pre-existing conditions, rescuing rural hospitals, and helping students and graduates bogged down in student-loan debt.
'Time to Do it the Right Way'
Espy's performance is even more impressive considering the compressed time frame the special election allowed, Blanton said. No one knew there would be a special election until former Sen. Thad Cochran stepped down from his seat in March for health reasons. Cochran last won re-election in 2014, and his seat was not supposed to be up again until 2020. Gov. Phil Bryant appointed Hyde-Smith as interim senator in April, triggering this month's special election.
During his concession speech, Espy credited his team for building the campaign infrastructure it did in the relatively little time that was available. "We didn't have two years," he said.
"You do now," one supporter in the crowd shouted.
"Two more years!" several others chanted.
"You've got to remember that when we started this campaign in April, we had eight months to do what normally people have two years to do," Blanton said. "So if this is going to be done again, he's going to give himself time to do it the right way and not be rushed."
Espy would be in a strong position to build on the silver-lining successes that were evident on election night, Blanton said. "I think we can have stronger field operation because we'll have more time to build on and expand our base, which will give us a better shot," he said.
Filing with the FEC, he noted, will also give Espy a chance to get a headstart on fundraising. The Espy campaign raised $7 million in in eight months. Now, Espy will have two years to bring in donations.
Will Trump's Woes Motivate More Dems in 2020?
Running in 2020 could be a lot different from running in 2018. Unlike the 2018 midterm elections, 2020 is a presidential election year, which brings significantly higher voter turnout. The makeup of the 2020 electorate in Mississippi could depend heavily on what happens over the next two years of the Trump presidency.
On Thursday, Trump's former personal attorney, Michael Cohen, testified under oath that he was in contact with officials who work for Russian President Vladimir Putin during the 2016 election to negotiate plans for a Trump Tower in Moscow. That was during the same time Russia was secretly interfering in the U.S. election in hopes of helping elect Trump.
If Special Counsel Robert Mueller's investigation into ties between the Trump campaign and Russia continues to link the Trump campaign to the Russian government, or if Trump's popularity continues to struggle for other reasons, it could drive up turnout among Democrats in 2020 even in states like Mississippi. It could also drive up turnout among Republican voters eager to defend the president.
There is also the possibility that Mueller's investigation could fail to find enough evidence to conclusively link Trump to the Russian efforts, and that or other factors could lead to a rise in Trump's popularity ahead of 2020.
Right now, though, Blanton said, Espy is just taking the first steps toward a potential run.
"It's going to take time to really determine any kind of strategy, any kind of timing, any kind of staff presence," Blanton said. "All this is going to take time. Right now, we're just filing with the FEC to give them notice of our intent and interest."
While Hyde-Smith succeeded in her bid to become the first duly elected woman to Congress from Mississippi, Espy flipped nine counties from red to blue since the 2014 midterms, and drew the race to a closer margin than any since 1982.
That year, Democratic Sen. John C. Stennis won a landslide re-election campaign against future Republican Gov. Haley Barbour. Since then, only two Democrats have come within single digits of beating a Republican candidate: Wayne Dowdy in 1986 and now Espy in 2018, with Espy marginally outperforming Dowdy.
Hyde-Smith beat Espy 53.9 to 46.1—a 7.8-point margin. After Espy and Dowdy, former Democratic Gov. Ronnie Musgrove had the third-best showing in 2008, losing to then-appointed-incumbent Roger Wicker by 10 points, 55 to 45.
On Tuesday, Espy flipped nine counties: Adams, Copiah, Issaquena, Lowndes, Oktibbeha, Panola, Pike, Warren and Yazoo counties. Hyde-Smith only flipped one county from blue to red: Benton County.
Hyde-Smith's seat is not up again until Nov. 3, 2020.
Ashton Pittman covers politics and elections for the Jackson Free Press. Follow him on Twitter at @ashtonpittman. Email him at [email protected]. Read more 2018 campaign coverage at jacksonfreepress.com/2018elections.