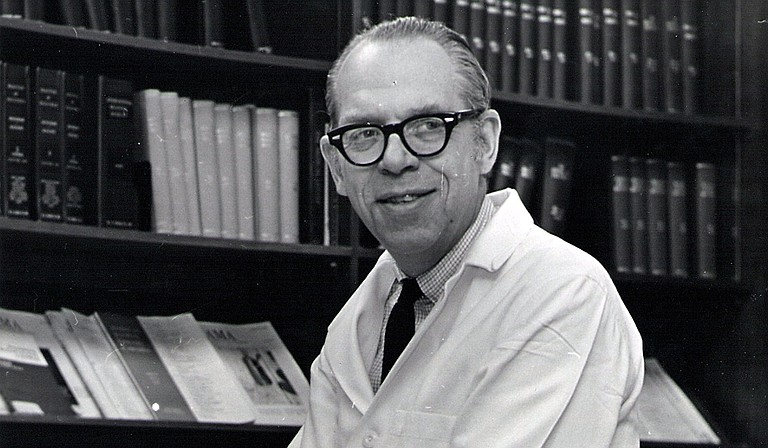 Friday, November 30, 2018
Blair Everett Batson, namesake and first chairman of pediatrics at University of Mississippi Medical Center's Batson Children's Hospital, died on Nov. 26 at age 98.
Batson was born in Hattiesburg in 1920 and grew up in the small town of Orvisburg. His family later moved to West Point around the beginning of the Great Depression.
He earned his bachelor's degree in medicine at Vanderbilt University in 1941 and his doctorate in the same subject there in 1944. Batson completed a residency in pediatrics at the university. While an undergraduate, he served as president of the Vanderbilt's student council and president of Sigma Chi fraternity. He also worked as chief resident at Vanderbilt University Medical Center from 1949 to 1950 and had a faculty appointment there from 1949 to 1952.
He served in the U.S. Army during World War II and in the U.S. Army Medical Corps from 1946 to 1948 in Giessen, Germany, where he was a ward officer for contagious diseases and pediatrics for the 388th Station Hospital.
Batson later received a Master of Public Health degree from Johns Hopkins University in 1955. He also completed a one-year residency at Johns Hopkins Hospital, and was on the faculty of both the Johns Hopkins School of Public Health and the Johns Hopkins School of Medicine from 1952 to 1955.
Batson joined the faculty at UMMC when it first opened in 1955 and was named chair of the Department of Pediatrics after only two months.
When he came to UMMC, he and his late first wife, Margaret Batson, were the only faculty in the pediatrics department, Owen B. Evans, professor emeritus and the second chairman of pediatrics at UMMC after Batson, told the Jackson Free Press. Batson later brought in community pediatricians to help out with the clinical and teaching load in 1958, and built up the department until there were 22 faculty members when Evans succeeded him as chairman in 1989. Today, Evans says, the department has close to 100 faculty members.
"Dr. Batson was a good listener and a gentleman who wanted to be fair with everyone," Evans says. "He let you do your job and wasn't trying to do it for you. He trusted people and gave them jobs but didn't meddle. I never saw him get angry, and he always handled problems in a cool manner. If not for him, I probably wouldn't be here today. I owe him a debt for the confidence he had in me to lead the department after him."
During Batson's time at UMMC, he taught more than 3,500 medical students and 240 pediatric residents. One of his students was the late Aaron Shirley, whom Batson hired as the first African American resident at UMMC in 1965. Shirley went on to found the Jackson Medical Mall, among other accomplishments.
Batson also served as an examiner for the American Board of Pediatrics from 1963 to 1990, a member of the executive board of the American Academy of Pediatrics from 1974 to 1980 and president of the pediatric section of the Southern Medical Association.
The University of Mississippi Alumni Hall of Fame honored Batson with an induction in 1995, and Vanderbilt University named him as its Distinguished School of Medicine Alumnus of the Year in 1996. The Epilepsy Foundation of Mississippi selected him as its Humanitarian of the Year in 2000. Batson also received an award for leadership and devotion to child health care from the Mississippi Academy of Pediatrics.
UMMC named its then-newly constructed children's hospital the Blair E. Batson Hospital for Children in 1997 in honor of his contributions to child health care in Mississippi.