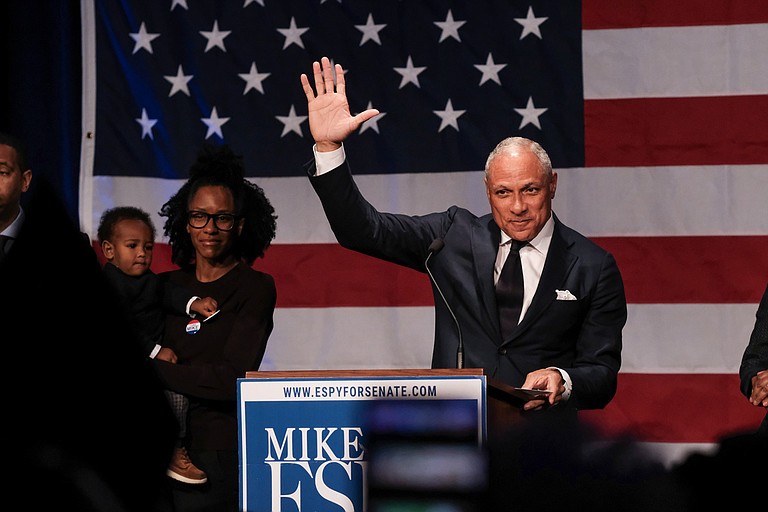 Thursday, November 29, 2018
JACKSON — Democratic U.S. Senate candidate Mike Espy did not win his bid for U.S. Senate in Tuesday night's special election, but he came closer than any Mississippi Democrat has in 36 years.
While his Republican opponent, Sen. Cindy Hyde-Smith, succeeded in her bid to become the first duly elected woman to Congress from Mississippi, Espy flipped nine counties from red to blue since the 2014 midterms, and drew the race to a closer margin than any since 1982.
That year, Democratic Sen. John C. Stennis won a landslide re-election campaign against future Republican Gov. Haley Barbour. Since then, only two Democrats have come within single digits of beating a Republican candidate: Wayne Dowdy in 1986 and now Espy in 2018, with Espy marginally outperforming Dowdy.
Hyde-Smith beat Espy 53.9 to 46.1—a 7.8-point margin. After Espy and Dowdy, former Democratic Gov. Ronnie Musgrove had the third-best showing in 2008, losing to then-appointed-incumbent Roger Wicker by 10 points, 55 to 45.
On Tuesday, Espy flipped nine counties: Adams, Copiah, Issaquena, Lowndes, Oktibbeha, Panola, Pike, Warren and Yazoo counties. Hyde-Smith only flipped one county from blue to red: Benton County.
Hinds Swung 38 Points in Espy's Favor
Espy's performance is a marked improvement over that of the last Democrat to run for the seat. In 2014, Democrat Travis Childers lost to then-incumbent Republican Thad Cochran by 22 points after drawing less than 38 percent of the vote.
In the 2014 race, Childers ran as a conservative Democrat, hoping to peel off Tea Party voters who were angry at Cochran after he narrowly beat back a primary challenge from his right by insurgent GOP state Sen. Chris McDaniel. The toxic primary produced a break-in at a nursing home, an accidental lock-in of Tea Party sleuths at the Hinds County Courthouse, Republican PAC money targeting black Democratic voters, a visit from Sarah Palin, a suicide, unproven allegations of voter fraud, and eventually felony charges (though not for either of the candidates).
The Democratic candidate even signed a Tea Party pledge with the far-right anti-immigrant organization that the Southern Poverty Law Center identifies as a hate group. McDaniel had signed the same pledge.
Childers also ran as an anti-abortion Democrat who opposed marriage equality for same-sex couples and argued against any new efforts at gun control. As a congressman in Mississippi's first congressional district in 2010, he voted against the Affordable Care Act.
Despite anger at Cochran from the right, Childers' gambit to win over conservative voters failed.
Espy bucked the assumption that a Democrat needs to run as a moderate to win in Mississippi, running as a liberal who embraced the Affordable Care Act and its pre-existing conditions protections, affirmed women's reproductive autonomy, advocated for gun ownership reforms like universal background checks, and supported additional civil-rights protections for LGBT people.
Tuesday's results suggest Espy's decision to focus on generating enthusiasm among the Democratic base may have been a key part of narrowing the gap since 2014. In reliably Democratic Hinds County, for example, Espy won 77 percent of the vote, putting him ahead by 54 points. Four years earlier, Childers won Hinds by 16 points.
The Nov. 27 runoff between only Espy and Hyde-Smith followed a Nov. 6 general election that included one other Democrat and McDaniel, the Republican who lost to Cochran in 2014.
Republicans Outspent Democrats 3 to 1
In the three weeks between the two elections, The Bayou Brief, an independent media outlet in Louisiana, published two videos that cast Hyde-Smith's future in doubt. In the first, Hyde-Smith said that, if one of her constituents invited her to "a public hanging," she would "be on the front row"—a statement that she explained as an "expression of regard" while dismissing criticism that it was insensitive to Mississippi's history of lynching of African Americans as "ridiculous." In another video, Hyde-Smith joked about making it harder for students in some schools to vote.
On Nov. 23, the Jackson Free Press broke the story that Hyde-Smith not only attended a segregation academy where the mascot dressed like a Confederate general and carried a Confederate flag, but that she sent her daughter to a school that was started for the same purpose in 1970.
The swing in Espy's favor from Nov. 6 to Nov. 27 was the second-biggest swing between a U.S. Senate general election and a runoff since 1990. On Nov. 6, combined votes for a Republican led combined votes for a Democrat by 16 points. On Nov. 27, Hyde-Smith beat Espy by under half that at 7.8 points, a swing in Democrats' direction of 8.2 points.
The only swing bigger than that in the past 28 years was a 2008 Georgia race that swung 12 points more Republican between the general and the runoff.
Some of the biggest swings came from suburban counties. Republicans won Madison County by just under 17 points on Nov. 6, but it swung more than 9 points toward Espy on Nov. 27. In DeSoto County, which includes the Memphis suburbs of Olive Branch and Southaven, the race swung 13 points in Espy's favor since the first election.
"The various racial controversies around Hyde-Smith probably did hurt her," wrote FiveThirtyEight political analyst Perry Bacon Jr. "A strong GOP candidate likely would have won by more."
In a bid to rescue Hyde-Smith from Republican Roy Moore's fate in Alabama, President Trump joined Hyde-Smith for two rallies in Mississippi the day before the election, and Republican groups pumped $3.15 million into the runoff, compared to just $1.55 million from Democrats.
Cochran stepped down from his seat in March, triggering the special election for the remaining two years of his term. Gov. Phil Bryant then appointed Hyde-Smith, who was the state agriculture commissioner, as interim senator in April. After serving out what would have been the final two years of Cochran's term, Hyde-Smith will be up for re-election in 2020.
'This Is Not a Loss—This Is a Movement.'
During his concession speech, Espy credited his team for building the campaign infrastructure it did in the relatively little time that was available from when he jumped in the race after Cochran decided to step down to the time of the election. "We didn't have two years," he said.
"You do now," one supporter in the crowd said. "Two more years!" several others shouted.
The Espy campaign's investments in political infrastructure could be a significant asset for Democrats going into the 2019 statewide and legislative races, when Mississippians will elect a new governor, lieutenant governor, secretary of state, and more.
During his concession speech, Espy praised the efforts of college activists he met on the campaign trail.
"We want this to be your legacy," he said. "...This is not a loss—this is a movement."
The college students he met include activists like University of Southern Mississippi student Brandon Rue, who led hundreds of students in "walks to the polls" on Nov. 6 and 27. Rue also organized New Jersey Sen. Cory Booker's visit to the campus to rally for Espy earlier this month. After Hyde-Smith's "public hanging" remarks, Rue brought student leaders on campus together to issue a statement calling on Hyde-Smith to resign.
Espy came closer to winning the seat Hyde-Smith currently holds than any Democrat since 1972. The closest was William Winter in 1984, when he lost a challenge by 22 points, earning just 39 percent of the vote.
Mississippians cast around 950,000 votes in the special election on Nov. 6, when turnout hit an all-time midterm high of 43 percent. Turnout was only down slightly to 40 percent for the runoff, with around 900,000 votes cast.
In 1986, voters in Mississippi's second congressional district made Espy the first black congressman from Mississippi since the post-Civil War Reconstruction era. Then, in 1993, President Bill Clinton appointed him as U.S. secretary of agriculture. If he had won this year's special election, Espy would have been Mississippi's first black U.S senator since Reconstruction.
On Nov. 6, Democrat David Baria lost his bid for the state's other U.S. Senate seat, with incumbent Republican Sen. Roger Wicker winning by just under 20 points. Baria, who ran an unabashedly progressive campaign, earned 39 percent of the vote.
Ashton Pittman covers politics and elections for the Jackson Free Press. Follow him on Twitter at @ashtonpittman. Email him at [email protected]. Read more 2018 campaign coverage at jacksonfreepress.com/2018elections.