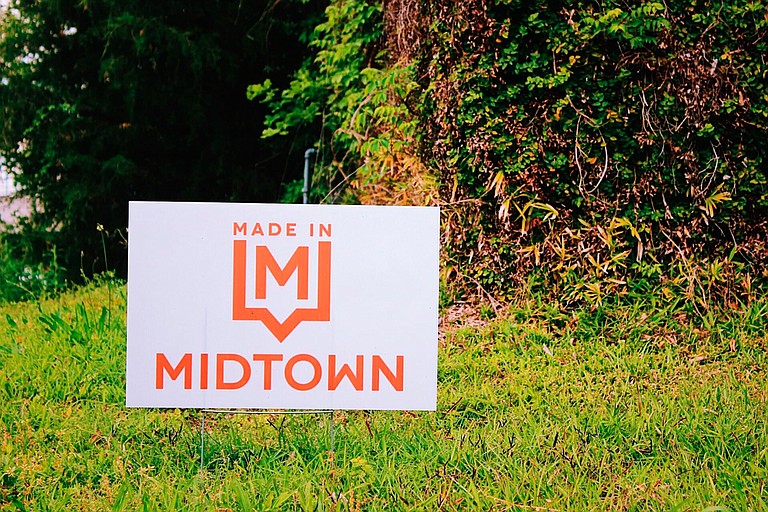 Tuesday, November 27, 2018
The Business Association of Midtown will host its annual Holiday Studio Tours on Saturday, Dec. 1, from 3 p.m. to 8 p.m. The event is free to attend and will feature food trucks on Wilson Avenue, as well as handmade crafts, food, coffee, beer and more for sale at participating Midtown businesses. Attendees can also tour businesses such as the North Midtown Art Center, and The Hatch and The Hangar throughout the day.
N.U.T.S. (114 Millsaps Ave.) will hold a 50-percent-off sale on everything in the store from 3 p.m. to 7 p.m. as part of the event, and will also sell hot chocolate and Christmas cookies.
Jax-Zen Float (155 Wesley Ave.) will host a customer appreciation holiday party featuring music by DJ Jon Juan and gift card specials. Jasmine Moon Apothecary will also have handmade bath and body products, jewelry, handmade candles and clear ornaments filled with the pharmaceutical salt that Jax-Zen Float uses in its float tanks for sale inside The Community Canvas.
Pearl River Glass Studio (142 Millsaps Ave.) will hold a special exhibition of studio artists titled "Homework" and will have limited-edition, penguin-shaped glass Christmas ornaments for sale.
The event will also include a scavenger hunt with stops at five Midtown businesses. Participants must first check in at an information table at the corner of Wilson Street and Millsaps Avenue to receive instructions, which will include a list of the businesses. Participants who take selfies at each of the locations will be entered into a drawing for $250 in prizes from Midtown vendors, and anyone who posts their selfies onto social media with specific hashtags will have their name entered twice.
Other events taking place during the Holiday Studio Tours include a hot chocolate bar at Little Samaritan Montesorri Center (162 Millsaps Ave.), music from Brother Oliver at Lucky Town Brewing Company (1710 N Mill St.), and beer sales at Lucky Town and Offbeat (151 Wesley Ave.). Visit the Midtown Jackson Facebook page for a full list of participating businesses and events.
Fischer Galleries and Mississippi Museum of Art Hold Reception for Mississippi Artist
Fischer Galleries (736 S. President St.) is partnering with the Mississippi Museum of Art to hold an opening art gallery reception, gallery talk and book signing for Mississippi-based artist Glennray Tutor on Wednesday, Nov. 28, from 6 p.m. to 7:30 p.m.
Born in Kennett, Mo., Tutor is a longtime Oxford resident and specializes in photorealistic paintings. He received his bachelor's degree in art and English in 1974 and a master of fine arts degree in painting in 1976, both from the University of Mississippi. His work has been on display in galleries at the Mississippi Museum of Art, the Cole Pratt Gallery in New Orleans, the Frist Art Museum in Nashville, Gallery Henoch in New York City and more.
Tutor will have copies of his latest book, "Portals," for sale and will also sign copies. The book, which went on sale in May, is about the artist's life and work, and includes photos of 200 of his paintings. Tutor will discuss the pieces that will be on display in Fischer Galleries, including 16 of his photorealism paintings.
For more information, call 601-291-9115 or visit fischergalleries.com.
Entergy Mississippi Donates $500,000 to UMMC
Entergy Mississippi recently donated $500,000 to University of Mississippi Medical Center's Campaign for Children's of Mississippi as part of a celebration of Entergy's 95th anniversary.
Campaign for Children's of Mississippi supports the construction of a new seven-story, 340,000-square-foot tower at UMMC that will include a new neonatal-intensive-care unit. The facility will also have 12 dedicated cardiac beds for medical and surgical care for children with congenital heart defects and 88 private neonatal-intensive-care rooms. The campaign has raised more than $67 million since 2016 and is aiming to raise $100 million.
Entergy stated in a release that it has contributed more than $2 million to more than 400 nonprofit organizations in Mississippi in 2017.
For more information or to give to the Campaign for Children's of Mississippi, visit growchildrens.org.