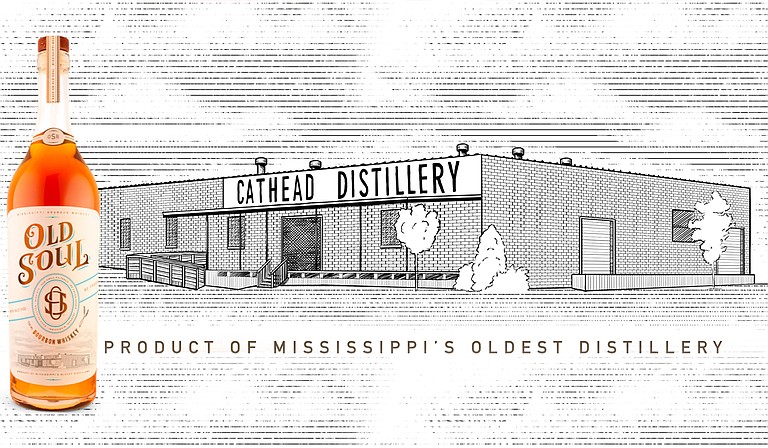 Wednesday, November 21, 2018
JACKSON — Cathead Distillery's new bourbon line, Old Soul bourbon whiskey, went on sale in liquor stores statewide on Friday, Nov. 16. Cathead produced 500 cases of Old Soul for this initial batch, which it will only sell within Mississippi.
Austin Evans, who co-founded the company with Richard Patrick, told the Jackson Free Press that Old Soul is a high-rye mash bill bourbon, which means it contains 21 percent rye, 75 percent corn and 4 percent malted barley. In order for an alcoholic beverage to be considered bourbon, Evans says, it must be at least 51 percent corn, aged in a previously unused American oak barrel and distilled with less than 160-proof alcohol. Old Soul comes in at 90 proof.
"Richard and I have been working on this bourbon for about four years now," Evans says. "We took several barrels and blended them together to create our final product. The result is a nice mix of vanilla and caramel flavors with some spice to it from the rye. It makes for a perfect sipping bourbon that's also great for cocktails."
Cathead was the first legal distillery to open in Mississippi. Evans and Patrick originally opened the business in Madison in 2010 and moved it to Jackson in December 2015.
Cathead Distillery (422 S. Farish St.) is open for tours and tastings starting at 3 p.m. on Thursdays and Fridays and at 1 p.m. on Saturdays. The business also has a bar full of local beers, a retail shop and spaces for visitors to play cornhole. For more information, call 601-667-3038 or visit catheaddistillery.com.
Frock Fashions Opens in The District at Eastover
Women's clothing boutique Frock Fashions opened a new location inside The District at Eastover on Saturday, Nov. 10. The 1,500-square-foot shop, located next door to Beckham Jewelry, carries clothing, shoes and accessories for women of all ages from brands such as Level 99, Kork-ease, Hard Tail and Dr. Scholl's. The store also sells gift items such as candles and bath salts.
Madison native Jacqui Holmes opened the first Frock Fashions in the Colony Crossing shopping center in 2008. The grand opening of the District at Eastover store also coincided with Frock Fashions' 10th anniversary. The business has a third location at The Square in Oxford.
"At Frock Fashions, we want everyone to leave feeling confident, empowered and beautiful," General Manager Trisha Richardson told the Jackson Free Press. "We also offer personal shopping appointments where customers can get one-on-one service to help them coordinate the perfect outfit, whether they're looking for business or casual clothes, cocktail dresses or even prom dresses."
Frock Fashions is open Monday through Saturday from 10 a.m. to 6 p.m. For more information, visit frockfashions.com.
Lemuria Hosts 'Photos with Paddington'
Jackson bookstore Lemuria Books (Banner Hall, 4465 Interstate 55 N., Suite 202) will host a special "Photos with Paddington" event on Saturday, Dec. 15, in celebration of Christmas.
Families can bring their kids to Lemuria from 10 a.m. to noon take pictures with a life-size Paddington, the titular bear from the long-running children's book series by author Michael Bond. Customers can also enjoy complimentary hot chocolate and shop for holiday gifts.
The Paddington book series began in 1958 with Bonds' "A Bear Called Paddington," which went on to spawn 13 other titles, the most recent being 2014's "Love from Paddington." Director Paul King adapted the books into a popular film franchise, with entries in 2014 and 2017, and a third currently in development.
For more information, call 601-366-7619 or visit lemuriabooks.com.