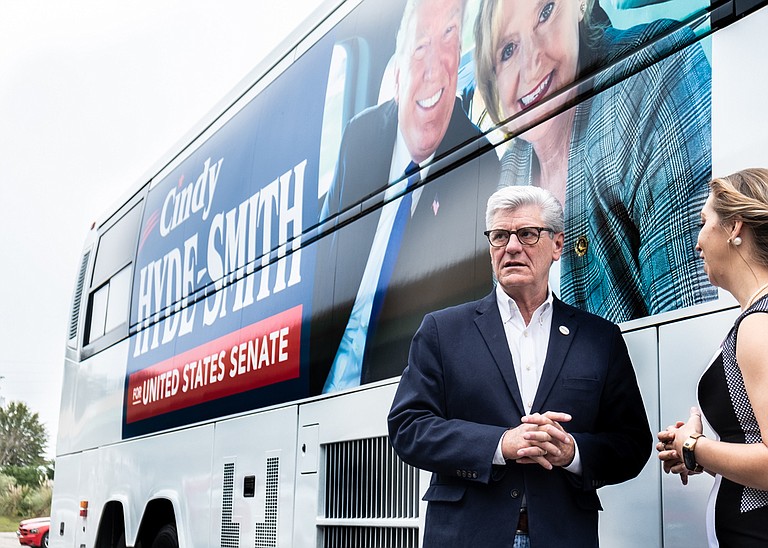 Tuesday, November 6, 2018
HATTIESBURG, Miss.—Fog still hung in the air Monday morning when Joseph Jarman arrived at the Republican campaign headquarters in Lamar County to greet the first woman to hold the post of U.S. senator from Mississippi.
Jarman, who describes himself as a native of midwest cattle country, was drawn to support Sen. Cindy Hyde-Smith not only because of her conservative policy positions, but because of a kinship he feels to the farm-raised former agriculture commissioner.
After speaking to her as she made her way through the crowd of supporters who had arrived to see her on election eve, Jarman stepped outside, where he ran into the man who had appointed Hyde-Smith to her seat in April.
Gov. Phil Bryant was late, but clearly enthusiastic to speak on behalf of the woman he chose to fill the seat longtime Republican Sen. Thad Cochran gave up earlier this year.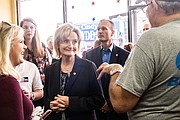 "I voted for you," Jarman told Bryant. "I like my politicians more conservative. The more conservative, the better."
"You can't get more conservative than me," Bryant grinned, touching Jarman's shoulder. "If you get more conservative than me, you have the FBI following after you."
Beaming, Bryant stepped inside, not noticing the sudden expression of stunned disturbance on Jarman's face.
"I don't know about that," Jarman said to no one in particular, bulging eyes looking skyward as he leaned back against the party headquarters' storefront frame. "I really don't."
Bryant's timing for such jokes is questionable. After all, the FBI spent the weeks leading up to the Nov. 6 elections responding to a raft of right-wing terrorism, including from a Trump supporter whom the FBI says sent bombs to high-profile Democratic officials; a conspiracy theorist who allegedly committed the deadliest anti-Semitic attack in U.S. history; and a self-described misogynist who opened fire in a Tallahassee, Fla., yoga studio and then killed himself.
Plus, Jarman told the Jackson Free Press, he personally knows someone who came under FBI scrutiny years ago for making comments about President Obama.
Bryant, though, showed little concern about sounding extreme.
'There's Damn Lies, and That's a Damn Lie'
"I'm gettin' old, and I'm not runnin' again, so I'm a dangerous man," Bryant told the crowd inside.
Without mentioning his name, Bryant vented before the crowd about conservative Mississippi State Sen. Chris McDaniel, R-Ellisville, who is challenging Hyde-Smith for her seat. Throughout the campaign, McDaniel, a Laurel-based lawyer, has sought to paint her as a puppet of the GOP establishment.
"Y'all have heard this narrative that the establishment picked Cindy Hyde-Smith?" Bryant, now in his seventh year as governor, said. "If I'm the establishment, I never knew that. I've been called a lot of things in my political career, but establishment hadn't been one of them. Well, there's lies, and there's damn lies, and that's a damn lie."
During his tenure, Bryant has worked to solidify his legacy as a hardened conservative, supporting anti-LGBT legislation, extreme abortion and birth-control restrictions and aligning himself decidedly against African Americans protesting police brutality. By labeling Hyde-Smith—and by extension the man who chose her—a creature of the establishment, McDaniel implicitly challenges Bryant's right-wing bonafides.
"People make stuff up in politics, and now they can go on Twitter and Facebook and say it, and after a while, they think we believe it," Bryant said. "The people of Mississippi are smarter than that. They understand that the governor of the state of Mississippi who made this appointment is a conservative. Always have been, always will be. So I picked a conservative Republican to be a United States senator."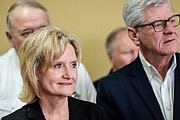 Then, Bryant pivoted to Trump, who endorsed Hyde-Smith in August and held a rally with her in Southaven in north Mississippi in October. Bryant pointed out the window to Hyde-Smith's bus, which her campaign has dubbed the "MAGA Wagon." Splashed across the side is a massive photo of her and Trump sitting inside the president's motorcade.
"What a beautiful photograph it is," Bryant said. "A beautiful time to see the president come there to Southaven in Mississippi, and speak for an hour and 30 minutes, much of the time about this great woman that's in the United States Senate."
Despite Bryant's assertion, a look at the transcript reveals Trump did not spend "much of the time" talking about Cindy Hyde-Smith. Throughout the nearly 12,000-word transcript of the Oct. 2 speech, Trump refers to "Trump" 12 times, but refers to "Cindy" just nine times and uses "she" to refer to the senator only twice. In fact, he spent a little more than one minute of the speech talking about the woman he ostensibly came to support; the rest of it careened from mocking sexual-assault victims, to attacking Democratic women leaders, to promising to build "the wall."
Falsely claiming that Trump spent much of the speech focused on Hyde-Smith, though, is part of a larger gambit her campaign has pursued. For months, her number-one talking point has been that she has voted with Trump 100 percent of the time—a statistic drawn from FiveThirtyEight's tally of how senators have voted on his agenda. Hyde-Smith hopes that, by hugging Trump tightly, she will earn the support of his voting faithful in the Magnolia State.
'There Was a Lady—a Lady—From the Great State of Mississippi'
Trump's Southaven speech was where he mocked Christine Blasey Ford, who testified under oath before the U.S. Senate Judiciary Committee, alleging that then-Supreme Court nominee Brett Kavanaugh once attempted to rape her.
In her testimony, Ford described fearing for her life at age 15 as 17-year-old Kavanaugh allegedly held her down on a bed, covered her mouth to stop her from screaming, and grinded against her while he and his friend, Mark Judge, laughed. Kavanaugh denied the allegations, and Hyde-Smith gave a speech on the Senate floor where she said it was her "duty ... as the first woman to represent our great state in Congress to speak in strong support of Judge Brett Kavanaugh."
At Monday's rally, Bryant pointed to the episode both as evidence of the wisdom of his appointment and of Hyde-Smith's willingness to go to bat for Trump.
"I remember in the real troubling times of the Kavanaugh confirmation, when CNN was blasting out anyone that would stumble in and say anything bad about Judge Kavanaugh, here was a lady—a lady—from the great state of Mississippi that took to the Senate floor and made an impassioned speech for the judge, and I believe helped turn the tide," Bryant said.
Though all but one Republican senator ultimately voted to confirm Kavanaugh (albeit by the slimmest margin of any Supreme Court justice in modern times), Ford seemed too credible to call a liar, many admitted. Instead, senators like Arizona Sen. Jeff Flake justified their votes by saying they believed someone assaulted Ford, but that she must be confused about the would-be rapist's identity.
Hyde-Smith is not relying on that clumsy rationale, though. At Monday's rally, the Jackson Free Press asked her if she believed Ford lied.
"I don't think she was being very truthful," Hyde-Smith said.
As she did at the Neshoba County Fair, Hyde-Smith would not answer the Jackson Free Press' questions without first consulting her communications director, Melissa Scallan.
"I just do what she tells me to do," Hyde-Smith laughed.
During Kavanaugh's confirmation battle, her Democratic challenger, Mike Espy, called her "irresponsible." Hyde-Smith, Espy charged, had already decided to side with Kavanaugh before Ford ever spoke.
'The Democrats Will Be Airdropping People in Here'
In his speech at Monday's rally, Bryant took one more opportunity to mock McDaniel: "You know, it's easy to run out there and say, 'Oh, I'm gonna be a patriot, I'm gonna fight for you, I'm a Constitutional conservative, but I've gotta stay here at my law office and do that.'"
Then, the governor turned to Espy, who led by 12 points in polls for Cochran's seat on the eve of the election.
Bryant would like to see Hyde-Smith win the election outright—which would require her to win more than 50 percent of the vote—but it would be "fun," he admitted, to go against Espy in a Nov. 27 runoff.
"(Espy) is embracing the liberal Democrats. He brought in Sen. Cory Booker from New Jersey, he brought in Congresswoman (Sheila Lee) Jackson from Texas," Bryant said, referring to two prominent African American Democratic lawmakers. "This is gonna be the most fun I've had in quite a while. Now, I know the senator says let's get this over with. We don't wanna miss that fun, do we?"
The Mississippi Republican Party sent out statewide mailers in the days before the election, presenting Espy as a "corrupt" criminal because he was indicted on charges of inappropriately accepting gifts when he was secretary of agriculture in Bill Clinton's administration. The mailers do not mention that he was later fully exonerated, with even conservative U.S. Supreme Court Justice Antonin Scalia criticizing the charges.
Bryant had mailer grievances of his own. He pointed to two anonymous ones that residents across the state received that seemed to attack Hyde-Smith from the right, accusing her of supporting "Obamacare" and voting for former Sec. of State Hillary Clinton for president. Those mailers, Bryant suggested, were a dirty Democratic trick to try to turn conservative voters away from Hyde-Smith and toward McDaniel, whom many believe would be an easier opponent for Espy.
"We knew it came from the Democrats before the sun went down," Bryant said. "The Democrats spend their money trying to decide who they wanna run against, and they've decided it surely ain't Cindy Hyde-Smith."
Wrapping up, Bryant urged Republicans to turn out, and struck a Trumpian conspiratorial tone.
"The Democrats will be airdropping people in here," he said, offering no evidence for his claim. "They'll be putting people outside the polls and walking in and telling them how to vote, so we've got to get our votes out. We've got to make sure that we win this."
A Change Research poll out Monday evening showed Hyde-Smith could be in trouble. The poll found Espy leading the pack with 40 percent of the vote, with McDaniel at 28 percent and Hyde-Smith at 27 percent. If that number held, Hyde-Smith would be out of the runoff and out of the race.
'She Has Absolutely Lost My Vote'
If Hyde-Smith really has bled support in recent weeks, it could be because of longtime Republican voters like Hattiesburg-area banker Dusty Gerald. Gerald is a native of Hyde-Smith's hometown of Brookhaven.
"She's from Lincoln County where I was born and raised, my family knows her family, and she has done absolutely everything to lose my vote that was just assumed to be hers, and would have been," Gerald said, citing a lack of outreach, Hyde-Smith's reliance on her pro-Trump record ("That's all she's got") and Hyde-Smith's refusal to debate.
About a month ago, Gerald decided he would vote for one of her opponents instead.
"She has just sat back and relied on the big money, and I'm assuming outside groups to do her bidding," Gerald said. "She wouldn't have a stance on a single issue if someone hadn't already told her what to believe."
After wrestling with a choice between Espy and McDaniel, Gerald decided to vote for McDaniel.
"I've been really critical of Chris during points in this race where he's said and done some stupid stuff, but at the end of the day, I can also respect that he's not afraid to tell you what he believes and what he would do," Gerald said.
If it goes to a runoff with Espy and Hyde-Smith, it's "Espy, 100 percent," Gerald said. "She has absolutely lost my vote."
He already planned to break with past voting habits and vote for two Democrats on Tuesday. In Mississippi's other U.S. Senate race, Gerald said he would vote for Democrat David Baria, who is challenging incumbent Republican Roger Wicker. Though he expects Wicker to win, Gerald believes the Republican Party has moved too far right under Trump, and he would like to see some more competition.
In the fourth district congressional race, Gerald said he would vote for Democrat Jeramey Anderson; incumbent Republican Steven Palazzo, he said, is "hard to trust" and not accountable to voters because he refuses to debate or hold town halls.
Dawn Stuart, also a Hattiesburg-area voter, is a McDaniel supporter. Even though she is a Trump supporter, Hyde-Smith's Trump talk has not swayed her. In fact, the incumbent's focus on Washington, D.C., is a big part of why she distrusts her, Stuart said.
"All she talks about is D.C.," Stuart said. "She goes to her events, and she'll stand up there and talk about Washington, D.C., but she won't talk about Mississippi and our issues, and she doesn't give people time to ask questions."
'A Turtle on a Fencepost'
At the Hattiesburg rally, retiring Third District Congressman Gregg Harper told the crowd Hyde-Smith would be "conservative as the day is long" and a staunch champion of Trump's harsh immigration policies.
She is "somebody (that) really believes we've gotta have a secure border, and that this caravan mess has just gotta stop," Harper said, referring to a caravan of Central American immigrant refugees fleeing violence on foot and currently hundreds of miles south of the border.
Hyde-Smith thanked her supporters, describing her Senate appointment as "the greatest thing that has ever happened in my little life, aside from being the mother to Anna-Michael and the wife to Michael Smith."
"Most of you remember our lieutenant governor, Amy Tuck," Hyde-Smith said. "She said, many times, 'If you see a turtle on a fencepost, it didn't get there by itself.' Well, I am that turtle on this fencepost, and I want to tell you how much I appreciate you putting me on this fencepost.'"
The next time someone like Kavanaugh comes under attack, she promised, she will have "the courage and backbone" to "stand up for those people who need defending against Democrats."
"I may be small in stature, but for some reason, God made me that person that will rip the bark off of them," Hyde-Smith said. "But there's only one way you can do it, and that's with the armor of God on you every single day."
When Bryant appointed her, Hyde-Smith became the first woman from Mississippi to serve in Congress and could be the first elected come November. If Espy wins, he would be the first black U.S. senator from the state since Reconstruction, when Sens. Hiram Revels and Blanche K. Bruce represented the state in Washington, D.C., until the end of Reconstruction brought the disenfranchisement of black voters.
If no one gets more than 50 percent of the vote in the Nov. 6 special election, the top two vote-getters will face one another in a Nov. 27 runoff. Incumbent Republican U.S. Sen. Roger Wicker and Democratic rival David Baria also face off Tuesday, and U.S. House seats are up in all four of Mississippi's congressional districts.
Voters must bring a valid form of photo ID such as a driver's license or a student ID to vote. Polls in Mississippi are open from 7 a.m. to 7 p.m.
Ashton Pittman covers politics and elections for the Jackson Free Press. Follow him on Twitter at @ashtonpittman. Email him at [email protected]. Read more 2018 campaign coverage at jfp.ms/2018elections.
If you experience any issues at polling places, including wait times or registration problems, the Jackson Free Press wants to hear from you. We partnered with ProPublica's Electionland to gather tips on Nov. 6. To participate, you can text the word VOTE to 81380, send a message on WhatsApp +1 (850) 909-8683, use Facebook Messenger or send a tweet to @Electionland. You can also call our newsroom directly at 601-362-6121.