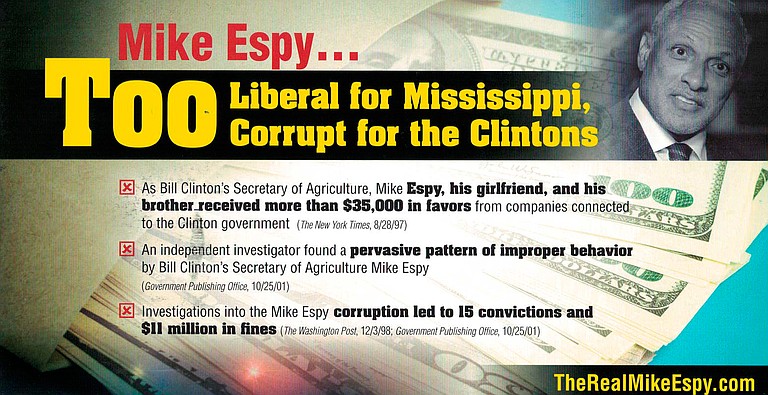 JACKSON — A series of campaign mailers the Mississippi Republican Party sent out around the state this week misleadingly paint Democratic U.S. Senate candidate Mike Espy as a "corrupt" criminal for charges he was fully acquitted of in the 1990s.
On one of them, a photoshopped image shows a photo of Espy fading into images of police lights and prison bars, with the word "INDICTED" in all caps stamped across. A separate mailer describes Espy as "Too liberal for Mississippi, too corrupt for the Clintons."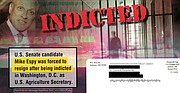 In 1993, President Bill Clinton named Espy the U.S. secretary of agriculture. In late 1994, Espy resigned under pressure amid accusations that he inappropriately accepted gifts from lobbyists and businesses under the jurisdiction of the U.S. Department of Agriculture in a $17 million investigation by a special prosecutor.
One of the mailers claims that "investigations into the Mike Espy corruption led to 15 convictions and $11 million in fines," but both leave out the fact that Espy was not among those fined or convicted, and that a jury found him not guilty in a trial that one juror called "the weakest, most bogus thing I ever saw."
In small print underneath, the mailer cites a Dec. 13, 1998, story in the Washington Post, "Espy Case Heightens Criticism on Counsel Law," which actually refutes the implications of the mailer.
Juror: 'Weakest, Most Bogus Thing I Ever Saw'
"It's disappointing that the Republicans would resort to those kinds of tactics instead of talking about the issues and debating us on the issues and speaking to the voters about what's important to them," Espy campaign Communications Director Danny Blanton told the Jackson Free Press Thursday night. "It's disappointing that they feel like they have to resort to inaccuracies and outright lies in order to scare people from voting for a man who is obviously the most qualified person in the race."
Incumbent Republican Sen. Cindy Hyde-Smith, whom Gov. Phil Bryant appointed after former Sen. Thad Cochran resigned in March, has refused to accept a debate with Espy or their Republican rival, Mississippi State Sen. Chris McDaniel.
Donald C. Smaltz, one of several special prosecutors Republicans appointed to investigate Bill Clinton's administration, spent $17 million on his investigation of claims that Espy accepted gifts from the likes of Tyson, Sun-Diamond Growers of California and Quaker Oats Co. Smaltz brought on more than 70 witnesses, many of whom spoke positively of Espy's leadership and undermined his case.
Espy's legal team called no witnesses, believing there was no case. He had also insisted that the case go to trial so that he could clear his name.
After just nine hours of deliberation, the jury found Espy not guilty on all 30 charges. Though he did accept gifts, including tickets to U.S. Open Tennis Tournament, a crystal bowl and a framed print, the prosecution failed to demonstrate that Espy accepted the gifts in return for official favors. Smaltz was "placing dots but never connecting them," juror Diane Clayton-Koontz told the Washington Post at the time.
Juror Anthony Young called the trial "trivial," "petty" and "a travesty."
"This was the weakest, most bogus thing I ever saw," Young told the Post. "I can't believe Mr. Smaltz ever brought this to trial."
Other jurors were equally dismissive of Smaltz's case against Espy.
Juror Adrienne White-Powell told the Post that after the second or third week, she "started to realize this was a bunch of bull." Smaltz was stretching to make a case, she said.
All jurors except one were African American, and the prosecution accused the defense of trying to use race to influence the jury by pointing out that Espy was the first black congressman from Mississippi since the Civil War era.
The jurors later denied that race had anything to do with their decision.
"I don't believe if it had been an all-white or all-Hispanic jury, they would have done anything differently. It's all too ambiguous," one anonymous juror told the Post. Clayton-Koontz said "his being black was not the issue."
Barbara Bisoni, the only white juror, said race never entered into their deliberations; Smaltz's case "had holes," she said.
Sun-Diamond was fined $1.5 million for giving $6,000 in gifts to Espy, but the court reversed the decision on appeal.
Scalia Rebukes Special Prosecutor's Case
In a 1999 opinion that U.S. Supreme Court Justice Antonin Scalia, a Republican appointee and icon of conservative jurisprudence, wrote in support of the reversal, the Supreme Court rebuked Smaltz's interpretation of the law used to charge Espy, Tyson and Sun-Diamond.
Smaltz's theory of the inappropriate gifts statute was so broad, Scalia wrote, that it would criminalize even a gesture in which a school principal gave a token to a visiting secretary of education.
"Some particular act must be identified and proved," Scalia wrote. "The Government's alternative reading would produce peculiar results, criminalizing, e.g., token gifts to the President based on his official position and not linked to any identifiable act—such as the replica jerseys given by championship sports teams each year during ceremonial White House visits."
Before Espy's acquittal, Tyson pled guilty to inappropriately giving gifts to Espy. In a separate investigation, Espy's chief of staff, Ronald Blackley, was sentenced to 27 months in prison for making a false statement.
Espy: 'I Answer to Exonerated'
During this campaign, Espy has been eager to talk about the charges and his acquittal. In an interview about the trial with the Jackson Free Press in August, Espy defended his record.
"Every piece of paper they asked me for, I gave to them," Espy said. "They could not find—after four years of investigation—where I gave any favors to any companies I regulated. They couldn't find any because there weren't any. About a month before trial, the prosecutor told me that if I would plead guilty, they would go from 36 counts to one. And I said, 'No, I'm not guilty.'"
Espy said he was not worried about political opponents using the trial against him.
"If (opponents) want to raise all this again, they can, but I can only say this: It doesn't matter what they call you; it only matters what you answer to," Espy said. "I answer to exonerated."
One of the mailers also accuses Espy of cosponsoring "a bill that was known as the 'abortion on demand bill,'" of giving thousands to Barack Obama and Hillary Clinton's presidential campaigns, and of voting to raise taxes.
As a congressman, Espy co-sponsored the Freedom of the Choice Act of 1992, but that bill did not allow for unlimited access to abortions as the GOP moniker implies. Under the bill, states could not restrict the right of a woman to an abortion before fetal viability. However, the bill preserved the right of states to prohibit abortions after viability "unless such termination is necessary to protect the life or health of the woman."
Espy donated $2,300 to Obama's presidential campaign in 2007 and $1,000 to Clinton's. That same year, Espy endorsed Republican Gov. Haley Barbour's bid for re-election. In 2016, Espy donated $2,950 to Clinton's campaign.
The mailer also cites the Omnibus Budget Reconciliation Act of 1990, which Espy—along with dozens of Republicans—voted to pass in 1990. It increased individual tax rates and added a 30-percent excise tax to automobile purchases over $30,000 and airplane purchases over $100,000. Republican President George H.W. Bush signed it into law, violating a campaign pledge.
"Read my lips: No new taxes," Bush famously said during the 1988 campaign.
Though the mailers suggest Espy is "too corrupt for the Clintons," Bill Clinton headlined a fundraiser in New York City last week to support Espy, the New York Times reported in an article Friday titled, "No One Wants to Campaign With Bill Clinton Anymore."
"...besides Mike Espy, apparently," Hyde-Smith tweeted Friday. "One week out from the election—when he should have been meeting with MS voters—Mike was attending a NY fundraiser sponsored by Bill Clinton & the DNC."
When Bryant appointed Hyde-Smith, she became the first woman from Mississippi to serve in Congress and could be the first elected come November. If Espy wins, he would be the first black U.S. senator from the state since Reconstruction, when Sens. Hiram Revels and Blanche K. Bruce represented the state in Washington, D.C., until the end of Reconstruction brought the disenfranchisement of black voters.
On Nov. 6, the same day as the national midterms, voters choose between Espy, incumbent Republican Sen. Cindy Hyde-Smith and Republican Mississippi State Sen. McDaniel in a nonpartisan special election. If no one gets more than 50 percent of the vote, the top two vote-getters will face one another in a Nov. 27 runoff. Incumbent Republican U.S. Sen. Roger Wicker and Democratic rival David Baria also face off that day, and U.S. House seats are up in all four of Mississippi's congressional districts.
Voters must bring a valid form of photo ID such as a driver's license or a student ID to vote. Polls in Mississippi are open from 7 a.m. to 7 p.m.
Ashton Pittman covers politics and elections for the Jackson Free Press. Follow him on Twitter at @ashtonpittman. Email him at [email protected]. Read more 2018 campaign coverage at jfp.ms/2018elections.
If you experience any issues at polling places, including wait times or registration problems, the Jackson Free Press wants to hear from you. We partnered with ProPublica's Electionland to gather tips on Nov. 6. To participate, you can text the word VOTE to 81380, send a message on WhatsApp +1 (850) 909-8683, and use Facebook Messenger or Twitter to alert Electionland.