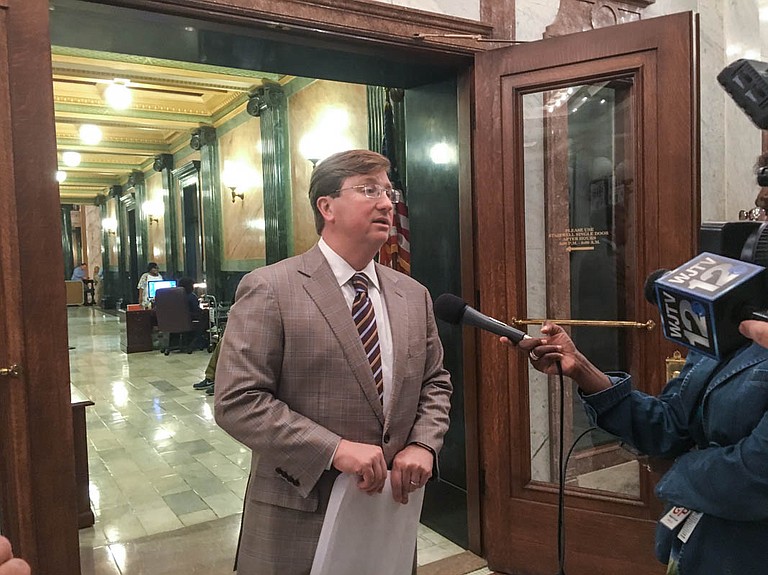 JACKSON — Over the weekend, lawmakers worked to pass a roughly $6-billion budget to fund state agencies beginning in July. They have until Monday night to complete passing the state budget, with nine budget bills left to pass by press time.
Budget writers spent 98 percent of the state revenue, returning to their goal of setting aside 2 percent of the funds (about $112 million) for the state's rainy day fund.
"State agencies are going to see year-over-year numbers that are flat, although there are exceptions," Lt. Gov. Tate Reeves told reporters Saturday night after legislators filed conference reports for all budget bills.
Lawmakers did increase funds to some agencies, however, including an approximately $11-million increase in K-12 education and a significant jump in funding for Child Protection Services. This morning, the House and Senate both passed an education budget that increases funding for the state's school recognition program, early learning collaboratives and health insurance for state education workers.
The House and Senate also passed a joint budget for the Department of Human Services and Child Protection Services, which increases funding in order to help CPS get back into compliance with the settlement agreement in the Olivia Y litigation against the state's foster-care system. Commissioner Jess Dickinson told lawmakers he needed about $135 million, not $98 million, to again comply with the settlement agreement.
Rep. Sam Mims, R-McComb, told the House this morning that the joint budget for DHS and CPS would help DHS draw down federal Temporary Assistance for Needy Family funds for the foster-care program, in order to cover CPS' budget needs. He could not identify what programs that currently use TANF dollars would lose funding as a result of the shift in funds, however.
A Bond Agreement
The House and Senate agreed on a nearly $250-million bond bill over the weekend that includes bonding for the Institutions of Higher Learning, community colleges, some state agencies and the Ingalls shipyard on the Mississippi Gulf Coast.
"We anticipate due to a number of decisions made by the federal government that the Ingalls Company will continue to invest and expand, and we will see pretty significant increases in total jobs at that facility," Reeves told reporters Saturday.
The bond bill also includes funds for $50 million in the local bridge program as well as funds that can be used for a new armory for the state's military.
Medicaid Fight Ahead?
At press time, nine budget bills are still in conference, including the Division of Medicaid's budget.
On Sunday afternoon, the House surprised the Senate and sent what looked like a completed and final Medicaid budget back to conference.
Rep. Sam Mims, R-McComb, told the House that the Medicaid budget bill contained some language from the Medicaid technical amendments bill, including provisions to help rural hospitals.
"We're taking up the appropriations bill first before the tech bill deadline Monday, and just in case that language does not make it, we want to make sure we have something in this bill to deal with the opioid crisis to be able to use Medicaid funds on it," Mims said.
Rep. Becky Currie, R-Brookhaven, had another idea, however. She moved to recommit the Medicaid budget bill with instructions to add all the technical amendments' language to it.
"Here we are, at the last few days. We're tired; we're ready to go home. But I'm not tired enough to give up my authority on the Medicaid tech bill, and I came to stand here and tell you if we give this up, what's about to happen," she said. "If we send this appropriations bill, and we send the money over to Medicaid, we have no authority anymore."
Currie and other House members expressed fears that the Senate would kill the Medicaid technical amendments legislation, which gives the Legislature authority to control how Medicaid works and is set to expire in July. Reeves told reporters on Saturday that he was "hopeful" that there would be a technical bill, but he had not named conferees to work on the legislation at that point.
"I think it has historically been the decision by the Legislature that they wanted to control the management at Medicaid," Reeves said Saturday. "I think some days I would say that's a good thing, some days I would say that's not such a good thing."
The alternative, killing the technical amendments legislation, would give away lawmakers' ability to control certain aspects of the Division of Medicaid through state law.
Currie rallied enough Republican and Democratic support for her motion that the House decided on a voiced vote to send the Medicaid bill back for more conference on Sunday. Sen. Hob Bryan, D-Amory, pointed out to the Senate that the language of the technical amendments legislation cannot be inserted into the appropriations bill for Medicaid.
"That would be engrafting general legislation into a conference report, so technically, that can't be done in conference reports," he said on Sunday afternoon.
"There was concern expressed that the technical amendments bill would die in conference, and therefore you would have the division of Medicaid without the many provisions which we've had in the technical amendments bill for decades, and that would have a number of major consequences," Bryan continued. "... I have no reason to think that there's an attempt for the technical amendments bill to die in conference, but then again, the Senate invited conference on March the 5 and it's the 25th and conferees have yet to be named."
By late on Sunday, Reeves named conferees to work on the technical amendments legislation. The House and Senate members have vastly different ideas about the Medicaid technical amendments bill, however, and the deadline for a conference report to be filed on the technical amendments bill is tonight by 8 p.m.
Rep. John Read, R-Gautier, told the House he was worried that sending the Medicaid budget bill back to conference might kill it and force a special session, with the House to blame.
Three senators and three representatives have the rest of today to negotiate on the Medicaid budget and technical amendments legislation.
Drew Snyder, the director of the Division of Medicaid, seemed hopeful about the budget on Twitter today.
"Optimistic that lawmakers will adopt a clean @MSMedicaid appropriations conference report by today's deadline," he tweeted.
Follow along with the end of the legislative session with Arielle Dreher on Twitter at @arielle_amara.