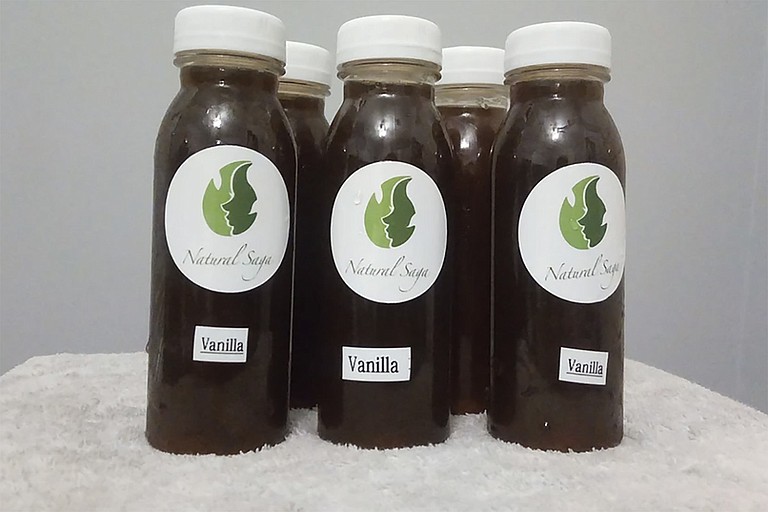 Clinton resident Bradley Bailey opened Natural Saga Tea at The Hatch (126 Keener Ave.) in midtown on Feb. 1. The business sells Bailey's own blends of sweet, herbal and milk teas, which he started making after trying milk tea during a trip to California in 2016.
"The tea I had over there was the best I've ever had," he told the Jackson Free Press. "I could also see that there was a unique tea scene there that was nothing like anything we have around here in Jackson. I decided I wanted to start making and selling different flavors of sweet tea and milk tea to expose people here to something new."
Bailey, who is attending Hinds Community College in Raymond and is set to graduate with an associate's degree in electrical technology in spring 2019, started giving out free samples of his creations on campus in 2016. Eventually, other business owners told him about The Hatch, and he looked into setting up his shop there.
Bailey says he is currently promoting his tea to the public at events such as the Jackson Black Business Expo and Juneteenth on Farish, which will take place on Farish Street in Jackson on Saturday, March 17. He also plans to distribute his products at Whole Foods Market and Rainbow Natural Grocery Cooperative.
Natural Saga Tea is open Monday through Saturday from 1 p.m. to 5 p.m. For more information or to place an order, call 601-927-1704 or visit naturalsaga.com.
Launch Trampoline Park Hosting Laser Tag Grand Opening
Launch Trampoline Park (422 Riverwind Drive, Pearl), which opened in July 2017, will host a grand-opening event for "Fury: A Laser Tag Experience" on Saturday, March 10, from noon to 4 p.m.
The event will feature free hot dogs and cake, and music from local radio station 105.1 throughout the day, as well as giveaways for free jump tickets and free games of laser tag. For the grand opening, anyone who purchases jump tickets for the park's trampoline facilities can add a game of laser tag for an additional $6.
As part of the grand opening, Launch will also hold "Teen Night" from 8 p.m. to 11 p.m. for ages 13 to 19 that evening, which will include two hours of jump time and a game of laser tag for $23.
The park has more than 25,000 square feet of space with 10,000 square feet devoted to trampolines. It features open jump areas, two dodgeball courts, a basketball trampoline court, a ninja jumping course, a foam pit with a battle beam and a laser-tag facility with three-dimensional effects. Launch also has an arcade, a birthday area with private party rooms, and the Launch Cafe, which serves sodas, pizza, ice cream and more.
For more information, call 601-664-0060 or visit launchjackson.com.
Hollywood Feed Coming to Highland Village
Hollywood Feed, a specialty pet food store, will open a new location in Highland Village later this month. The 3,317-square-feet store will occupy the former location of A Daisy A Day Flowers & Gifts on the north side of Highland Village next to Whole Foods Market. A Daisy A Day will re-open near the end of March in its new location on the northeast corner of Highland Village's courtyard next to Aplos, a new restaurant set to open in summer 2018.
Hollywood Feed originally opened in 1950 as a local feed store on Hollywood Street in Memphis, Tenn., and currently has locations in nine states across the South. The business currently has locations in Flowood and Ridgeland.
Hollywood Feed offers natural and holistic pet food and a line of "Made In" products that are made locally with U.S.-sourced ingredients. A press release says the store's "Feed Team" sales associates receive more than 40 hours of training from veterinarians, nutritionists, vendors and behaviorists every year to help pet owners make informed decisions about products.
Hollywood Feed also supports local shelters and rescues through pet-adoption events, and donates more than 100,000 pounds of dog food and other supplies every year.
The store will be open Monday through Saturday from 9 a.m. to 7 p.m. and Sundays from noon to 6 p.m. For more information, visit highlandvillagems.com or hollywoodfeed.com.
Microsoft Holding Benefit Concert for Canopy Autism Center of Excellence
Microsoft recently selected Canopy Children's Solutions (1465 Lakeland Dr.), a Jackson-based children's behavioral health, education and social-service center, as its Charity of Choice for the Microsoft Rocks benefit concert on Wednesday, March 14, at the Breakers Sky Lounge in Herndon, Va.
Proceeds from the event will support the Canopy Autism Center of Excellence, which offers services and resources for children on the autism spectrum and their families.
For more information or to purchase tickets to the concert, visit microsoftrockscanopy.com. For information about Canopy programs, call 601-352-7784 or visit mycanopy.org.