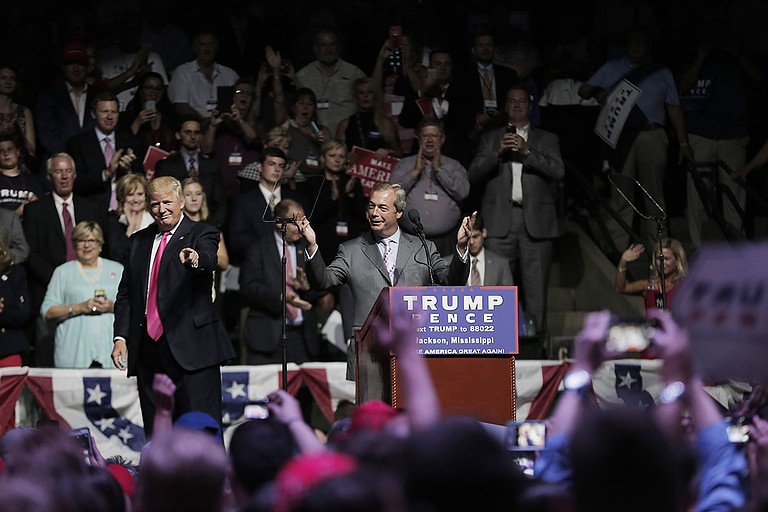 JACKSON, Miss. — After months of negotiations and coordination facilitated in part by Gov. Phil Bryant to bring two British companies stateside, a public United Kingdom office that reports to Parliament is investigating those companies poised to set up shop at the University of Mississippi's Insight Park, a research hub for companies to collaborate with campus faculty or departments.
Eldon Insurance and Big Data Dolphins Ltd. signed a lease agreement to move into Insight Park in February 2018. Bryant got cozy with "Brexit Boy" Nigel Farage during Donald's Trump presidential campaign, and Farage even took the stage with Trump and Bryant in the now-president's campaign rally in Jackson in August 2016. The governor has been at numerous meet-ups with Farage since the Jackson rally, as well as with Lord Ashcroft. Last fall, Arron Banks, who owns Eldon Insurance as well as Andy Wigmore, who worked with Banks on the Leave.EU campaign, along with Ashcroft joined Bryant at a University of Mississippi football game. The Leave.EU campaign intended to influence U.K. citizens to vote to leave the European Union in 2016.
Construction could cost $200,000 for the office for Big Data Dolphins Ltd. on a 4.98-parcel piece of land, since the project received a $100,000 grant from Mississippi Development Authority, the lease agreement shows. The research foundation, which is run by a board of directors of predominantly UM leaders, will pitch in the other $100,000. After a records request to MDA for the grant, MDA confirmed that they have not awarded the grant for the project, however.
Big Data Dolphins will pay the foundation rent ($78,000 a year) after construction is complete, and the lease term is set to begin June 1, 2018. The lease surfaced in Hinds County Chancery Court this week.
Kyle Taylor and his organization Fair Vote Project in the U.K. are suing both Eldon and Big Data Dolphins in Hinds County Chancery Court, seeking an injunction to see if the companies are using British citizens' data in the proposed Mississippi artificial intelligence project planned for the Insight Park office in Oxford.
Taylor is asking the judge for an injunction to keep the companies from "destroying, altering or transferring any data or other information relevant to the issues in this case prior to its final disposition," as well as to allow discovery between the entities.
University of Mississippi officials and Eldon employees deny any data storage or transfers, although testimony given in court in Jackson, as well as documents that Parliament published, suggest the possibility of a data transfer.
"Defendants have not sent any data regarding British citizens to the University of Mississippi," court documents filed by local attorney Sterling Kidd on behalf of Eldon and Big Data Dolphins says.
'I believe it is likely to be a criminal offence'
The Mississippi project was largely under the radar until April when a former Cambridge Analytica employee testified before a Parliamentary committee, looking into how "fake news" influenced the "Brexit" referendum.
"I was recently made aware of a data company set up by Arron Banks called 'Big Data Dolphins,' soon after he ceased negotiations with Cambridge Analytica and declined to pay our phase 1 bill," Brittany Kaiser testified in mid-April.
"This company has reportedly worked with a data science team at the University of Mississippi (Ole Miss). If the Mississippi team has held or processed UK citizens' data in the US, I believe it is likely to be a criminal offence; although it is for the empowered authorities to pursue any such question and secure the associated evidence," she wrote.
Josh Gladden, a UM professor who supervises Insight Park, testified in court on Tuesday that after news of Kaiser's testimony broke, he emailed faculty members who could have been involved with the Big Data Dolphins project to ask if they had stored data from the companies. None of them had, Gladden said.
Gladden also said construction on the Big Data Dolphins office hasn't started yet but could not elaborate on why.
In a June 4, 2018, letter about the lawsuit, the U.K. Information Commissioner's Office cite Kaiser's testimony as one of the main reasons for their interest in the case.
"We have reason to believe that much of this data evidence is held at the University of Mississippi, and, if so, would be keen to obtain it for the purposes of our investigation," the letter says.
The letter was not successfully introduced into evidence in Judge Denise Owen's courtroom, but Dorsey Carson, who is representing Taylor (and also does legal work for the Jackson Free Press), provided this newspaper with a copy. The ICO actually asks the court to rule in Taylor's favor.
"… The ICO therefore respectfully requests that the Court grants the preservation order relating to the data in question applied for by Fair Vote Project in order to allow the ICO the time it requires to establish contact with the University of Mississippi and conduct its thorough investigation," the letter continues.
'Quite bloody good at artificial intelligence'
Gov. Bryant had influence in bringing Banks and his companies to Mississippi in the first place, as Magnolia State Live initially reported in April.
"Upon learning that Eldon Insurance was planning to begin a new research effort at the University of Scotland, Gov. Bryant suggested to Eldon leadership they should look into doing research at a Mississippi university," a statement the governor's office gave to media outlets in April said. "Ultimately they were connected with the University of Mississippi. Gov. Bryant has full confidence in the University of Mississippi to make any decisions regarding their relationship with Eldon Insurance."
In court this week, Eldon employee Victoria Sena testified as well as submitted an affidavit.
"Other than incidental laptop use, neither Big Data nor Eldon has previously or currently had any information technology equipment anywhere in Mississippi, including but not limited to at Insight Park," her affidavit says.
She says Eldon and Big Data Dolphins do not have equipment in Mississippi "that would allow them to store the private data of British citizens." She also says that Eldon and Big Data Dolphins have not sent personal U.K. citizen data to "the University of Mississippi, or to anyone else in Mississippi." Her affidavit says Big Data Dolphins and Eldon do not have any employees in Mississippi.
Sena's affidavit appears to contradict what Wigmore told a researcher and lecturer at the University of Essex Emma Briant in October, however. Parliament demanded Briant's interview with Wigmore for their investigation, and in it, Wigmore discussed the Mississippi project.
"[T]he referendum's just finished. What we discovered, we were actually quite bloody good at artificial intelligence. And we've applied what we learned in the referendum to our business model for insurance. …. So we've started an operation in Ole Miss University in Mississippi which is the centre for artificial intelligence in the world," Wigmore told Briant, transcripts show.
"… So that in artificial intelligence terms is the holy grail in insurance. So that was a byproduct of what we discovered, brilliantly. And that's all about data. That is all about data. So um. That was—that was the upshot. So we've set this up in Mississippi. It's been going for nine months, we've been testing for twelve months now, testing all the insurance against it and it's extraordinary," he said.
Eldon and Big Data Dolphins have asked the judge to dismiss the case, due to lack of personal jurisdiction and venue. Judge Owens heard testimony from four witnesses on Tuesday and Wednesday, and she asked both sides to submit briefs in a week.
This story has been updated to reflect that MDA has not awarded the grant for construction of the Big Data Dolphins office in Oxford. Email reporter Arielle Dreher at [email protected]