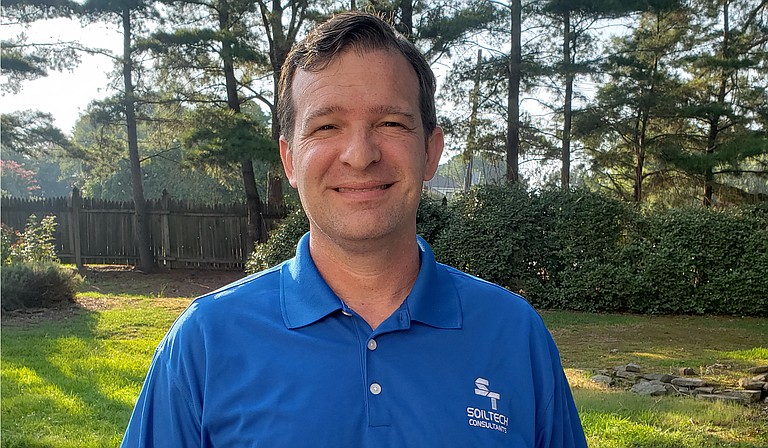 SoilTech Consultants, Inc., a Ridgeland-based geotechnical engineering firm, hired James Vinson as the firm's practice leader on Thursday, July 19. Vinson then moved to Jackson from Knoxville, Tenn., to start his new position.
SoilTech, a subsidiary of Neel-Schaffer Engineers & Planners in Jackson, primarily performs activities such as drilling and boring to assess land before a construction project begins, as well as tests construction materials to ensure they meet project regulations and requirements. As practice leader, Vinson will have oversight on current construction projects and work to seek out new ones.
Vinson, 46, was born in Mobile, Ala., and graduated from Citronelle High School before attending Mississippi State University, where he earned a bachelor's degree in civil engineering in 1995. He then earned a master's degree in civil engineering from Auburn University in 1997.
"I didn't know what I wanted to major in right away when I first entered MSU, but I got into engineering after seeing that there is both and art and a science to construction and geotechnical work," Vinson said.
"A lot of the time, when it comes to things that are going on below ground, there's not a 'back of the book' solution to look up, so to speak. You need to use your own assessment skills to solve problems, and things aren't always black and white, which is something that appealed to me. You also get exposed to all sorts of work both in and out of the office."
After graduating from Auburn, Vinson took a job as an engineer with Soil Testing Engineers in Lake Charles, La., from 1997 to 1999. He then worked as an engineer for Titan Atlantic Group in Raleigh, N.C., until he moved to Knoxville to work as a senior geotechnical engineer for engineering consulting firm CDM Smith. There, he managed design work for transportation-related projects, such as roads and bridges.
"I decided to take this job and come to Jackson because I saw an opportunity for career growth here with Neel-Schaffer and SoilTech," Vinson said. "... As for Jackson, I've already found it to be a friendly and inviting place, and I think I'm going to like it here."
Vinson and his wife, Meagan, have been married for eight years and have four children, Lauren, Gabriel, Zoie and Elijah.