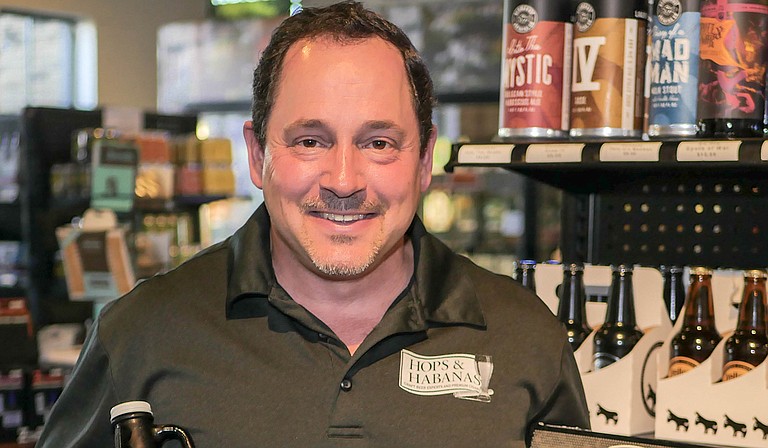 Richard Miles, medical director of Merit Health Central's emergency department and owner of Hops & Habanas, got his start as a business owner due to a medical problem.
Miles injured his bicep in 2009 and had to take a month off work after surgery. Around the same time, he learned that a small beer shop in Madison he frequented was closing down and going up for sale. He saw it as an opportunity.
"I've always enjoyed a good draft beer, and I even keep a kegerator—a small refrigerator that you put a keg inside—at home," Miles says. "My wife (Trayce Miles) was also looking to get back into the job market after having been a stay-at-home mom for a while at the time. So when I found out that store was closing, and I might lose the place I got my beer from, I decided to purchase it and enter the retail business. That shop became the first Hops and Habanas location."
Miles, 52, was born in Ontonagon, Mich., and received a bachelor's degree in biology from Michigan Technological University in 1987. He then went on to Des Moines University in Iowa, where he received a doctorate in osteopathy in 1992.
From 1992 to 1993, Miles served as a military doctor with the U.S. Army in Fort Gordon, Ga., then transferred to Fort Rucker, Ala., until 1996. Miles then worked as a flight surgeon at Camp Paige in South Korea until 1997. Miles returned to the U.S. and 2000, completed his three-year emergency medical residency at Medical College of Georgia in Augusta.
Miles then worked at Mercy Medical Center in Des Moines until he took his current job at Merit Health in 2005, and moved to Madison, Miss.
He opened the original Hops & Habanas in Madison in 2009 and the Fondren location in 2014. He ultimately decided to close the Madison location in 2017.
"While I had to close the Madison location because I didn't have the time to dedicate responsibilities to two stores, we had wanted to move into Fondren in the first place," Miles says.
The Fondren space is 4,200 square feet and includes an indoor bar with 24 tap beers, a 1,000-square-foot outdoor cabana with its own bar and televisions, a lounge and other features.
"The Madison location was just a place where people could buy their packages, but Fondren is the place to go to enjoy what you buy right there," he says.
Since moving to Fondren, Miles says Hops & Habanas has also worked to promote beer-related events in the city, such as Zoo Brew and the Mississippi Craft Beer Festival.