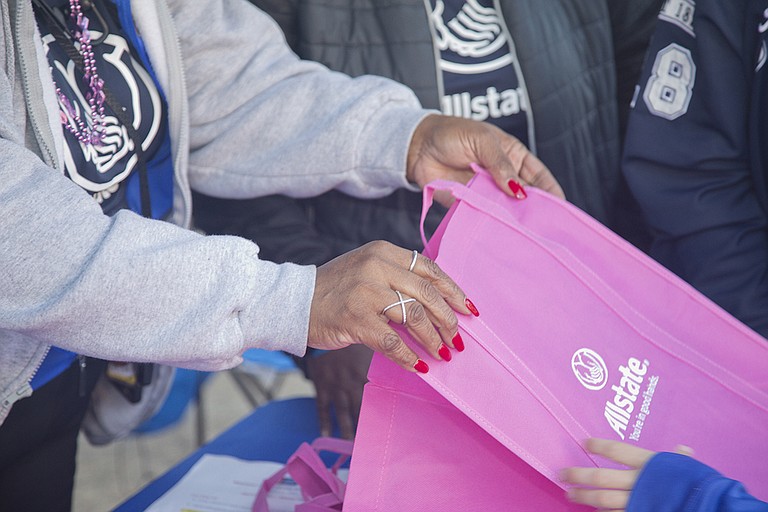 Jackson Allstate agency owner Steven James recently joined with financial specialists and volunteers in the Jackson metro area for a $103,000 Allstate Foundation Helping Hands grant to benefit breast-cancer research through the American Cancer Society.
The Allstate volunteers secured the grant by walking in and providing support for an event called Making Strides Against Breast Cancer at Thalia Mara Hall in Jackson on Oct. 28, 2017. James organized a walk team for the event in honor of his mother, Sandra Ross, who is a breast-cancer survivor. The volunteers also passed out water for other participants at the event, which raises money to support research, services and early detection for breast cancer.
"I've personally participated in Making Strides Against Breast Cancer every year, but this was the first time I've ever organized a big corporate event like this for it," James told the Jackson Free Press. "The walk is a wonderful event that brings together people from all over and just keeps getting bigger every year, which is great because having a good support system is so important for people with cancer."
In addition to the American Cancer Society, the Allstate Foundation has also secured $400 million in Helping Hands grants since the foundation's founding in 1952 on behalf of nonprofits that support organizations addressing domestic violence, youth empowerment, disaster preparedness and hunger.
For more information visit allstatefoundation.org.
Downtown Fitness Holds Ribbon Cutting
Mississippi Baptist Health Systems held a ribbon-cutting ceremony on Tuesday, Dec. 19, for its new fitness facility, Downtown Fitness (100 E. Capitol St., Suite 107), which opened in fall 2017.
Downtown Fitness occupies about 17,000 square feet and offers group exercise classes, indoor cycling, low-impact cardio machines, a free-weight training area, a variety of other exercise equipment and more.
In addition to Downtown Fitness, Baptist also opened a new regional business office in the Regions Plaza building in downtown Jackson in fall 2017. A press release says that the office allows Baptist to centralize physician billing, scheduling and other services for nine Baptist Memorial hospitals in Mississippi.
For more information, visit mbhs.org or call 601-948-6262.
Brookwood Country Club Under Renovation
Stratum Development Fund held an open house on Thursday, Dec. 28, for the newly renovated 12,500-square-foot clubhouse and event venue at Brookwood Country Club (5001 Forest Hill Road), a local golf course, restaurant and event facility that closed in January 2015 and will reopen in sections over the course of 2018.
"When Brookwood closed two years ago, it left a 165-acre hole in the south Jackson and Byram community that needed to be filled again," Jason Goree, managing partner for Stratum Development, told the Jackson Free Press. "We got things under way last summer and hope to start opening Brookwood back up in parts."
Brookwood is currently available for weddings, parties and other events, and Goree said he expects to have the kitchen, bar and restaurant open later this month, as well as the driving range ready by spring this year. A workout facility and other amenities, such as tennis courts, a fishing pond and Brookwood's 18-hole golf course, are also in the works.
"This will be a premier space for activity and events when it's all finished," Goree said. "We hope to greatly boost the community and bring land values in the area back up as a result of our efforts."
For more information or to book an event, call 601-760-3661 or find Brookwood Country Club on Facebook.