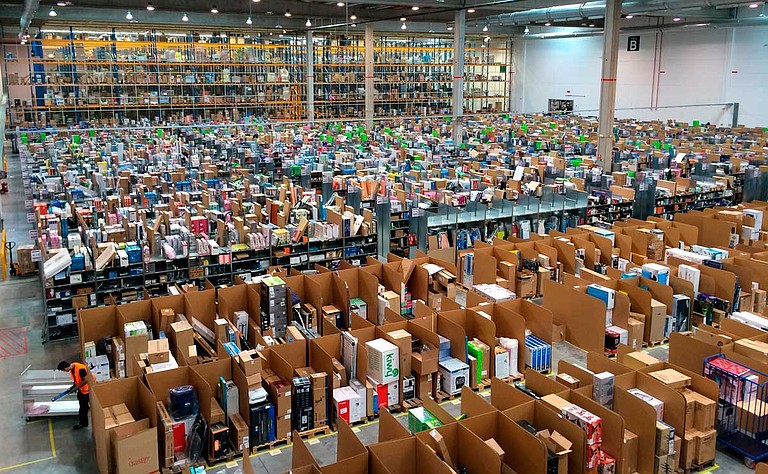 Friday, December 21, 2018
JACKSON — Amazon plans to open a distribution warehouse in Marshall County, Miss., that the online retail giant said in its announcement Friday will create 850 full-time jobs in the northernmost part of the state over a three-year period.
Pay for employees who will "pick, pack and ship" consumer goods will start at $15 an hour, in line with Amazon's decision in October to raise its minimum wage for all employees nationwide to that level in response to widespread criticism.
"I am proud to welcome Amazon as the newest member of the Mississippi business community," Gov. Phil Bryant said in an Amazon press statement. "Amazon's presence demonstrates to industry leaders around the globe that Mississippi has what it takes for companies like Amazon to remain competitive and efficiently reach their consumers from our attractive location in the Southeast U.S."
Day one benefits for full-time employees at the Mississippi facility will include comprehensive healthcare, a 401k, 20 weeks of paid parental leave and assistance for employees pursuing degrees in "high-demand fields."
Amazon did not specify a date for the facility's opening and did not respond to a request for comment at press time.
Glenn McCullough Jr., the executive director of the Mississippi Development Authority—which is assisting with the project—credited Bryant for bringing Amazon to the state, tweeted that it is a "strategic win for Mississippi."
The 554,000 square-foot fulfillment center will be built in Marshall County's Chickasaw Trails Industrial Park.
"We are excited to bring our first fulfillment center to Mississippi, creating 850 full-time jobs with a $15 minimum hourly wage," John Felton, Amazon's vice president of global customer fulfillment, said in a press statement. "We appreciate the state and local elected leaders who have supported Amazon's entrance into Mississippi, and we look forward to providing great job opportunities and an exceptional customer experience."
The Tennessee Valley Authority will also assist with the project.
"The Mississippi Development Authority, in conjunction with Marshall County, Marshall County Industrial Development Authority and Tennessee Valley Authority, is proud to support Amazon as the company creates 850 career opportunities for the people of North Mississippi," McCullough said in the Amazon press statement.
Amazon Donated to Bryant-Backed Candidates
During the 2018 election cycle, Amazon's PAC donated $5,000 to U.S. Sen. Cindy Hyde-Smith, whom Bryant appointed to the seat in April after former Sen. Thad Cochran and staunchly supported in November's special election.
Activists pressured Amazon to seek a refund of its donation in November after a video emerged in which Hyde-Smith said she would be on the "front row" if a constituent invited her to a "public hanging."
Amazon did not request a refund, though, even as other organizations did, including Facebook, Google, Walmart, AT&T, BlueCross BlueShield, Pfizer, Major League Baseball, and more.
Last week, The New York Times reported that the Hyde-Smith campaign had only returned one donation—$5,000 to the MLB—and that her campaign told Walmart that it had no plans to return its $2,000 donation.
On Friday morning, Hyde-Smith tweeted "Great news!" in response to Bryant's Twitter announcement about Amazon's new Mississippi facility.
Amazon's PAC also donated to other Bryant-supported Republicans, giving $7,500 to U.S. Sen. Roger Wicker and $1,000 to Rep. Gregg Harper, who is retiring.
Amazon's PAC also donated $2,500 to Democratic Rep. Bennie Thompson.
Before Amazon raised its minimum wage, the annual median wage for employees—many reportedly working in harsh warehouse conditions—was just $28,446. Outrage grew when the fact that Amazon CEO Jeff Bezos—the wealthiest man in the world—makes that amount every 10 seconds gained widespread notice.
A month before Amazon announced the race, U.S. Sen. Bernie Sanders, I-Vt., and U.S. Rep. Ro Khanna, D-Calif., introduced the BEZOS Act in Congress, which would tax corporations for each dollar the government spent subsidizing employees for healthcare and nutrition assistance.
Amazon also recently voluntarily started charging sales tax to Mississippi customers.
Ashton Pittman is the state reporter for the Jackson Free Press. Follow him on Twitter @ashtonpittman. Email him story tips to [email protected].