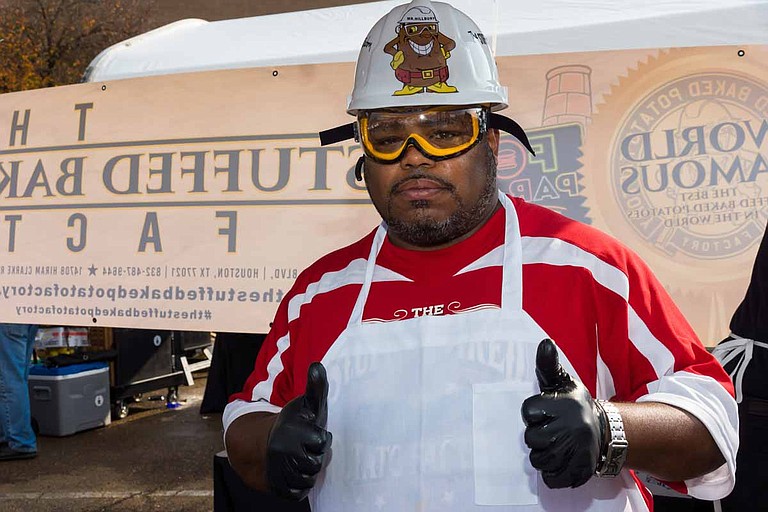 Tuesday, December 18, 2018
Northpark recently announced the winner of the "Taste for the Space" culinary competition that it hosted on Saturday, Dec. 1. The event featured 13 local restaurants, food trucks and chefs competing to win a dining space at the mall along with a $50,000 investment and six months of free rent.
Michael Joyner, a Jackson resident, won the competition representing The Stuffed Baked Potato Factory. The restaurant has two locations in Houston, Texas, and Joyner will be bringing it to Jackson as a franchisee for the corporate owner, Mike Moore, who is a longtime friend of Joyner.
"Mike used to run a music shop called Beltway 8 in Houston during the mid-'90s, and we bonded over music when I went to buy mixtapes from him," Joyner told the Jackson Free Press. "Then, around 2010, he decided to become a grill master and started winning barbecue competitions everywhere with this special seasoning he created that he calls Moe's Magic Dust. That seasoning is what separates our food from anyone else's, and it's what won us this competition, too."
Moore opened the first Stuffed Baked Potato Factory on Martin Luther King Jr. Boulevard in Houston in 2015 and later opened a second location on Hiram Clarke Road in the city.
Joyner moved to Jackson from Houston in 2005. He and his relatives have been franchisees with McDonald's for more than 47 years, and at one point, operated every McDonald's in Jackson and the tri-county area, he says.
The family sold their franchises earlier this year, and Joyner began working with Moore to help expand The Stuffed Baked Potato Factory in August. Joyner had originally planned to move to Miami and bring the restaurant there, but his girlfriend, Nekisha Allen, learned about the "Taste for the Space" competition and convinced him to enter.
"I'm glad Nekisha found the contest and told me I should enter it because The Stuffed Baked Potato Factory probably wouldn't be coming to Jackson otherwise," Joyner said. "I decided I wanted to take the chance to bring it here rather than going to a bigger city because I love both Jackson and the city of Ridgeland, where I've always had a great relationship with the chamber of commerce.
"I felt like I could win if I could just give the judges a taste of this food, so I was confident once I got in and was proud to give everyone at Northpark a taste of what we have to offer. I'm both happy that people voted for me, and that I get to stay in Jackson and bring The Stuffed Baked Potato Factory here." Joyner says he expects to open the Jackson location in early 2019. The restaurant offers a variety of stuffed baked potatoes, sandwiches, burritos, casseroles, fried boudin balls and more.
The dish that won "Taste for the Space" was one of its signature baked potatoes, "The Trash Can," which features seven types of meat, two types of cheese, onions, chives and barbecue sauce. Other types of baked potato on the menu include nacho, barbecue, seafood and chicken-Alfredo options. The Travel Channel also once featured The Stuffed Baked Potato Factory on its show "Food Paradise" in 2014.
For more information, visit thestuffedbakedpotatofactory.com or visitnorthpark.com.
The Outlets of Mississippi Hosts Make-A-Wish Gift-Wrapping Fundraiser
The Outlets of Mississippi (200 Bass Pro Drive, Pearl) recently announced that it is partnering with Make-A-Wish Mississippi for its "Season of Wishes" gift-wrapping fundraiser.
Make-A-Wish Mississippi, a foundation that grants wishes to children with terminal or life-threatening illnesses, is offering gift-wrapping inside the Outlets' food court through Sunday, Dec. 23.
Shoppers can bring purchased gifts to the food court and have them wrapped for a small fee. They can also make donations at visitor services at suite 535 across from the food court, as well as participating stores that are marked with Make-A-Wish window decals.
Gift-wrapping hours are from 11 a.m. to 7 p.m. Monday through Saturday and from 2 p.m. to 5 p.m. on Sunday. For more information, visit outletsofms.com.