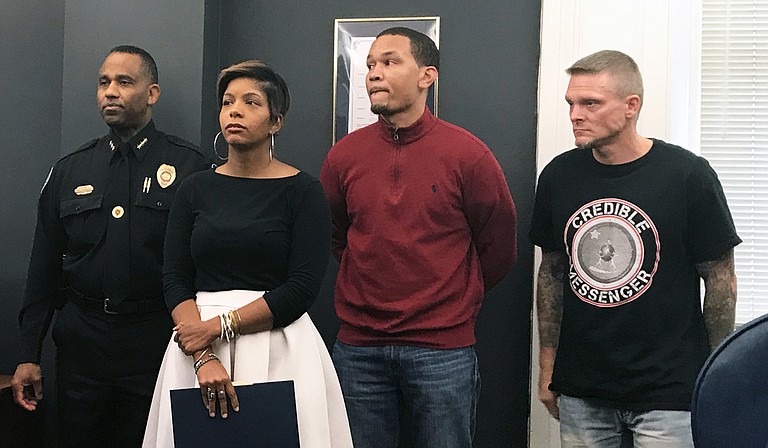 Thursday, December 13, 2018
JACKSON — At one point, Terun Moore was supposed to be in prison for the rest of his life for killing a Detroit man during an attempted robbery in Hico Lake Park in Jackson. Moore was 17 then, so his 2001 life sentence was later declared unconstitutional because he was a minor when he committed the crime. He left prison in 2017 after serving 19 years.
Benny Ivey also spent much of his life behind bars, starting with juvenile detention and training school as a minor, then hardcore prison as an adult. The former leader of the Simon City Royals, a traditionally white street gang, served multiple sentences in prisons around Mississippi for crimes ranging from cooking meth to aggravated assault. He last left prison in 2010, got into rehab for his drug addiction in south Jackson and turned his life around.
The two men will be Jackson's first official, trained "credible messengers," working to prevent violence in the metro area, the City of Jackson and Rukia Lumumba, a criminal-justice advocate and the sister of the mayor, announced at a press conference Wednesday afternoon.
Lumumba first applauded the City of Jackson for being open to new approaches to crime-fighting.
"[T]hank you for being open-minded and committed to really shifting how we look at crime, how we look at human life and dignity, and to really appreciate our (first) credible messengers ... who are here with us today," she told the sparsely attended press conference, with Moore and Ivey standing behind her.
She founded an organization, the People's Advocacy Institute, that Moore said he is helping run. They learned this week that FWD.us, an organization funded by technology giants, is providing the first $150,000 grant to train initial credible messengers, which is the sole seed funding for the project to date. Similar efforts around the country often draw a mixture of public and private financial support; part of the funds is used to train and compensate the credible messengers, meaning that it is also a job-creation program.
Rukia Lumumba, Moore, Ivey and Jackson Assistant Police Chief Ricky Robinson recently traveled to Washington, D.C., to attend a conference that the Credible Messenger Justice Center hosted.
Lumumba also called out the Jackson Free Press for its extensive coverage since 2016 of credible messengers and violence interruption as a way to prevent violence in Jackson, rather than just respond to it in ways that can lead to worsening crime. She discovered Ivey after articles appeared in The Guardian and the Jackson Free Press about his turnaround from a life of crime and addiction in south Jackson and Rankin County. Moore said he knew Lumumba while growing up in Jackson. She is an attorney who recently returned to live full-time in Jackson from New York City, and helped run her brother's successful campaign for mayor.
Mayor Chokwe Antar Lumumba heralded the forward movement of the strategy, which he had included in his campaign, during the press conference.
"We focus on the what, we focus on the effects, (and) we focus on robberies. We focus on violence that takes place, but we fail to truly address the why," he said in opening remarks.
"The 'credible messenger' approach can help prevent violence on the front end," he said. "We have a police force that is working every day to respond to crime. But if we're only looking at crime as a matter of responding, then we are falling far behind the ball."
The mayor then repeated a warning of violence and gang experts around the country: "There's no way to simply out-police crime."
Evidence-Based Violence Prevention
The "credible messenger" approach to violence prevention and interruption is new to Mississippi, but is extremely popular in cities around the United States, from New York City, to Los Angeles, to Washington, D.C., to Atlanta. The strategy takes advantage of the many reformed criminals who are passionate about stopping younger people from making similar mistakes. They are "credible" because they have been there, and others on the verge of committing a violent act are more likely to listen to them than a police officer or a man in a business suit.
How Mississippi pursues people believed to be in gangs.
Once trained, credible messengers are paid to help influence better decisions with actions that range from mentoring high-risk young people to working on the streets as "violence interrupters." Interrupters often function as a strike team of sorts, going to the scene of crimes, attending vigils after shootings and guarding funerals where revenge shootings can occur. The goal is to seek out and interact with those deemed likely to commit violence, including in retaliation for previous acts of violence against their friends, associates and loved ones.
That is, they literally interrupt plans for or the immediate likelihood of violence.
Rukia Lumumba said that Jackson's version of the strategy will work in conjunction with renowned violence interrupter A. T. Mitchell, who runs Man Up! Inc. in East New York, a part of Brooklyn that has suffered poverty and high crime in recent decades. Mitchell recently gave a presentation at Jackson City Hall about the strategy. He then met with Lumumba, Ronnie Crudup Jr. and Ivey, with the Jackson Free Press present, in New Horizon Church in south Jackson to discuss implementation.
Man Up! is part of the network around the country using the well-known model for many interrupter programs, Cure Violence, which Gary Slutkin, a medical doctor and epidemiology professor at the University of Illinois at Chicago Public School of Health, developed. Slutkin specializes in stopping viruses from spreading—and when executed well, his strategy for changing violent behavior is an extremely effective public-health approach with support from public powerhouses like the Centers for Disease Control.
Slutkin told the Jackson Free Press in 2016 that one study showed that interrupters, if well-trained, will prevent a retaliation 100 percent of the time. And every murder prevented means the resulting chain of retaliation stops.
"I don't know if it's 10 or 70 events that wouldn't happen" as a result of one intervention, Slutkin said, but they do stop future violence.
It is common, if not well known, that many former prisoners hit the streets wanting to stop the cycle of violence that sent them to prison as young people. But they often have no infrastructure to help them become effective credible messengers even if they are well-meaning.
Slutkin emphasizes that serious training—in teamwork, reframing, and dealing with various types of conflict, whether over girls, money, turf or insults—is necessary for credible messengers to be effective. They also need to be paid because this work is a full-time and sometimes dangerous job that requires commitment.
"You can't depend on volunteers," he said.
Distance from Police Needed
Assistant Chief Robinson admitted at the Wednesday press conference that credible messengers and violence interruption were new ideas to him, but said that he is now fully onboard after attending the Washington, D.C., conference.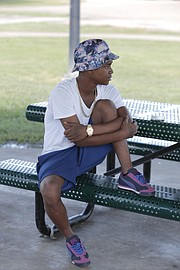 A full archive of the JFP's "Preventing Violence" series, supported by grants from the Solutions Journalism Network. Photo of Zeakyy Harrington by Imani Khayyam.
Buy-in from the police department is important so they do not get in the way of the prevention work, Slutkin says, but by design, effective violence interruption needs to happen outside the criminal-justice system. For one thing, many of the people who need the intervention do not trust the police and may believe that the interrupters are snitches out to get them, rather than help them.
Shanduke McPhatter is a well-known violence interrupter in East Flatbush in New York City. He has some interaction with the police, he said in 2016, but he also grows frustrated with the approach police take to violence, as well as their desire to take credit for all progress. Communities need to know they can heal violence themselves and prevent it before it happens, he told me while on patrol on the streets of Brooklyn.
"I don't care how many ways you try to flip it: Locking up is not bringing down gun violence; you're just locking up people until the next people pick up the guns. We're showing a method of change: preventing and changing the mindset, giving people a different way of life," McPhatter said.
He urged both police and community to trust the process of violence interruption by former criminals who have been there.
"There are so many naysayers, those who never support us, always looking at negatives. Our work counts the positives. We document everything we do," McPhatter said then. Unlike the police, he added, "we're not getting promotions for saving lives. We want those in our community to see that there's another method, another way to deal with gun violence, to prove them through our numbers."
The idea that fear of punishment can change criminal behavior, Slutkin said in 2016, is scientifically unsound.
"Those are old ideas; these ideas are not correct. Punishment is not the way to change behavior," he said.
When asked at the press conference Wednesday, Mayor Lumumba acknowledged the need for both trust and distance between credible messengers and local police, promising that the balance will be correct from the outset with the buy-in already from JPD.
Donna Ladd is editor-in-chief of the Jackson Free Press and a freelance writer for The Guardian, writing about race, violence, policing and gender. Visit her blog at donnaladd.com. Read more about evidence-based violence prevention including credible messengers at jfp.ms/preventingviolence.