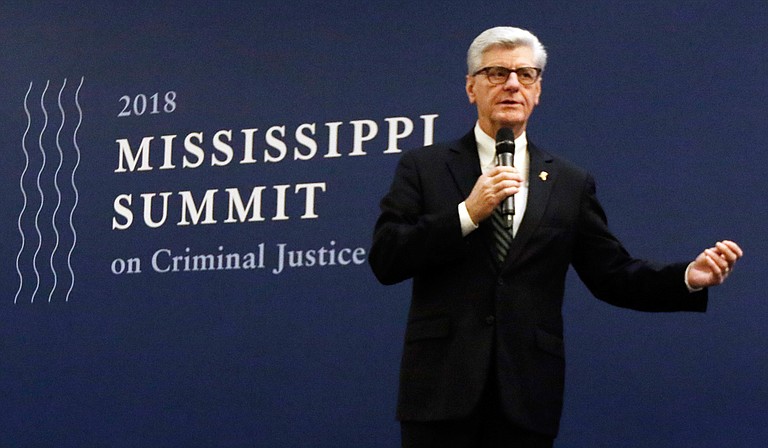 Wednesday, December 12, 2018
JACKSON — Gov. Phil Bryant enthusiastically backed federal criminal-justice reform at the Mississippi Summit on Criminal Justice Reform on Dec. 11 at the Westin Hotel in downtown Jackson. An organization called Fwd.Us hosted the gathering; it focuses on criminal-justice reform and immigration with the help of major technology donors like Mark Zuckerberg and Bill Gates.
Just as Bryant took the stage, news broke that U.S. Sen. Mitch McConnell said the Senate would take up the First Step Act, a criminal-justice reform bill, before the end of the year.
"I know what will happen, I've been a politician—there will be a stampede," Bryant said. "Everyone will say we're reforming criminal justice. The president is going to have a bill signing in Rose Garden, and I want to be there to to take my picture and put my name on the bill."
During the governor's remarks, he talked about his time in law enforcement, working with the Drug Enforcement Administration when he had to arrest some of his own classmates. But now, Bryant, a self-proclaimed "capital punishment believer," is trying to balance reform efforts while not appearing to be soft on crime, he says.
At the summit, Bryant described two camps of people: those who need to be in prison forever (or get the death penalty) and "those we're mad at."
"If you break in my house, I'm really mad at you. If you break in my car and steal it, I'm going to be really mad at you," Bryant said. "But you probably don't need to be in prison for the next 20 years."
Being tough on crime, including drug users and sellers, has long been a Republican Party hallmark, one that the president campaigned on. Bryant said that some will see efforts like the First Step Act as "soft on crime" or as a "jailbreak," as U.S. Sen. Tom Cotton called it. From personal experience in law enforcement, however, Bryant said it is obvious who in their heart needs to be in jail and who doesn't.
"You determine pretty quickly, you know inherently by your experience, by your training which ones of those inmates need to stay in jail and which ones of them need to be released and put back into society after working with them, after seeing that their heart has changed," Bryant said.
Those using drugs or trapped in the cycle of addiction would be included in the basket of people Bryant wants to help. He specifically referenced the opioid crisis and helping those suffering to rebuild their lives.
"Because, let me tell you, I put a lot of folks in jail because of drugs, and you get them clean and sober, and you find out they were a different person," Bryant said.
Conservatives Taking First Steps
In many ways, the First Step Act skirts the surface for criminal-justice reform at the federal level. The bill would retroactively implement the Fair Sentencing Act of 2010 that reduced disparate sentences for crack and cocaine use. It would also tackle some mandatory minimum sentencing, including backing off the three-strike rule to give people with three or more "strikes" 25 years in prison instead of life behind bars.
The law would also ramp up the credit system in federal prison for reducing time served for good behavior by avoiding disciplinary infractions and also earning credits for participating in rehabilitative and vocational programs and then being released early to halfway houses or rehab.
The bill may do wonders for the intensely partisan climate in Washington, but in terms of reducing the prison population, that may have to be reserved for a second step. Notably, the federal prison system only holds about 180,000 people; the millions of others are in state and county facilities.
Throughout the conference, speakers touted Mississippi's criminal-justice reform bill (House Bill 387) that stopped Mississippians from automatically going to prison or jail if they do not pay fines or court fees. But, Mississippi still has a long way to go before really celebrating. From 2016 to 2017, Mississippi's prison population increased by 1.3 percent, making this state the fourth highest in incarceration rates, data from the Vera Institute show.
President Donald Trump came to Mississippi for a roundtable about the bipartisan bill while stumping for Sen. Cindy Hyde-Smith.
At the summit, Van Jones, a CNN commentator and longtime criminal-justice reformist, spoke on the keynote panel with Matt Schlapp of the American Conservative Union.
The two took playful, but partisan, jabs at one another from the very start of the hour-long discussion, first deciding whether who sat stage left or right should correspond with their party affiliations.
Jones, who has praised Trump as the "uniter-in-chief" for his support of the First Step Act, said this bill will show that every place else is safe for reform because U.S. House of Representatives leader Nancy Pelosi and Trump support the same bill.
Gov. Bryant returned to a round table at the front of the room for this discussion. Jones spoke directly to him about the potential to unite Mississippians around criminal justice.
"At a human level, governor, a much deeper itch is scratched with your people when they don't have to fight about every dadgone thing and call each other names and be mean in the press," Jones said to Bryant. "Don't miss that human element here."
'Baby Daddy' Dog Whistle
During Bryant's opening remarks, he talked about the systemic causes of mass incarceration, linking absent fathers or "baby daddies" to high prison populations.
"It doesn't start once they get in prison. It is a continuum scale of failure," Bryant said. "We all know it starts with the family. I can tell you that child in a home without a father has a better chance of going to prison than the kid down the street whose dad's at home attending to his responsibilities as a father. People might not want to talk about that, but dads in the home most of the time actually works."
He said he brought up fatherhood during his annual address at Mississippi Boys State, a high school leadership program.
"I said they even changed the name to what you guys are now? Not dads or fathers anymore. What are they? Baby daddies. What a sad commentary for this nation," Bryant said at the Westin.
There is a long-arching stereotype about absent black fathers that Bryant seemed to be alluding to with the "baby daddy" comment. Yet, a Centers for Disease Control study of fathers' engagement found that African American fathers were more likely than white fathers to be engaged with their children's lives. Research shows that media spread myths about absent and disengaged black fathers.
Despite the theme of the conference, Bryant also missed an opportunity to delve into the impacts of incarceration on the nuclear family. Fwd.Us found that one in two people in the United States have had an immediate family member incarcerated, one in five had a parent incarcerated, and one in seven had a spouse or co-parent behind bars.
The study also shows black adults are 50% more likely than white adults to have had an immediate family member incarcerated. Black adults are three times more likely than white adults to have had an immediate family member incarcerated for longer than one year.
Fwd.Us says that adults with household incomes of less than $25,000 per year are 61 percent more likely than adults with household incomes of more than $100,000 to have had a family member incarcerated, and three times more likely to have had a family member incarcerated for one year or longer.
Asya Branch, the reigning Miss Mississippi, talked about the economic hardship her family faced when her father, the breadwinner, was incarcerated. Branch was 10 years old, her siblings were two and five years old at the time, when their father was arrested and taken away while they were at school. She said that was the last time she saw her father for three years. Branch hails from Booneville, Miss., a small town in northeast Mississippi. When her father went away to Parchman prison, she said visitation was hard because it took a full day of travel with young children on top of that.
Financially, the Branches suffered, losing their home to foreclosure and also facing stigma around having an incarcerated parent. At the summit, Branch said that she does not feel her father got a fair sentence, and she advocates for use of alternate routes for some behind bars such as rehab.
"It's a business, you go to keep the beds full," Branch said. "It's sad to say, but it's true. ... But that's not helping anyone."
As some reporters have put it: many black men are quite literally missing because they are behind bars or suffer from low life expectancies. "For every 100 black women in this age group living outside of jail, there are only 83 black men. Among whites, the equivalent number is 99, nearly parity," data from the New York Times' Upshot show.
This became particularly pertinent post-Ferguson, where a police officer shot and killed teenager Michael Brown in broad daylight in 2014, launching years of protest and demands for police reform. In 2015, The New York Times found that of cities with at least 10,000 residents, Ferguson had the single largest proportion of missing black men. Economist Stephen Bronars found that in 2015, there were more than two young black women for each young black man in Ferguson.
Email city reporter Ko Bragg at [email protected].