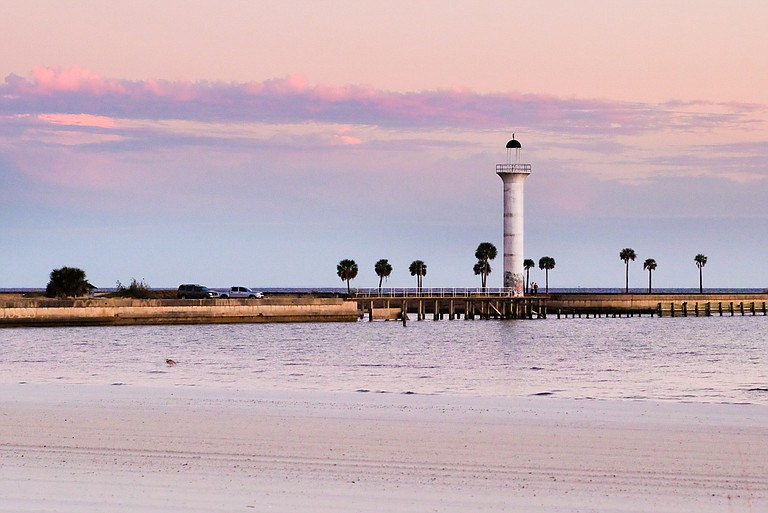 Tuesday, December 11, 2018
JACKSON — Homes on the Mississippi Gulf Coast lost more than $263 million in value due to rising sea levels, a peer reviewed study by scientists with the First Street Foundation and Columbia University found.
Rising sea levels hit Bay St. Louis hardest, with the city losing $95.4 million in home value over the 12 year study period between 2005 and 2017.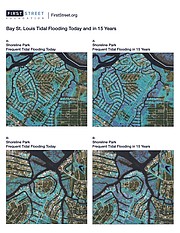 "In Bay St. Louis, the average impacted home would be worth 49 percent more if tidal flooding were not a risk, and in Kiln, 41 percent more," First Street data science head Steven A. Alpine said. "These are the hardest-hit neighborhoods in Mississippi because homes and roads are at low elevations, and sea-level rise is increasing the frequency of flooding along the Jourdan River."
Rising sea levels also sharply affected home values in other Gulf Coast towns and cities over the same period: Pass Christian lost $26.8 million in home values; Kiln lost $24.8 million; Waveland lost $15.2 million; Biloxi lost $10.2 million; Gautier lost $9.2 million; Gulfport lost $8.8 million; Pearlington lost $6.4 million; Moss Point lost $6.2 million; and unincorporated coastal areas lost $25 million.
Findings Not Skewed by Hurricane Katrina
Though the study begins with data in 2005, the year Hurricane Katrina hit the Mississippi coast, it does not affect the study's assessment. Jeremy Porter, a Columbia University professor and statistical consultant for First Street, told the Jackson Free Press that the study controlled for factors like hurricanes, the 2008 economic recession and the BP oil spill.
"All of our research is based on sea-level rise and tidal flooding, so all of the models we've developed have been predicated on tide gauge readings," Porter said. "
The team chose to begin the study with data from 2005 because that year marked a major increase in tidal flooding.
"We ended up using 2005 as a start point because we were looking at what the National Oceanic and Atmospheric Administration (NOAA) defines as nuisance tidal flooding levels," Porter said. "NOAA usually calls it nuisance tidal flooding if an area floods more than 10 times per year. This characterization showed a marked increase around 2005 through most of the southeast and Gulf Coast."
Researchers began by studying Miami-Dade County in Florida, where they found $465 million lost in home values from 2005 to 2016 due to rising sea levels.
"It's funny, because we did a lot of research in that area, and we kept finding people were forecasting that there was going to be a lot of loss in the future," Porter said. "We started to wonder, has there already been an economic impact?"
They expanded their research to other coastal studies across 10 states, including studies throughout the southeast, with Porter, a graduate of Mississippi State University, eventually returning to the Magnolia State.
Mississippi's sister state to the East, Alabama, suffered less but still saw sizable losses in home values of $157 million.
The loss in home value does not necessarily mean homes are worth less today than they were in 2005. In some cases, it may mean they did not appreciate at rates similar to homes that were not affected by rising sea levels. Even homes affected by rising sea levels that did appreciate in value did so "at a significantly lower rate than comparable homes unaffected by tidal flooding," the study found.
Reason for Rising Sea Levels?
Porter said the First Street Foundation did not take a stance on the cause of the rise in sea levels.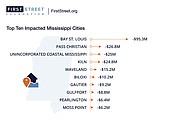 "I think there are a lot of arguments showing that climate change is having an impact, and there are other people saying they're climate-change cycles," Porter said. "At First Street Foundation, we're primarily focused on sea-level rise and the fact that there's an economic impact."
A fact sheet on NASA's official website, though, attributes rising sea levels to climate change.
"Sea level rise is caused primarily by two factors related to global warming: the added water from melting ice sheets and glaciers and the expansion of seawater as it warms," the site reads.
On the National Ocean Service website, NOAA explains the dramatic rise in sea levels.
"Higher sea levels mean that deadly and destructive storm surges push farther inland than they once did, which also means more frequent nuisance flooding," the NOAA page reads. "Disruptive and expensive, nuisance flooding is estimated to be from 300 percent to 900 percent more frequent within U.S. coastal communities than it was just 50 years ago."
The First Street Foundation estimates that, if nothing is done, Bay St. Louis will lose an additional $110 million in property values in the next 15 years, Pass Christian will lose an additional $31 million, Kiln will lose an additional $28.6 million, Waveland will lose an additional $17.6 million, while Biloxi and Gulfport will lose about $10 million each through 2033.
Ashton Pittman is the state reporter for the Jackson Free Press. Follow him on Twitter @ashtonpittman. Email him at [email protected].