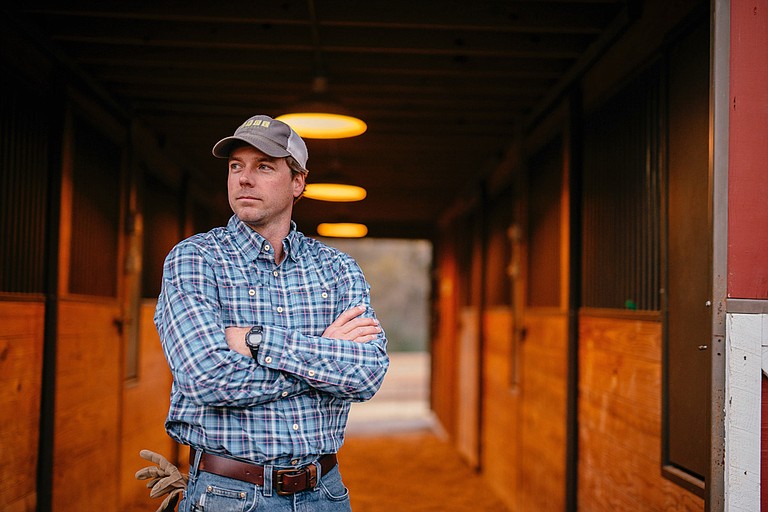 Monday, December 10, 2018
JACKSON — Freshman State Rep. Robert Foster will announce a bid for the Republican nomination to be Mississippi's next governor tomorrow in his hometown of Hernando.
Foster, known by locals as "Farmer Bob" because of his family-owned farm, is a freshman legislator whom voters first sent to Jackson in 2015. Since then, he has earned a reputation for supporting hard-right legislation and harsh rhetoric on social media, although he strays somewhat from the mainline Republican Party's recent stances on the drug war and "school choice."
The candidate will likely face an uphill battle with Lt. Gov. Tate Reeves, whom political observers expect to launch his own bid. Foster's conservative views and record, though, may endear him to the hard-right base he will need to court to pull off an upset. Foster, who is Baptist, touts his status as a "strong Christian and balanced conservative voice," and his record of supporting anti-abortion and anti-LGBT legislation is sure to endear him to evangelicals.
In 2016, Foster wrote in support of House Bill 1523, the "Protecting Freedom of Conscience from Government Discrimination Act," which guarantees businesses the right to discriminate against and refuse to serve LGBT people on the basis of personal religious beliefs about same-sex marriage and gender identity.
Foster defended his support for the bill at the time, writing in April 2016 that "dealing with discrimination is part of the price you pay to live in a free society." Later that month, Gov. Phil Bryant signed it into law.
In March, Foster was one of the co-authors who introduced House Bill 1510, the Gestational Age Act, which prohibits abortions after 15 weeks even in the cases of rape and incest. Bryant signed it into law in March, but a federal court struck it down on Nov. 20.
Short Memory on Mississippi State Flag History
Foster's support for the Mississippi flag, too, may please the state's right-wing Republican base.
"I have lived in Mississippi all of my life. ... I have never once heard anyone mention being offended by our state flag until the tragic shooting in South Carolina when the media told us we were supposed to be offended," Foster wrote on Facebook in November 2015.
Blaming Dylann Roof's massacre of worshipers for disdain for the Confederate battle emblem in the state flag is a common talking point today among the flag's supporters after a photo of the gunman holding a Confederate flag emerged after the tragedy. But many Mississippians expressed discomfort with the state flag's canton well before 2015. In 2001, flag critics led an effort to change the flag with a referendum, with a focus on improving the state's business climate and reputation to outsiders rather than what it represents, that ultimately failed among race lines.
Today, many white Mississippians who previously supported the state flag are changing their minds based on the racist legacies of slavery and the Civil War.
Critical of 'War on Drugs' and 'School Choice'
Foster's views do not always align with the hard right, though. In 2016, he wrote that, while he doesn't support "the legalization of drugs," he believes "full-on prohibition" does not work, suggesting the war on drugs was a failure.
"We know that throwing addicts in jail for using drugs does not stop them from using drugs," he wrote. "Most addicts start to use drugs just as soon as they get back out, some use drugs even while they are still in jail."
At another point in 2016, Foster expressed uncertainty over "school choice," a set of policies conservatives support allowing parents to accept state-funded vouchers to pay for them to go to private schools instead of public schools.
"On one hand, it is a free market principle for parents to have the choice," Foster wrote in a comment. "On the other, it is a duplication of infrastructure costs to build more buildings and the government always follows the money so it is not a question of if but when they will follow with rules and regs into private schools. I'm torn over this issue and still listening to this very active debate to try and find some balance."
In a press release announcing his plans to announce a run, Foster, a University of Mississippi alum whose family business, Cedar Hill Farm, employs more than 100 people, said he is "a regular person" who wants to improve his state.
"I just believe Mississippi could be better," he said. "It's kept me up at night, praying about how I can make it better, not just for my family, but the 100 plus employees who work hard on my farm."
Catching Up with Reeves ... on Facebook
Already, the freshman legislator is closing in on his likely opponent in terms of his Facebook following. As of Monday, Reeves—who has served as lieutenant governor since 2012 and before that was state treasurer from 2004 to 2012—had a Facebook following of just over 15,000, while Foster's following stood at over 13,100.
Reeves is well ahead of Foster on Twitter, though, with nearly 12,000 followers compared to Foster, who has less than 600.
Reeves is far ahead in fundraising, though. When he last filed with the secretary of state's office on Jan. 31, Reeves already had over $5 million cash on hand.
Foster may face competition if he's vying for the votes of anti-establishment conservatives. Far-right Petal Mayor Hal Marx, known for his Trump-like Twitter habits, announced a run in May. In 2014 and 2018, Marx supported Tea Party conservative, Mississippi Sen. Chris McDaniel, R-Ellisville, in his unsuccessful bids for U.S. Senate.
Foster will make his announcement tomorrow at One Memphis Street, a Hernando event venue, at 5 p.m.
On Saturday, Dec. 8, Valesha P. Williams announced that she was running for the Democratic nomination for governor. Like Foster and Reeves, she faces an uphill battle against a formidable candidate. Mississippi Attorney General Jim Hood—the only Mississippi Democrat to hold statewide elected office since the parties completed a realignment over race issues that began in the 1960s—announced his run for governor in October.
Voters will have almost a year to make up their minds about who should succeed Gov. Phil Bryant, who has held the office since 2012. Mississippians will elect its next governor on Nov. 5, 2019.
Ashton Pittman covers politics and elections for the Jackson Free Press. Follow him on Twitter @ashtonpittman. Email him at [email protected]. For news on the 2019 Mississippi elections, visit jacksonfreepress.com/2019elections.