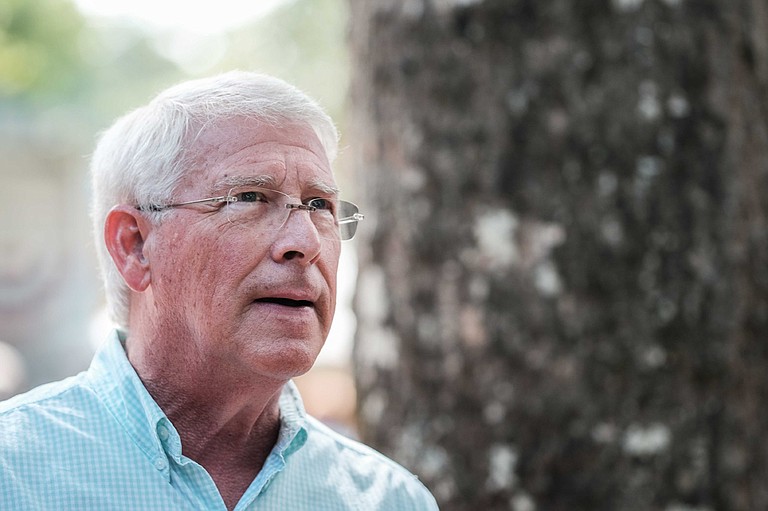 Wednesday, August 22, 2018
JACKSON — Karl Rove, the political strategist and senior adviser to President George W. Bush, helped raise campaign funds for Republican U.S. Sen. Roger Wicker at the home of Cissye and Billy Mounger in north Jackson on Aug. 18. Rove left the Bush administration under a cloud of controversy that included his strategies to help justify the U.S. war in Iraq.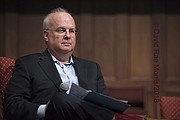 The dinner was $5,000 per host couple for a "Saturday in the Park"-themed private reception with Rove and a signed book. For $1,000, a couple could attend the dinner with Rove and Wicker from 6 p.m. to 7 p.m. Checks went to the Roger Wicker Majority Fund, a joint fundraising committee between Wicker's re-election campaign and a pro-Wicker political action committee.
Democratic Mississippi House Minority Leader David Baria, who is challenging Wicker for his seat in November, criticized Wicker for the private dinner with Rove in an email to supporters.
"Roger Wicker hasn't been doing the bidding of constituents," Baria wrote, accusing the Mississippi senator of "doing the bidding of large corporations" and "siding with special interests."
The Baria campaign became aware of the fundraiser after an invitee forwarded a copy of the invitation to them, campaign manager Alyssa Miller told the Jackson Free Press. Miller identified the invitee only as "someone who has been disappointed with Roger Wicker's leadership."
The invitation, which the Baria campaign forwarded to the Jackson Free Press on request, encouraged attendees to donate up to the maximum legal amount of $7,700 per individual or $15,400 per couple and to dress "club casual." Host Billy Mounger is the CEO of Tristar Technologies in Jackson.
The invitation encouraged invitees to contact Melissa Hederman "if you are interested in joining Roger and Karl for a private dinner following the event."
Hederman is the wife of Arnie Hederman, who has served as both chairman and executive director of the Mississippi Republican Party and was deputy campaign director for Haley Barbour. He is now partners with Austin Barbour in The Clearwater Group, a political consulting firm in Jackson. His wife runs the Hederman Group, which has received $35,438 from the Wicker Majority Fund so far in 2018 for its services, OpenSecrets.org reports.
Previously, Melissa Hederman headed fundraising for Mississippi Today, a website launched by NBC News Chairman and New York City native Andrew Lack that described itself as "the state's only nonpartisan, nonprofit digital news and information resource," when it launched in Ridgeland in 2016.
Wicker Majority Fund Finance Director Lindsey Seitchik would not confirm or deny the Rove-Wicker fundraiser and directed the Jackson Free Press to contact the Wicker campaign. At press time, neither Wicker's campaign nor his Washington office had responded to requests for comment.
However, a tweet by Richard Simon of Ridgeland on the day of the fundraiser shows a photo of him alongside Wicker and Rove with the caption, "Great time supporting Senator Wicker and talking with Karl Rove." His LinkedIn profile shows that Simon serves as a senior principal and regional manager of the Mississippi and Louisiana branches of Terracon, a national consulting and engineering firm.
Simon's Twitter feed shows that he often tweets support for Republican candidates. In February, he retweeted pro-Trump social-media star Jacob Wohl, who wrote, "If the Russians helped keep Crooked [Hillary Clinton] out of the White House, then I thank them for their service to our country."
Rove earlier this month likened President Donald Trump to Joseph Stalin, the brutal communist dictator of the former Soviet Union. Wicker, by contrast, has spent much of the 2018 campaign season praising the president and touting his pro-Trump Senate record. Trump has endorsed Wicker for re-election.
On the same day as the Wicker fundraiser, Rove made an appearance at the Mississippi Book Festival in Jackson, where he spoke with Pulitzer Prize winner and Tennessee native Jon Meacham about Meacham's new book, "The Soul of America: The Battle for Our Better Angels."
In the lead-up to the Iraq War in 2002, Rove chaired the then-secret White House Iraq Group, which sought to develop strategies for persuading the public to support invading Iraq. Later, Bush dubbed Rove the "architect" of his 2004 re-election campaign. Rove resigned in 2007 after he was caught in the crosshairs of a criminal investigation into the administration's leaking of the name of undercover CIA operative Valerie Plame. He was never charged with any crimes.
Last year, Bush traveled to Mississippi to host a similar fundraiser for Wicker.
Filings show that Wicker's campaign has received $171,747 from the Wicker Majority Fund in 2018, while the pro-Wicker Responsibility & Freedom Work PAC has received $11,662.
Baria and Wicker will face off on Nov. 6 in the national midterm elections. Polls in Mississippi are open from 7 a.m. to 7 p.m.
Ashton Pittman covers politics and elections for the Jackson Free Press. Follow him on Twitter @ashtonpittman. Email him story tips to [email protected].