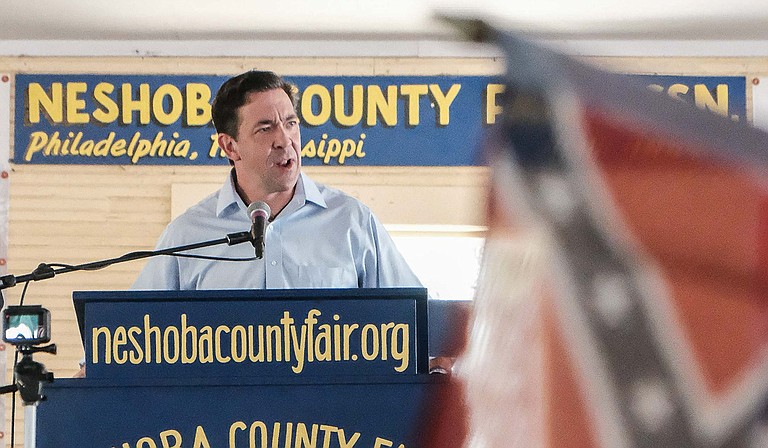 JACKSON — Mississippi State Sen. Chris McDaniel derided critics as "snowflake stalkers" Sunday after his tweet about Confederate Gen. Robert E. Lee and a follow-up poll went awry.
Last Wednesday, the Republican who is running for the U.S. Senate seat held by incumbent Republican Sen. Cindy Hyde Smith posted a screenshot of a tweet he sent in 2017 referring to Lee as "a man of unimpeachable integrity."
"And yet to the historically illiterate left, a man who opposed both slavery and secession has come to symbolize both slavery and secession," the screenshot concluded.
Lee, a slave holder, expressed a desire for the country to stay together before the Civil War, but ultimately followed his home state of Virginia in seceding and served as the commander of the Confederate Army.
McDaniel drew rebukes from historians around the nation for the tweet, including Kevin M. Kruse, a civil-rights historian at Princeton University who described Lee as a "cruel" slave owner who punished slaves with whippings and then pouring salt into their wounds.
"I think it shows that if anyone is historically illiterate, it's Senator McDaniel," Kruse said in an interview with the Jackson Free Press.
McDaniel's tweeted screenshot Wednesday cut off the bottom line of the 2017 tweet, which attributed the quote to conservative commentator and admitted felon Dinesh D'Souza who, Kruse added, "is not even a historian."
The historical rebuke did not dissuade McDaniel. On Thursday, he posted a Twitter poll asking followers to choose whether Lee is a "hero" or a "villain." "In light of all the political correctness and leftist hysteria, I'm curious about what you think: How should Robert E. Lee be remembered?" McDaniel wrote.
The final tally in McDaniel's poll—after 139,580 votes—had "villain" winning with 91 percent of the vote.
McDaniel brought the subject up again Sunday—this time in a Facebook post.
"Quick question for my new snowflake stalkers: If President Abraham Lincoln tried to hire General Lee for his Union Army, does that make Lincoln a racist? Asking for a friend."
Lincoln did offer Lee—who had served in the U.S. Army for 32 years—command of the U.S. Army after Virginia seceded. Instead, Lee resigned from the U.S. Army and followed his home state in secession.
The state senator is not the only Mississippi politician who has given a recent public shout-out to a Confederate leader. U.S. Sen. Roger Wicker called Confederate President Jefferson Davis a "hero" in his speech at the opening of the Mississippi Civil Rights Museum and the Mississippi History Museum.
McDaniel faces off against Hyde-Smith and Democratic candidate Mike Espy on Nov. 6, 2018, the same day as the national midterms, in the special election for the seat vacated by former Sen. Thad Cochran. Polls are open in Mississippi from 7 a.m. to 7 p.m.
Ashton Pittman covers politics and elections for the Jackson Free Press. Email him story tips to [email protected]. Read more about the Confederacy and the Civil War at jfp.ms/slavery. Read more 2018 campaign coverage at jfp.ms/2018elections.