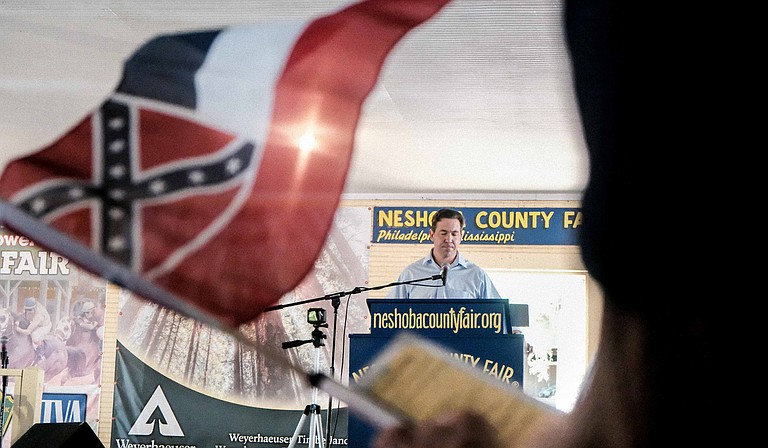 PHILADELPHIA, Miss.—"Tough crowd," Mississippi Gov. Phil Bryant muttered to himself, just before taking the stage at the Neshoba County Fair in Philadelphia, Miss., on Thursday.
He had just watched the state's two incumbent U.S. senators—Republicans Cindy Hyde-Smith and Roger Wicker—speak before a hostile, jeering crowd that included dozens of supporters for conservative State Sen. Chris McDaniel, who is running to unseat Hyde-Smith in November's elections.
"I'm darn glad to say I appointed a United States senator that's a rancher and not a lawyer, and she's doing one hell of a job," Bryant said during his speech, defending his appointment of Hyde-Smith, while prodding McDaniel, who has a law practice in Laurel.
Twenty minutes earlier, boos and heckling had overwhelmed Hyde-Smith's speech, lasting for the duration of her time on stage. "Gun grabber," one shouted when she spoke of her NRA membership. "You support Planned Parenthood," another shouted when she spoke of her opposition to abortion. When she praised her predecessor, Cochran, for having done "so many favors for us over the years," they laughed.
"Haters are just gonna hate," Hyde-Smith said to the Jackson Free Press as she stepped off the stage. "That's what they do."
'She Has a Democratic History'
Hyde-Smith's reception was markedly different from that of her and McDaniel's Democratic opponent, former U.S. Secretary of Agriculture Mike Espy. Espy received polite applause throughout his speech. 
In it, Espy emphasized Mississippi unity, while raising issues like improving rural access to broadband and "building a Mississippi economy that doesn't force our children to choose a new job hundreds of miles away."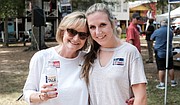 The discrepancy between the crowd's response to Espy and Hyde-Smith was about more than "haters gonna hate." McDaniel supporter, Carol McCarty of Madison said, "Cindy Hyde-Smith will not debate, and Senator Espy has said he will."
She said if the race were to end in a runoff between Hyde-Smith and Espy, she "would have to pray about it" because "Cindy Hyde-Smith is not a conservative, even though she wants to be."
Steve Campbell, a Vietnam veteran from McDaniel's hometown of Laurel, concurred.
"We were extremely disappointed when Gov. Bryant appointed her," he said, as his wife, Joyce, nodded in agreement. "She has a Democratic history. I support Chris because he's a true conservative. He's well grounded. He has a strong religious background."
Marnita Hill of Starkville said Hyde-Smith is a faith-based conservative, too.
"I have known Cindy Hyde-Smith for years and was ecstatic when the governor appointed her," Hill said. "She is a strong conservative who stands for Christian values. She will stand for Mississippi."
'Donald Trump Is a Fine President'
During Hyde-Smith's speech, one McDaniel supporter on the front row held a sign that read "Cindy Loves Hillary - BFFs"—a reference to recent accusations McDaniel made that Hyde-Smith voted for former Secretary of State Hillary Clinton in 2016, rather than then-candidate Donald Trump.
"I would swear on my daughter's life, I have never voted for Hillary Clinton," Hyde-Smith said, as she pulled her 19-year-old daughter—Anna-Michael Smith—in for a hug.
Hyde-Smith is not the only politician McDaniel has accused of being insufficiently conservative. In a January 2016 Facebook post, McDaniel wrote that then-candidate Trump was "absolutely not" a conservative—a quote a placard-wielding opponent revived during McDaniel's speech Thursday.
At the fair, though, McDaniel heaped praise on Trump.
"Donald Trump is a fine president," McDaniel said. "He needs fighters—not just ones trying to ride his coattails to Washington, D.C."
The Republican Party, he said, has fallen from "the bold party of Reagan" to "the pastel party of Lindsey Graham"—a reference to the senior senator from South Carolina who refused to support Trump after he became the party's nominee for president in 2016.
The morning's Republican speakers invoked their pro-Trump bona fides frequently.
"We should vote for people who support President Trump," Bryant—who received a notably more positive response than Wicker or Hyde-Smith—told the crowd. "Going to D.C. is so much fun now."
That sentiment was far from universal among fairgoers.
"We desperately need to elect Democrats," said Connor Smith of Madison—a 19-year-old public policy and political-science major at the University of Mississippi. "Donald Trump is becoming scarily authoritarian, and we need a check on his power."
Patti Drapala of Starkville agreed with Smith.
"We need a Congress that's going to hold Donald Trump accountable. We want the world to be a better place for people like this young man," Drapla said as she placed her hand on Smith's shoulder. "We can't leave it in ashes and in tatters."
Another fairgoer backing Democrats was Michael Aycox, a 30-year-old Navy veteran who ran as an openly gay candidate in the Democratic primary for Mississippi's third congressional district earlier this year. Michael Evans, a conservative Democrat who spoke at the fair on Wednesday, won the race.
"I support Mike Espy, Jay Hughes and David Baria because of their continued efforts in support of equality and LGBT rights in the state of Mississippi," Aycox said. Hughes is a Democratic candidate for lieutenant governor of Mississippi in 2019, while Baria is the Democratic candidate challenging Wicker for his seat.
Baria v. Wicker
Speaking at the fair Thursday, Baria criticized Wicker who, like Hyde-Smith, has declined to join his opponent for a debate.
"In the Mississippi I know, if a man is not willing to stand toe to toe and defend his beliefs, he does not deserve your vote," Baria said, earning applause from McDaniel supporters in the crowd. "'Roger the Dodger' has a nice ring to it, dutin'it?"
Since 2014, McDaniel has routinely criticized Wicker's record in anticipation of a campaign against him this year. McDaniel announced plans to challenge him in February but quickly switched races after Cochran stepped down. In his speech, Baria borrowed from McDaniel's arsenal with an attack on Wicker's ties to the political establishment.
"We need somebody who will stand up to the McConnells and the Schumers and the Pelosis in Washington," Baria said.
He said Wicker supports corporations, not Mississippians.
"For 24 years, Roger Wicker has voted just like Mitch McConnell, and the big money interests have told him," Baria said.
When Wicker took the stage, he attempted to impress the crowd by recounting Republican accomplishments in the Senate, only to be met with interjections from McDaniel supporters at every turn.
"We passed historic tax cuts," Wicker said. "Trump did," a McDaniel supporter shouted.
"These elections are going to decide whether we build on those tax cuts or whether we put Nancy Pelosi and Chuck Schumer in charge." Pelosi and Schumer lead the minority party, the Democrats, in the House and Senate, respectively.
"What's the difference now?" someone retorted.
"In addition to that bill, we repealed the Obamacare individual mandate." "No, that's not what you did," one argued.
Some of McDaniel's supporters held up replicas of the Confederate emblem-bearing Mississippi state flag as a rebuke of Wicker's position on the flag. After nine black churchgoers were killed in a mass shooting in Charleston, S.C., in 2015, Wicker said it was "time to put the flag in a museum" and choose a new one.
When McDaniel announced his short-lived campaign against Wicker in February, he promised his supporters, "We're going to keep that flag."
Baria and Wicker will face off against one another in the national midterms on Nov. 6. The special election between Espy, Hyde-Smith and McDaniel will be the same day. If no candidate gets more than 50 percent of the vote, the top two vote-getters will compete in a runoff at a later date. Polls will be open from 7 a.m. to 7 p.m.
Freelance journalist Ashton Pittman covers politics and elections for the Jackson Free Press. Email him at [email protected]. Read more 2018 campaign coverage at jfp.ms/2018elections.