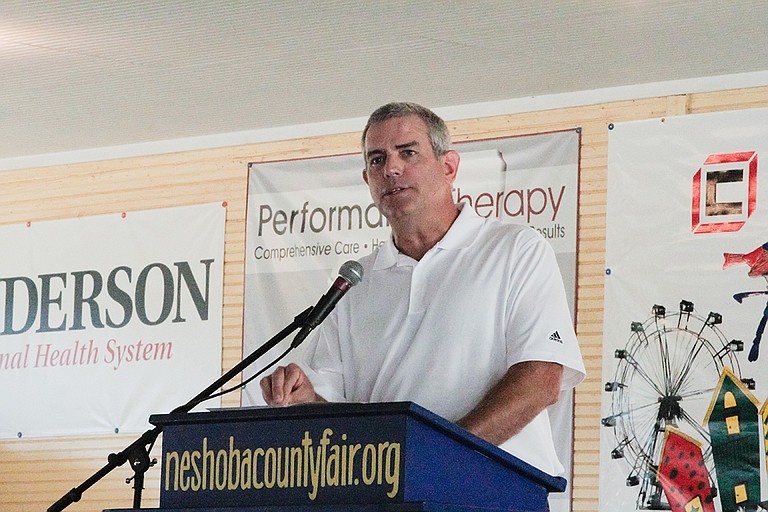 Wednesday, April 18, 2018
JACKSON — The Republican supermajority in the Mississippi Legislature has ignored the state chamber of commerce's calls to increase state funding for roads and bridges for three legislative sessions in a row. That's not to say negotiations are not happening, but at this point even the federal government is noticing.
Last month, the Federal Highways Administration warned Gov. Phil Bryant that Mississippi had not closed its dangerous bridges and could lose federal funds if that did not change soon.
Bryant, accordingly, issued an executive order closing 83 bridges last week—and that number is over 100 bridges now.
Negotiations between House and Senate leaders to come up with an infrastructure funding plan fell apart in the 2018 legislative session but after the governor's announcement, House Speaker Philip Gunn, R-Clinton, renewed his calls for a comprehensive road plan. He revealed a 60-page proposal, saying the governor told both him and Lt. Gov. Tate Reeves that "we need to do something."
'I Am a Republican'
Gunn's plan restores several provisions rejected during the 2018 legislative session, as well as a way to increase the gas tax while eliminating the 4-percent income-tax bracket during a phased-in time period. The "tax swap" would phase out the 4-percent tax over four years, while increasing the gas tax by 2 cents each year for four years. The gas tax would be indexed for inflation at the end of the phase-in.
Once fully phased in, the gas tax would be up eight cents, and $160 million in tax revenue would be "swapped" from income tax to use tax. Use tax is a sales tax on goods purchased in businesses with storefronts, which some online retailers such as Amazon have begun to voluntarily collect and turn over to the State, despite not having a physical presence in Mississippi.
The House proposal also includes a 35-percent use-tax diversion, which totals approximately $110 million, from the general fund to cities, counties and the local bridge program. Gunn said no figures are final, yet—as the proposal is in its initial draft. His proposal also includes bonding authority for infrastructure projects from the State's Gaming Sinking Fund.
"So there's no net increase in taxes; none of this proposal increases any net tax," Gunn said. "All it does is use existing dollars to fund roads and bridges and shifts taxes from one area to another."
Gunn will need to bring Reeves on board with his plan for it to gain support of Republicans in both chambers. So far, Reeves has not seemed keen on the "tax swap" idea. When asked to respond to Gunn's plan, he provided a statement.
"I am a Republican. I am a conservative. I am against raising gas taxes. The Senate passed a comprehensive $1 billion plan without raising anybody's taxes to address Mississippi's infrastructure needs, and we look forward to working with the House and Gov. Bryant to address road and bridge maintenance," Reeves said.
The lieutenant governor is not the only person not on board with Gunn's plan. House and Senate Democrats hosted a press conference at the Capitol the day after Gunn's announcement. Rep. Jarvis Dortch, D-Jackson, said Gunn's gas-tax swap plan would hurt lower-income families and working people in the state.
"(The wealthy) are going to get a big tax cut, and the low-income folks are going to get a small tax cut—and they are going to be paying more at the pump," Dortch said last week.
'Swiss Cheese' Tax Code
Democrats called for repealing the "Taxpayer Pay Raise Act," the state's sweeping tax cut that will divert $415 million annually from the state's general fund at its full implementation.
"We ought to look at our entire system of taxation. When Governor Barbour was still the governor around here, he commissioned a study to look at our entire tax structure, and they made a lot of recommendations that are still sitting on the shelf collecting dust," House Minority Whip David Baria said last week.
"But among them was to look at all the tax exemptions that we created for everybody and anybody who had enough money to hire a lobbyist over the last 10 to 15 years. I mean, our tax code looks like Swiss cheese."
Democrats said they were not a part of the transportation negotiations and had not seen Gunn's proposal, but they plan to host a public hearing that includes all stakeholders to see how Mississippians believe the state's infrastructure should be funded. Democrats held similar hearings in recent years, when it seemed like a road plan was possible.
Back in December 2015, the Mississippi Economic Council released a study showing that the state needed $375 million annually to repair the state's roads and bridges. The report came immediately after the federal government initially warned Mississippi then about its risky bridges.
The Mississippi Department of Transportation began to review more than 1,500 bridges on the National Bridge Inventory. MDOT has since concluded that 378 local bridges should be closed to traffic.
"Working with the Mississippi Office of State Aid Road Construction in 2017, MDOT developed a plan to get the worst of the timber-pile bridges into compliance, which included closing any bridges that were a danger to motorists," MDOT Executive Director Melinda McGrath said in a press statement.
Instead of passing a road plan, the Republican supermajority passed the largest tax cut in the state's history. If the two legislative leaders can come to an agreement, Gov. Bryant could call a special session for infrastructure funding. Until then, MDOT will be busy working with counties and cities to shut down bridges.
Email state reporter Arielle Dreher at [email protected].