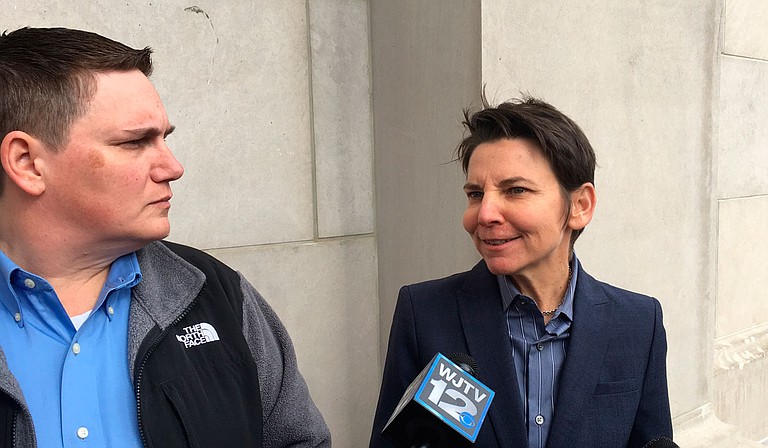 JACKSON, Miss. (AP) — Mississippi's Supreme Court ruled Thursday that a woman has parental rights to a 6-year-old boy born to her ex-wife when the two were married, in a case watched by gay rights activists and groups aiding in vitro fertilization.
Christina "Chris" Strickland brought the appeal, challenging a lower court decision that an anonymous sperm donor still had parental rights and that Strickland did not. Strickland ultimately hopes to win 50-50 custody of Zayden Strickland, who bears her last name and was born by Kimberly Day through artificial means when Day and Strickland were married.
"I'm on cloud nine right now," Strickland said by phone. "I knew I was my son's mother from the start and I would be at the end and this just confirms it with the Supreme Court backing me 100 percent."
All nine justices, in a series of separate opinions, found flaws in the original ruling by Rankin County Chancery Judge John Grant III, which favored a sperm donor over Stickland. The case was ordered back to Grant for further proceedings to decide on custody of Zayden Strickland, with orders to treat Christina Strickland as an equal co-parent.
"At bottom, to deny Christina the relationship she has built with Z.S. would be a miscarriage of justice," Associate Justice David Ishee wrote for a four-judge plurality.
The justices found that Grant's ruling that the unknown sperm donor had parental rights and that Strickland did not was unworkable and unfair, saying such a standard would "would disrupt the familial relationships and expectations of Mississippians who have conceived children" using artificial insemination.
"For one, it would elevate the rights of a donor — who is a complete stranger to the child, and likely never will be identified — over the rights of a person who has known and cared for the child," Ishee wrote.
The original judge had granted Strickland visitation rights and she pays child support. But Attorney Beth Littrell, who works for the Lambda Legal Defense and Education Fund, said Strickland had a much inferior status to legal parenthood.
Day's lawyer argued that sperm and egg donors should have legal rights and that when a child is conceived through artificial means, a second parent is more akin to someone who is adopting a child. The lawyer, Prentiss Grant, had argued Strickland should have gone through the legal process of terminating the sperm donor's parental rights during the divorce proceeding.
Grant didn't immediately respond to an email from The Associated Press seeking comment late Thursday.
Justices wrote that a ruling for Day could have allowed another adult to adopt Zayden Strickland, and if Day had died as the sole parent, Zayden Strickland could have ended up as an orphan in state custody. A ruling against Strickland could have meant that opposite-sex couples who use someone else's eggs or sperm would have had to terminate donors' parental rights to achieve legal status.
Some justices said the court was going too far, ruling on a legal principle that wasn't argued in the original trial or saying they should order Grant to basically start the case over.
Chief Justice William Waller Jr., who provided a key fifth vote agreeing with the outcome of the four-justice opinion, wrote separately that Mississippi lawmakers needed to clarify state law.
"The Legislature should speak directly to the recognition of the legal status of children born during a marriage as the result of assisted reproductive technology," Waller wrote.
Littrell said she was also pleased that no Mississippi justices opposed Strickland because of same-sex marriage.
In a 2015 opinion where the Mississippi Supreme Court granted a divorce to lesbian couple, two of its justices questioned the U.S. Supreme Court ruling legalizing same-sex marriage and suggested that its landmark ruling has no constitutional basis. One of those justices has since retired.