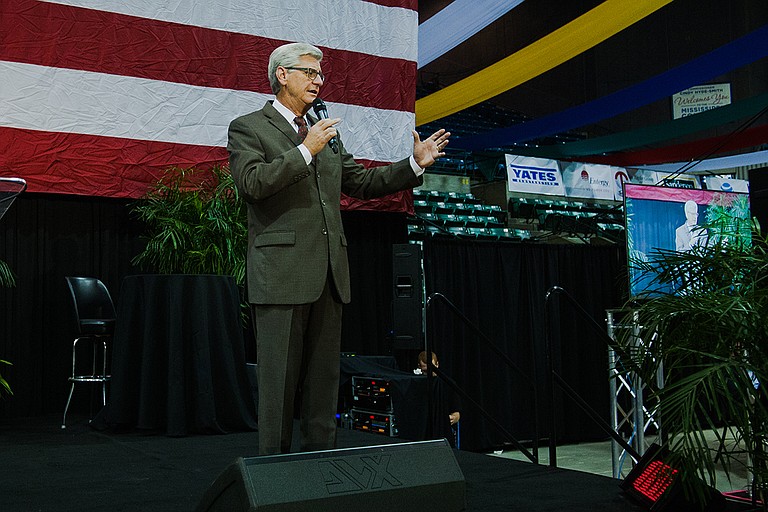 Thursday, October 26, 2017
JACKSON — New messages about the Mississippi flag flowed out of the annual Hobnob Mississippi event this year with the governor revealing that he wants citizens to vote on it again and a prominent Republican saying that changing the flag is about much more than what is good for business in the state.
Notably, the Mississippi state flag, which contains the Beauregard Confederate battle flag in its canton, was nowhere to be seen at the Mississippi Economic Council's annual event at the Mississippi Coliseum Wednesday. Two bicentennial banners hung in the corners, a design MEC organizers unfurled at last year's Hobnob event to celebrate the state's 200th birthday this year.
Elected officials took to the podium all morning, and not one addressed the fact that the Mississippi flag may fly over the opening of two new Mississippi museums in December. State law says "the state flag may be displayed from all public buildings," although most state-owned buildings in the City of Jackson fly the banner outside.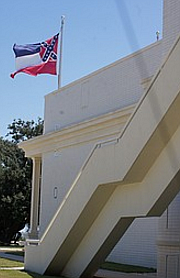 The Mississippi Sons of Confederate Veterans are fighting hard to keep the state flag to honor the Confederacy. Others are fighting back.
Gov. Phil Bryant mentioned the state flag going back on the ballot for voters next year in an interview after his speech, however. When asked about Sen. Dean Kirby's, R-Pearl, rumored legislation to put a potential infrastructure tax-increase proposal to voters, Bryant said voters could also vote on the flag.
"If people want to raise taxes, let's give them an opportunity to have a voice in it, so I think you'll hear a lot of talk about putting that on the ballot perhaps along with the state flag," Bryant told reporters Wednesday. "I think it would be a good opportunity to put both of them on the ballot next year, and let the people of Mississippi speak with one voice on each of those important issues."
Mississippians voted in 2001 to keep the current flag by a margin of two to one, splitting largely along racial lines.
During a panel discussion about the state's bicentennial, author and attorney Andy Taggart focused his remarks on changing the state flag ahead of the bicentennial.
"I walked in here, and I had to catch my breath when I saw this giant (American) flag behind me. This is a wonderful, wonderful backdrop for this whole operation, but how great would it be if in our bicentennial year, we could have a giant state flag that all of us could rally around and feel proud of? That's my objective," Taggart said. The Republican was chief of staff for now-deceased Gov. Kirk Fordice, who was decidedly in favor of Confederate emblems and rhetoric.
The coliseum erupted in applause after Taggart's comments, but he acknowledges that he has received plenty of "boos" for his stance.
Those leading the charge to change the flag in the 2001 referendum focused that campaign on what would be good for business in Mississippi, rather than what the flag really stands for and the citizens affected by it. Taggart told the Jackson Free Press after his public remarks that he believes the argument to change the state flag cannot be about economics because in the 2001 referendum, it did not work.
"In my estimation the argument has to be for the hearts of men and women, that this is the right thing to do, that the banner that represents all of us can't be offensive to a lot of us," Taggart said. "Now there's not going to be anything that 100 percent of folks will be OK with ... but my premise is that if we are waving a banner that is offensive and hurtful to 40 percent of our state's population and even if it's not, that is representative of a time when we rebelled against the United States of America, how can that be a good thing?"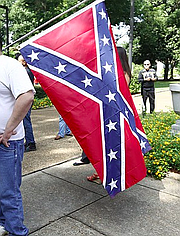 In their own words, Confederate leaders explain secession, the Civil War and their views about black people.
The Ridgeland-based attorney said he believes the Legislature should change the state flag to make a clear statement of the Mississippi's public policy but believes they have stalled due to their constituents.
"This is a question of the need for real leadership because sometimes leadership is more than just doing what you're people are telling you to do, sometimes it's directing them where they ought to be going," he said.
The state flag issue is also in the U.S. Supreme Court after a Mississippi attorney filed a federal lawsuit against Bryant over the banner. Both parties in the case have filed briefs, and the high court will have to decide whether or not to take the case. Bryant told reporters he believes the attorney general's office is doing an excellent job on the case and said "that lawsuit has no merit, and I don't expect the Supreme Court to even hear that case."
Email state reporter Arielle Dreher at [email protected]. More more about the flag debate at jfp.ms/slavery.