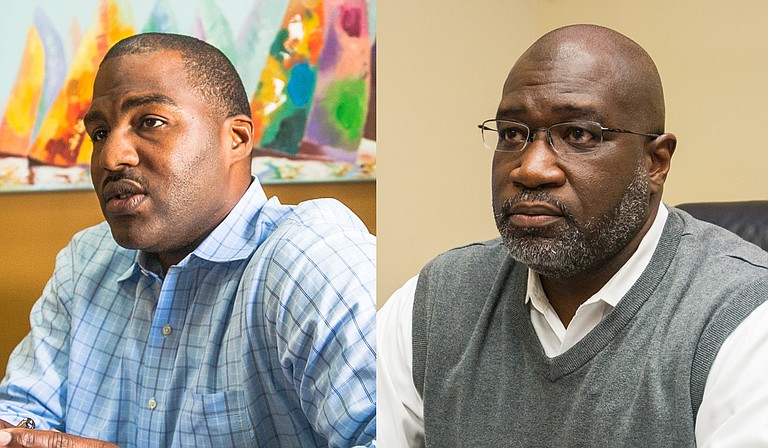 Tuesday, November 28, 2017
JACKSON — Hinds County voters will choose a new county attorney today at the polls. After the three-way election earlier this month, Gerald Mumford and Malcolm Harrison face off today in the county attorney election.
On Nov. 7, only 7 percent of voters in Hinds County cast ballots in the election. Harrison won 47 percent of the votes, while Mumford won nearly 45 percent. Interim County Attorney Martin Perkins won 7 percent of the vote, which pushed the election to a run-off.
The county prosecuting attorney has jurisdiction over all misdemeanors, which includes most domestic-violence claims in the county, as well as youth court proceedings. The City of Jackson has its own city prosecutor who handles all misdemeanors in the capital city, but the Hinds County attorney has jurisdiction of all misdemeanors outside the capital city. The Hinds County attorney makes $55,000 a year for the part-time position.
Mumford, 39, runs his own law firm offering services in personal injury, premises liability, criminal law, family law and civil rights cases. He previously worked as a chancery court-appointed special master to oversee lunacy hearings and as a law clerk to Hinds County Circuit Judge Winston L. Kidd, and he clerked for U.S. District Court Judge Henry Wingate.
Harrison served as the Hinds County attorney for 10 years starting in 1999. Sherri Flowers-Billups, Harrison's late law partner, passed away from cancer last October, leaving the seat open for this election. Harrison, 48, served as a Hinds County Circuit Court judge in 2009. He still practices law at his own office, specializing in personal injury and criminal law. Both Mumford and Harrison served as municipal court judges. Harrison became a judge for the City of Byram in January 2017, but he said he "immediately resigned" his seat on the bench when the Mississippi Commission on Judicial Performance "raised some concerns" about a judicial guidelines that require judges to resign if he or she becomes a candidate in a primary or general election for any office. Mumford, who serves as a municipal judge for the City of Jackson, refused to step down from his judgeship to run for county attorney, saying the clause only applies to general elections, not special ones. No action has been taken against him.
Voters in Holly Springs and Vicksburg will elect new representatives and senators to the Mississippi Legislature today, too. In northern Mississippi, voters will head to polls to replace Sen. Bill Stone, a Democrat who retired this past year. Sharon Gipson, a declared Democrat, faces off against Neil Whaley, who has not revealed his party preference. In Vicksburg, voters will choose a Republican to represent them. Both Randy Easterling and Kevin Ford have declared their GOP affiliation in the House race to replace Rep. Alex Monsour, who left the House after winning an election to become a Vicksburg alderman.
Polls stay open until 7 p.m. tonight. To see where your polling place, voters can use the polling place locator on the secretary of state's Y'all Vote website.
City reporter Ko Bragg and The Associated Press contributed to this report.