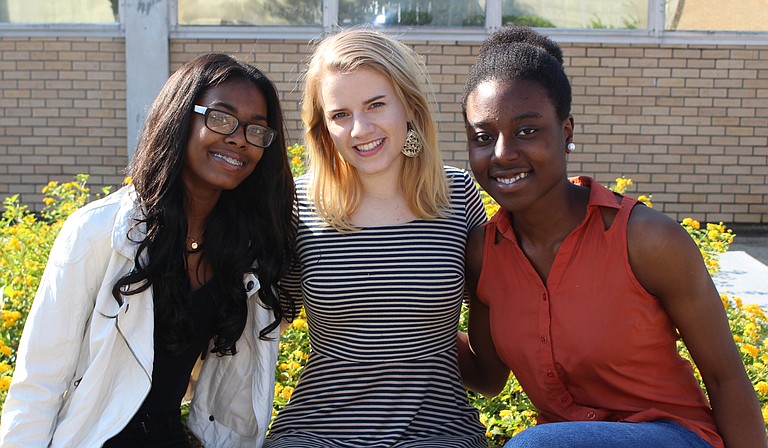 Tuesday, November 28, 2017
Lifelong Jackson resident Dyshante Bennett is among three Murrah High School seniors who recently became 2018 National Merit Scholarship Program semifinalists. The nonprofit academic competition offers around 7,500 scholarships worth more than $32 million each year to students based on their PSAT scores. Bennett was one of 16,000 semifinalists in this year's competition, along with fellow Murrah seniors Oluwatosin Akinyemi and Sophia Bowley.
Bennett, 16, took her PSAT in 2016 on the recommendation of her English teacher, Tarasa Brierly, and received a score of 1450. In September 2017, Murrah High School guidance counselor Jana Williams presented Bennett with a letter informing her that her score qualified her as a National Merit semifinalist, which represent the top 1 percent of high-school students nationwide.
"Before getting that letter, I'd heard about the National Merit Scholarship Program but didn't know much about it, and didn't think I'd be a semifinalist in something like this," Bennett told the Jackson Free Press. "I thought this was the kind of thing that would happen to someone else, but I was happy to hear about it because now I have more opportunities available to me than I ever did before."
Bennett lives in north Jackson with her parents, Kimberly Butler and Derrick Bennett, and her younger brother, Derrick Butler. She plans to major in biology at the University of Texas at Austin and wants to become a pediatric neurologist.
"I had though about going into oncology at first because there's a history of cancer in my family, but I ultimately thought doing that kind of hospital work would be too much for me," Bennett said. "However, I am interested in working with children and finding out about how the brain works, and I think Austin will be an ideal environment for me to learn in."
The National Merit Scholarship Program will send an announcement to participating high schools naming the 15,000 finalists in this year's competition in February 2018 and will name the scholarship winners from April through July 2018.
"I'm hoping to be able to move on to become a finalist, but I appreciate the opportunity I've had to showcase myself even this far," Bennett said. "Being involved in this has opened new possibilities I wasn't aware of before, and if I can make it all the way through, it will give me college-application-fee waivers and make the application process a lot easier. I felt nervous about applying to college before, but I feel I have a better grasp of my capabilities now, and I've even had colleges I hadn't even heard of come to me with offers."