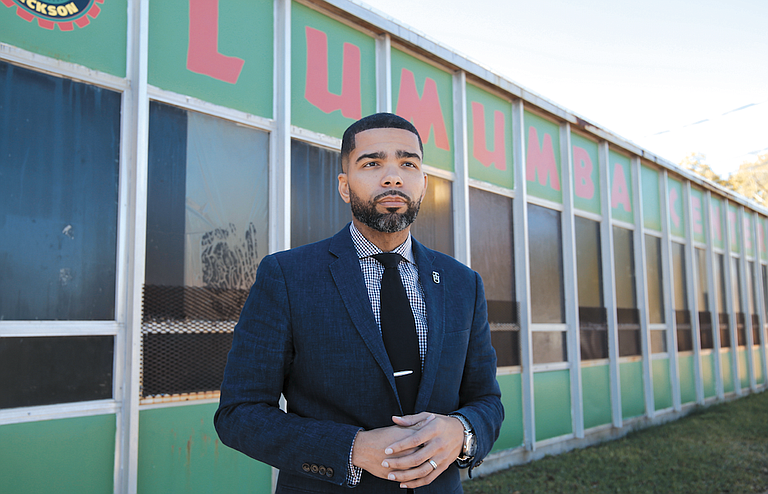 Wednesday, November 1, 2017
JACKSON — Hundreds of Jacksonians sat in mostly silence as Mayor Chokwe A. Lumumba delivered his "State of the City" address on a late Monday afternoon in Thalia Maria Hall in downtown Jackson. They cheered when the young mayor discussed the ambitious budget passed last month and fending off a state takeover of Jackson Public Schools.
The 34-year-old made national headlines after winning the Democratic primary with no runoff needed earlier this year, as he proclaimed his vision to make "Jackson the most radical city in the state, the nation and ultimately the world." The Root, a black online publication, named Lumumba one of its 100 most influential people, and he made conservative media's Mississippi Top 50 count after just four months in office.
Meantime, national liberal media are regularly in Jackson to interview the man they call a "radical mayor"—including The Nation in the week leading up to his big JPS reveal. Lumumba is on many radars.
His vision for Jackson, while eloquently articulated through his gripping speech on Monday, is expansive. Now 120 days into his new role, the mayor addressed the city's challenges and his administration's progress so far, particularly in passing its budget. "Radical," he said on Monday, is not a sense of recklessness, but rather his commitment to "honest governing and finding innovative solutions through methodology that champions the voices of all of its citizens." Later, he told reporters that he has been radical in his approach—by creating and working with a transition team, and building on the ideas of the people.
"'Radical'... has to be a willingness to face your challenges head on and offer truth. In this day and time to speak truth is a radical act, so we will continue to do that," Lumumba said.
'Fiscal Responsibility'
The mayor Lumumba focused much of his "State of the City" remarks on the budget he and the city council passed to end furloughs and increase personnel numbers in the police and fire departments, while raising a competitive wage for public workers and maintaining public services.
"This was all achieved while demonstrating fiscal responsibility which prompted our bond ratings agencies to issue an improved forecast for our credit worthiness as a city," Lumumba said.
On Sept. 15, Moody's Investors Service rated the Jackson as "Baa2," which is medium-grade and indicative of moderate credit risk. But, Moody's also makes the distinction that Jackson is stronger than its rating in the areas of its financial position, tax base, and debt and pension liabilities.
Lumumba earlier had proposed a 2-millage increase in the city's property-tax rate to plug budget holes. The special vote came late the Friday before Labor Day weekend, with minimal notice to the press.
Ward 2 Councilman Melvin Priester Jr., who voted for the tax increase, said later that the council had to move fast in order to pass the increase in time to go into effect during the upcoming fiscal year.
The mayor did not mention the property-tax increase in his address until he spoke to reporters later. The 2-mill increase will generate $2.3 million in revenue and will not hit taxpayers until February.
The increase may hit renters harder than owners in Jackson due to how state tax law is written.
"Renters are paying this tax; the landlords are passing it on to them," Lumumba's director of administration, Charles Hatcher, told the Jackson Free Press in September.
Lumumba asked the city council to increase the salaries for some of his directors, which they approved.
"I am of the opinion that we need to give the mayor the space and the room to implement what he sees is necessary that will get this city on the right track," Ward 6 Councilman Aaron Banks told the Jackson Free Press in September.
Lumumba told reporters that he plans to implement participatory budgeting in the next budget cycle "where the citizens can weigh in, with respect to what the priorities they see being within the city."
He also outlined several programs and initiatives he plans to implement including the Blight Elimination Program, a teacher's village, a 52-week tourism strategy including a free concert series, efforts to leverage 1-percent commission funds for infrastructure, increasing the bandwidth of the city and opening a co-operative movie theater.
Several of these initiatives are contingent upon the city landing grants or donations to make them a reality. The movie theater, for example, is not coming to fruition on the taxpayers' dime, he said.
"We have already received a rendering of that movie theater," Lumumba told reporters. "We are prepared at some time to see a sizable donation to that concept; that's all I'm prepared to say at this point."
The Blight Elimination Program similarly would come to fruition through a grant from Mississippi Home Corporation. The city is still preparing for the application process to secure those funds, which could help the Jackson Zoo survive in west Jackson if used in the surrounding area.
"The new mayor is very enthusiastic about (turning) the blight around," said Beth Poff, the executive director of the Jackson Zoo. Poff said she is leaning on the new mayor "an awful lot."
Lumumba notably ran for office on four pivotal promises—some of which he has begun to tackle in the first 120 days, while others remain relatively untouched.
"We will rebuild our infrastructure, we will create jobs for Jacksonians, we will provide holistic solutions to crime, and we will improve our educational system," his campaign website said.
Creating Jobs, Keeping Talent
In his State of the City address, Lumumba said he wants to grow the tax base with occupational opportunities.
"We arrive at these goals after studying data which informs us that two of Jackson's greatest exports are our talent and our money: two things that we can no longer afford to squander," he said on Monday.
"So the question for us has become how will we keep, multiply and nurture the money and talent within the city limits?"
However, last week in a late-night meeting, the city council lifted the residency requirements for police officers, firefighters, and at-will employees making less than $40,000. This means people can come from all over the state to work for the City in those listed capacities.
The council brought up that Lumumba's late father, the former mayor, wanted all city employees to live in Jackson. Ward 4 Councilman De'Keither Stamps defended his opposition to the change as an original author of the residency requirement.
"We need to become an institution that the professionals who are inside the city want to work for," Stamps said. "We need to change the culture of our entire city."
But, this Mayor Lumumba said it was time for change. "I will acknowledge that my father had great interest in a residency ordinance," Lumumba said at last week's city council meeting. "But, at the same time, I would recognize the challenges that have arisen based on the ordinance. So, I think we have to strike the problem now."
He told reporters Monday that he took a somewhat neutral position on the matter. "I think that I see the purpose and the intent of an ordinance that requires that people live in Jackson in order to be employed by Jackson, but I also recognize the challenges within our divisions to make certain that we properly are staffed."
The JPS Conundrum
Lumumba ran on improving Jackson's "educational system," but the district was arguably in a state of chaos when the young mayor took office in July. Then, the JPS school board was down three members.
In July, the district was in the midst of completing its corrective action plan to amend the violations of a limited Mississippi Department of Education audit, while the agency simultaneously completed a full investigative audit in JPS.
On July 20, Dr. Richard Lind resigned from the board, meaning the JPS board had to halt work until Lumumba returned a quorum, four members, to the board.
On Aug. 1, Lumumba nominated Letitia Simmons-Johnson, and the city council approved her appointment, returning a quorum to the still skimpy board. The State was already finishing its plans to recommend the takeover of JPS at this point, however, and at the end of August, MDE released its damning investigative audit report. In September, MDE recommended that the Commission on School Accreditation start the state takeover process in JPS, and even during hearings brought up the fact that Lumumba still had not filled the remaining slots on the school board.
"The board has issues of its own, in the past year, the board dropped from seven members to three, and even as we sit here today, a quorum is barely met by the board," MDE attorney Erin Meyer told the Commission on Sept. 13.
By the end of that week, the Mississippi Board of Education asked Gov. Phil Bryant to sign an "extreme emergency" declaration in JPS, and Lumumba vowed to fight for local control.
The mayor's fight turned to negotiating, and appears to have saved the district from state control. On Oct. 26, he announced a coalition with JPS, the City, Gov. Phil Bryant and the W.K. Kellogg Foundation to create a commission, study the district, solicit community opinions and create a gap analysis of JPS needs.
All four JPS board members had to resign, and now Lumumba must appoint seven new members.
In his address, the mayor lauded working across the aisle with Bryant on a solution for JPS, but did not address his role in the new plan going forward. Lumumba's chief administrative officer, Robert Blaine, told reporters last week that the mayor would make appointments to the school board and the newly formed commission this week. "[A]s early as next week, we'll at least make sure there's a quorum," he said.
On Monday, Lumumba declined to make an announcement about appointees but said he would "in short order."
Addressing Poverty, Crime
At a sunny press conference in front of city hall just over a week ago, the mayor and Jackson Police Chief Lee Vance announced an increase in police officers. "I think we owe the mayor and the council a real debt of gratitude," Vance said to reporters on the steps of city hall. "The academy class has already been approved. We have already started looking for recruits."
Vance said the department was approved for 50 new police officers this fiscal year. The City's website says JPD has staffing positions for 500 sworn officers, supported by 264 civilian personnel. In an August press conference, the chief said JPD had 373 officers on payroll, but budgeted for about 418.
Outside of supporting police officers, Lumumba points to another piece in the balancing act to maintain a safe city—holistic solutions, particularly for youth.
Lumumba, whose own brother was a victim of gun violence in 1992, said his administration is firmly committed against violence in the city, emphasizing that it takes more than more police involvement.
So far in 2017, JPS reports 50 homicides. This number is slightly down from the 55 homicides JPD at this time last year, JPD public information officer Roderick Holmes confirmed.
Keyshia Sanders, constituent services manager for the City of Jackson, said she is working with one neighborhood to form a neighborhood watch association right now, but said she has not received more requests from other communities.
The capital city is a part of the national Violence Reduction Network, which was renamed the Public Safety Partnership under U.S. Attorney General Jeff Sessions. But the City has provided few specifics under former Mayor Yarber or now Lumumba about what that will mean for Jackson. In March, the City hosted a city-hall meeting called a "Plea for Community Involvement" on crime, promising Violence Reduction Network plans, but it ended up being another line-up of cops on a dais responding to community complaints.
So far, the public has not seen a lot different from the last administration on crime—Vance wants to hire more police officers, and city council made it easier, too. JPD's social-media account even shared a mugshot and name of a 13-year-old accused of a violent crime, which is a more typical rather than "radical" approach.
Still, in August, the mayor outlined several initiatives his office plans to implement to address the poverty-crime connection. He wants to create an access center, using a Bloomberg grant, to create opportunities by pairing city services with recidivism programs, so people can access those jobs. Additionally, Lumumba says he wants to focus on youth programs.
The mayor did not address crime in the city except the additional funds to the police department for more officers and vehicles in his "State of the City" address.
Crowdsourcing Potholes?
While Lumumba touted the 1-percent sales-tax commission as the way to improve Jackson's crumbling infrastructure, including potholes, he has not yet offered details publicly about how that will work.
During the summer, Mega Technologies LLC demonstrated a pothole filler to media and city officials, including council members and the mayor on a Fondren street. The machine uses polymer instead of asphalt to fill potholes, which could last longer. Jack Wilson Sr., the company's owner, appeared before the council again on Oct. 24 to offer a lengthy PowerPoint on the product, advocating for immediate action for dangerous potholes.
"Mayor, this is getting you to the paved road. This is keeping you from hurting people or cars until the road can be paved. Potholes are dangerous," he said.
No one promised Wilson anything, and Jackson to date still has announced no plan for the notoriously damaged roads throughout Jackson that seem to be worsening faster than the City can repair them.
"I trust the counsel of people around me, Mr. Miller to be specific in this regard," Lumumba said, deferring to his newly hired Public Works director, Robert Miller, who took over the job in mid-October after finishing his role in New Orleans. "And so I would like to give him the opportunity to run it through the ringer and run over it, pun intended, as much as possible."
The Jackson Free Press has requested an interview with Miller to discuss his plan for potholes and other public-works needs, but the City has declined to make him available for an interview as of press time.
CAO Robert Blaine said in a July interview that the City has to "crowd-source" ideas for vexing problems such as potholes. "Crowd-source means that you use a lot of people to try and solve a problem," he said then. "You don't just ask one or two people, but you ask a whole bunch of people."
At the "State of the City" address, Lumumba spoke confidently about his work on infrastructure, including the potential for healing what can be a fraught relationship with the governor's appointments on the sales-tax commission, which must sign off on how the City can spend the funds.
"We've established a working rapport with the commission that has yielded a renewed sense of our mission," Lumumba told Jacksonians on Monday.
Developers seem pleased with the new city administration. Ben Allen, president of Downtown Jackson Partners, says the mayor has been straightforward, fair and open in his conversations with the group.
"I've been very encouraged by his posture and his attitude and his positive spirit toward redeveloping the city in general—and in downtown," Allen said.
Email city reporter Ko Bragg at [email protected].