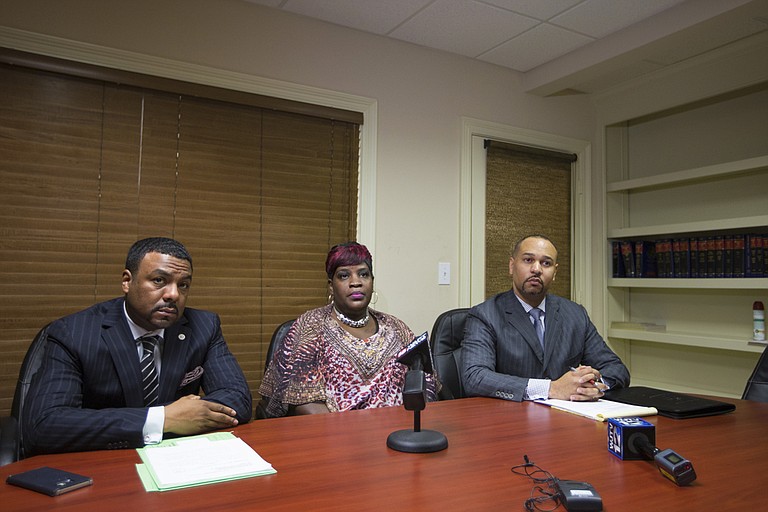 JACKSON — Yvette Mason-Sherman filed a civil lawsuit against Wayne Parish, the man indicted in the killing of her 17-year-old son, Charles McDonald Jr., at Performance Oil Equipment in Jackson last fall, saying he acted with a "pre-meditated mind."
Mason-Sherman was with her son moments before his death last fall outside the business. He jumped out of her car when she was trying to take him back to the Hinds County Juvenile Justice Center in distress, she told the Jackson Free Press last fall. She said he ran up to a car in the Performance Oil parking lot and started being on the window with his shoes. Parish, she alleges, came outside and shot him.
Now, Mason-Sherman says she has a difficult time watching the news or going on Facebook because of the negative comments she gets about her son's death. She and her 22-year-old daughter celebrated what would have been McDonald's 18th birthday last Saturday, she told the Jackson Free Press Thursday. Now, she wants justice and for Parish to be found guilty and get a life prison sentence.
A grand jury indicted Parish, and he was arrested Dec. 29, 2016, for the 1st-degree murder of McDonald, but he was released on a $50,000 bond in January.
Ammie Nguyen represents Parish in the state's case against him, and she declined to make any comment about the case this morning. Parish, the co-owner of Performance Oil, has pleaded not guilty in the state's case against him, court records show, and Judge Winston Kidd has set the trial date for May 30.
In his motion for bond, Parish claims self-defense. The motion says that "from the video it appears clear that Mr. Parish had an opportunity to shoot the deceased, but he did not do so, rather the deceased ran at Mr. Parish and grabbed the gun where a struggle ensued and the deceased was shot." Mr. Parish's motion for bond also says that "it is unknown, who actually pulled the trigger."
Mason-Sherman's civil lawsuit describes a similar altercation, maintaining that Parish shot McDonald.
"An altercation began between Charles McDonald Jr. and Wayne Parish. Charles McDonald Jr. grabbed the gun and a struggle ensued; thereafter, Decedent was shot by Defendant POW. Charles McDonald Jr. suffered multiple gunshot wounds to the upper torso," the March 15 civil complaint says.
Carlos Moore, one of Mason-Sherman's attorneys, says Parish saw Mason pull up to the scene in her car, and proceeded to fire several shots anyway. The autopsy report for McDonald Jr. has not been released, Moore said, but he claims that McDonald suffered multiple gunshot wounds. Moore told reporters at a press conference Thursday that it was not up to Parish to decide whether McDonald should live or die.
"When does attempting to break into an unoccupied vehicle warrant a death sentence? If it was your child, your grandchild, would you believe it was justice for him to be dead for simply attempting to break into a vehicle?" Moore told reporters at his law offices Thursday. "We don't give him (McDonald) a free pass for trying to break the law, but it did not deserve a death sentence, and it is certainly not up to Mr. Parish to decide whether he lived or died."
Moore said Parish should have used the criminal-justice system and process when he saw McDonald attempting to break into a vehicle.
"(Parish) should have gone through the process; he could have filed an affidavit, called the police, and the man (McDonald) would have been prosecuted for whatever crime he was attempting to commit ... and he could have served time if he was convicted," Moore said.
Parish will have 30 days to answer Mason-Sherman's new civil complaint against him. Nguyen's office did not respond or comment on whether they would defending Parish in the lawsuit.
Mason-Sherman approached the Tucker and Moore law firm to take her case, and both attorneys agreed that they felt like they had to take it.
"She's a grieving mother; she's lost her son in a tragic event," attorney Charles Tucker told reporters Thursday. "And it should be tragic not only for black mothers, but white mothers, too. Any mother of any race of any nationality should be shocked at the outrageousness of these actions because if we let it go today, then who knows what happens tomorrow?"
The new lawsuit also names the other co-owner of Performance Oil Equipment, Jimmy Ratliff, and the company as defendants, because Moore and Tucker said the company should have policies in place to train their employees how to not escalate situations.
Email reporter Arielle Dreher at [email protected] and read more about Charles McDonald Jr. at jfp.ms/preventingviolence.