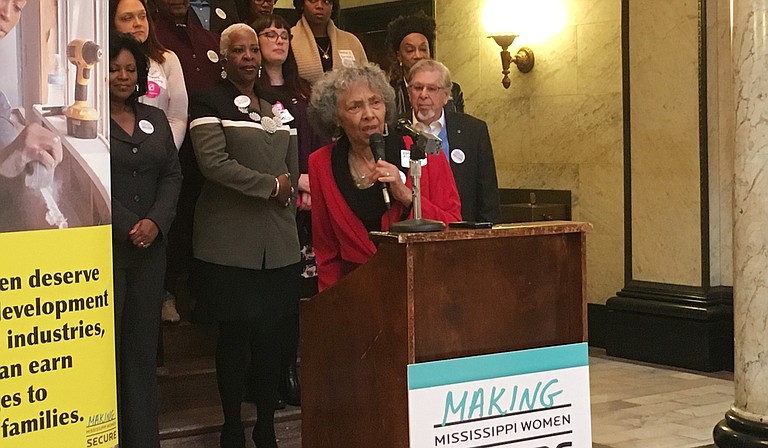 JACKSON — Women make 75 cents to every dollar a man makes in Mississippi, data from the Mississippi State Treasurer's office says. A study from the Institutions of Higher Learning backs that number—women who work full-time earn approximately 27 percent less than their male counterparts.
Despite that gap, seven pay-equity bills died in committee this year during the legislative session.
Even domestic-violence-as-grounds-for-divorce legislation almost died in the House when Rep. Andy Gipson, R-Braxton, killed a Senate bill.
"Women stood up, and in the face of public outcry, that still stands a chance of becoming law," Michelle Marston, chief of staff for Fitch, said on Wednesday at the capitol.
After he killed the divorce bill, Rep. Gipson turned around and introduced an amendment on March 6 to another bill, which would make domestic abuse, both physical and non-physical, grounds for divorce.
Advocates and lawmakers spoke out about several pieces of legislation that died this session but would have helped women's economic security and well-being in the state.
Marston read a statement from Fitch at the press conference, saying that women still have a ways to go in public life and the workplace in the state.
"With the highest percentage of women living in poverty, with the 49th highest women's unemployment rate and with the gender-pay gap of 27 percent, Mississippi isn't even talking about the issue (of the pay-gap)," Marston said.
Rep. Alyce Clarke, D-Jackson, called on women in Mississippi to start working on these issues earlier in the session.
"What we need to do is start working a little earlier ... getting those things done that we need to get done, and since we make up 51 percent of the state, at least 51 percent of our bills ought to get out of committee, don't you think?" Clarke said.
She said Mississippi women should start asking why certain bills die and that they should get in touch with their lawmakers to ask why.
Cassandra Welchlin, director of the Mississippi Women's Economic Security Initiative, said her organization will be back next year to introduce legislation aimed at ensuring equal pay and raising wages for women.
Welchlin said one reason she'd heard that legislators were avoiding votes on equal-pay legislation was there was concern from the business community that the legislation would "open up the flood gates for lawsuits."
"We want to be able to work with (businesses), but we also want our women to be able to get covered and have some kind of legal remedy to be able to pursue," Welchlin said on Wednesday.
Email state reporter Arielle Dreher at [email protected].