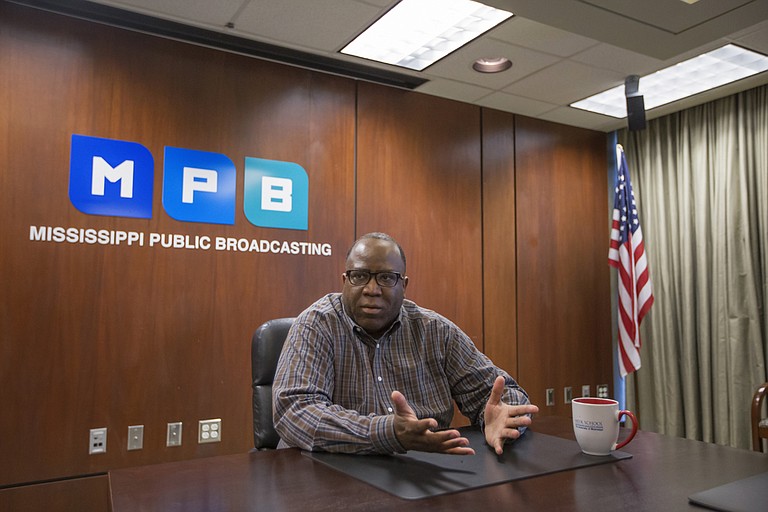 Ronnie Agnew watched PBS shows like "Sesame Street" when he was growing up in Saltillo in rural Mississippi. Now the executive director of Mississippi Public Broadcasting, Agnew tells the story of a friend who lived to be 103 years old, illiterate most of his long life until he discovered public broadcasting.
"At 99 years old, he learned to read and write for the first time by watching Sesame Street—his eyes were so bright when he learned how to sign his name (on his check)," Agnew said.
Some public television and radio shows are running shorter seasons this year due to mid-year budget cuts, but little seems to faze Agnew. He and his team at MPB braced for funding shortages long before the latest influx of budget cuts to state agencies, he said in an interview last week.
MPB has diverse functions, including radio, TV, education and outreach. But providing educational programming, Agnew said, especially to help with early education, is a particularly important focus.
"Our education mission is probably the one I consider at the top because I believe it's the state's biggest problem," he told the Jackson Free Press. "I believe that we need all hands on deck in Mississippi to help solve the educational problem."
Reshuffling and Trimming
MPB's television programming for children may look like cartoons on other networks, but all shows have educational components. PBS recently launched a 24-7 kids' television network, and MPB is broadcasting it. Beyond television programs, MPB has an education team that develops events for children throughout the state, often connected to shows they already know from MPB. One program, called "Bridge to Education," is a summer festival that draws close to 4,000 parents and kids to Jackson to engage in interactive learning activities at different stations.
During the school year, 28 school districts use an MPB service called the Mississippi Interactive Video Network, which allows students from districts that do not offer certain courses to virtually attend classes in other districts that do offer the course.
Like most state agencies, MPB is reshuffling resources and cutting back on the number of episodes of some of the locally developed content on MPB's radio and television programs, half of which are produced and about local issues.
Agnew and Chief Financial Officer Paul Moore said MPB had considered how to be more efficient as an agency long before recent years' budget cuts, which come in a national climate of Republicans calling for cuts to public media and arts programs.
MPB has already outsourced its master control service, which monitors the television programming with costly equipment that needs replacing every seven years or so. Additionally, Agnew said his team has been careful with personnel decisions, working to re-shuffle after a person retires or leaves instead of rehiring.
"We are operating on less money and had to juggle some things," Agnew said. "Paul and I have to talk every day because we only have so many dollars that we can spend, and we have to hold our department heads accountable to what we're doing."
Bracing for More Cuts
Still, tougher times may be ahead for MPB. The Legislature is considering more budget cuts for the operation totaling more than $500,000. In addition, House Bill 906 would hike rent for not only MPB but other agencies housed in the buildings on Eastwood Drive in northeast Jackson, which the Mississippi Institutions of Higher Learning board operates. House Bill 906 died in committee on Feb. 28.
With the rent hike and no appropriations to cover the increased bill, Agnew estimates the fiscal-year 2018 budget cut will equal around $800,000. Two weeks ago, the Mississippi Senate voted to divert $1.5 million from MPB's budget to the Veterans Affairs Board. The House, however, passed a budget for MPB last week that does not include such a drastic diversion. For now, Agnew does not seem convinced that the $1.5 million cut will materialize.
"I'm not really focusing on the $1.5 (million)," he said at the MPB offices. "If it hits ..., we'll have to figure out how we rebuild and what we can keep. But why in the world would you want to tear down something respected that you built that's something that serves and educates people from one end of the state to the other?"
While MPB faces pressure from the Legislature, it could also face pressure from the Trump administration, which may be considering privatization for public broadcasting, Fortune magazine reported in January. Agnew said he is not too worried about the national pressure, especially with the support of Sen. Thad Cochran, a senior Republican whose father was among the founders of Mississippi Educational TV, which went live in 1970.
"Disruption doesn't frighten me, I'm used to it," Agnew said. "You have to react to it ... so I know what that feels like, which is why we're fighting hard right now to make sure we're being good stewards of taxpayer dollars before even being asked."
This story has been updated to reflect that House Bill 906 died in committee on Feb. 28.