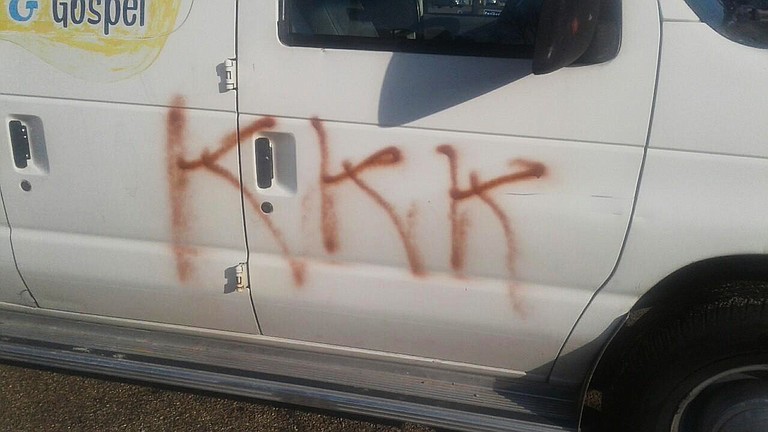 Monday, February 13, 2017
JACKSON — Stanley Wesley was celebrating a sold-out Black Business Awards Banquet that his organization, Respect Our Black Dollars, hosted Thursday night. The banquet was sold out at the maximum of 200 people, Wesley said, but as the banquet ended Wesley got a call from a friend who had just seen his house.
Wesley went home to find "KKK" spray-painted on his front door, with a note taped to the door that said "N-gger Respect your dollar STOP NOW," as well as other racial slurs. Wesley also smelled smoke when he got home on the left side of his house and called the fire department to help put out a small fire.
This morning, Wesley found out that vans at local radio station WMPR, where he hosts a weekly show called "Respect our Black Dollars," were tagged with similar colored paint to what he found on his front door. "KKK" and "N-gger" are spray-painted on the sides of the WMPR vans.
In a press conference Friday, Wesley would not speculate on where the intimidation was coming from.
"I don't want to speculate where it came from until we get facts," he said at a Friday press conference, available on Facebook live through Ward 4 Councilman De'Keither Stamps' Facebook page.
Stamps called on Jackson citizens to stay vigilant and thanked the fire department for its vigilance.
"During the Black Business Awards, someone took it upon themselves to graffiti (Wesley's home) ... and attempted to burn the house down, so what we're doing today is we're calling all citizens to be vigilant in these times. If you see something going on in your neighborhoods that's out of place, people out of place, we want you to report those things to the police department," Stamps said at the Feb. 10 press conference.
"I am here to say that hate crimes, intimidation tactics certainly will not be tolerated in the City of Jackson," Jackson Police Chief Lee Vance said at the press conference. "The days for that are long gone, and we certainly are not going to allow them to resurface."
The fire department's arson investigation unit is investigating the incident, and Vance said his department is working alongside it.
Additionally, the FBI is aware of the situation and assisting local law enforcement.
"We are aware of the incident on Reno Street in Jackson, Mississippi. If information comes to light of a potential federal civil rights violation, the FBI is prepared to investigate. If you have any information regarding the incident, contact the FBI in Jackson at 601-948-5000," a statement from the Jackson FBI office says.
Wesley is the founding president of Respect Our Black Dollars, a local nonprofit that promotes local black-owned businesses in Jackson and encourages the community to not spend money in places where they have been disrespected. Last year, his organization protested local convenience store owners for displaying certain drug paraphernalia, WLBT reported.
Call the FBI with information regarding the incident at 601-948-5000. Email reporter Arielle Dreher at [email protected].