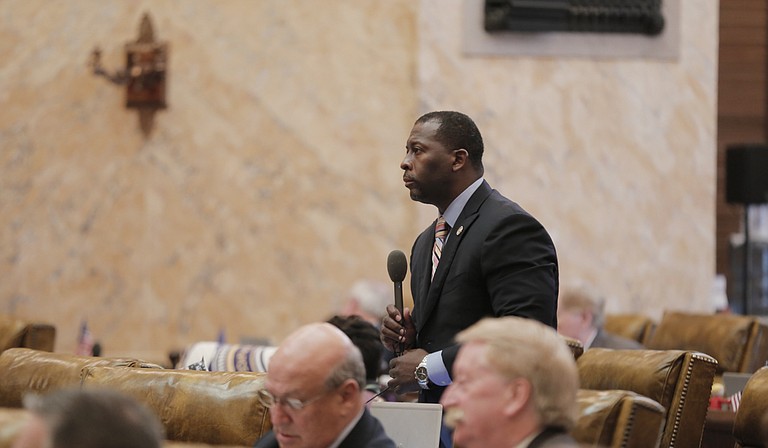 Thursday, February 9, 2017
Rep. Christopher Bell, D-Jackson, was 25 when a police officer pulled him over when he was driving east of Jackson for no apparent reason.
"I was pulled over on Lakeland Drive and the man had the nerve to ask me why I am here, why I am driving the vehicle I drive, what do I do for a living," Bell told the Mississippi House of Representatives on Jan. 8. "He asked me if I've ever been arrested—I've never been arrested and had never committed a crime."
Bell told fellow lawmakers that he was faced with a decision: to not move or keep talking and tell the officer what he didn't do wrong, as he stood over Bell with his hand on his gun. "That was one of the most frightening experiences of my life," Bell said.
Rep. Bell was speaking against the "Back the Badge Act of 2017," saying that while he understands and believes police officers deserve support, his white counterparts "had never been racially profiled."
Bell said he had several friends who work in law enforcement who he stands with and supports, but said he could not support a bill that triples sentences for individuals who might be acting in self-defense, as he could have had to do that night. He asked the House to not pass the bill and then walked back to his seat in a eerily silent House chamber.
Late Wednesday afternoon, after Bell's comments, the House passed the legislation, which would increases penalties for first-degree and capital murder of law enforcement officers, emergency medical technicians and first responders.
Several African American lawmakers offered amendments in an effort to balance the legislation. Rep. John Hines, D-Greenville, offered an amendment that said any peace officer found guilty of covering up crimes would be charged and convicted of those same crimes.
Hines pointed to other pieces of legislation, that would have forced police officers to use body cameras, that died in committee. "There are several pieces of legislation that have gone into this committee that haven't seen the light of day," Hines told the House.
Bell offered an amendment to give law enforcement and peace officers a 10-percent pay raise that he said would actually show that the Legislature "backed the badge." Both Bell's and Hines' amendments failed.
Several Republican lawmakers added an amendment that includes enhanced penalties for members of the National Guard, Army or Air Force which did pass, however.
Other African American lawmakers shared their stories of racial profiling, invoking names of several young black males like Trayvon Martin, Freddie Gray and Alton Sterling among others who have lost their lives at the hands of law enforcement or security officers.
Rep. Andy Gipson, R-Braxton, said the bill was not designed to be against anybody, saying he concurred with what was said and that "all lives matter."
"This is not against anybody, and we do need to learn our lessons from the past, and we do have lessons that we're probably still learning as a state, but this bill is not against anybody," Gipson said.
"Our law enforcement officers and first responders have made the choice to lay down their lives literally for all of us ... this bill is supposed to be to support white and black and Hispanic and Native American Mississippians of every stripe who wear the badge."
Only African American lawmakers voted against the bill, which passed by a vote of 85-31, with six representatives voting present or not voting. The Senate has a very different version of a "Blue Lives Matter" bill, which is on its way to the House.
Email state reporter Arielle Dreher at [email protected] and follow her legislative updates on Twitter at @arielle_amara.