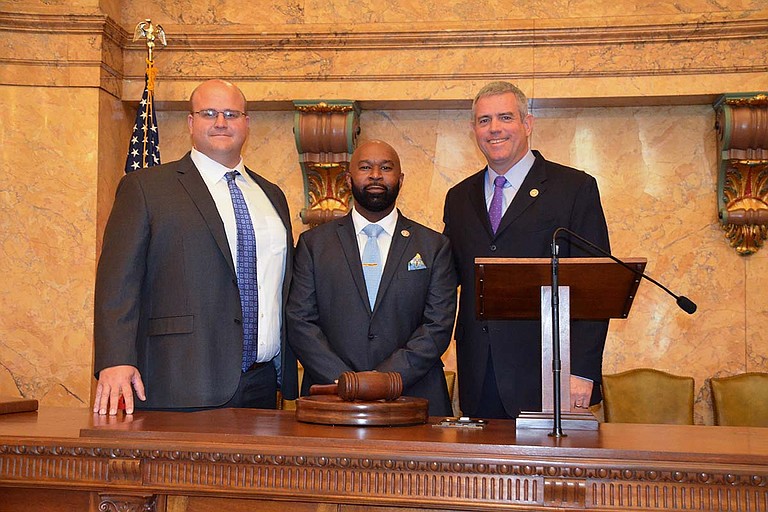 Tuesday, December 12, 2017
JACKSON — The House of Representatives is one member shy of a full house, after a series of retirements and resignations in the off-season.
On Monday, House Speaker Philip Gunn, R-Clinton, swore in new representatives Cheikh Taylor and Kevin Ford. Taylor replaces Democratic Rep. Tyrone Ellis, who retired after the 2017 legislative session. Ford replaces Republican Alex Monsour, who resigned after he was elected to the Vicksburg Board of Aldermen.
Taylor is the executive director of the Brickfire Project, a nonprofit child-centered organization that includes a daycare and after-school programs, a press release from the House says. Ford works in insurance at the Ford Insurance Agency he established with his wife in Vicksburg.
Taylor and Ford join Missy McGee and Stacey Wilkes as the new representatives in the House in the upcoming session. McGee, a former legislative assistant to former U.S. Majority Leader Trent Lott, replaced now-Mayor Toby Barker to represent Hattiesburg. Wilkes, a member of the Mississippi Republican Party State Executive Committee, replaced Mark Formby, now a part of the Worker's Compensation Commission.
The abrupt retirement of Rep. John Moore's, he claimed was due to health issues, leaves one more empty seat in the House. But, Moore actually retired amid sexual harassment allegations, the speaker's office confirmed on Monday.
Meg Annison, director of communications for Gunn's office, said when the speaker received the allegations, he alerted outside counsel and followed their protocol to begin an investigation. Gunn did not speak specifically to the victims who came forward. Moore told several media outlets that the investigation blindsided, and said Moore knew about the investigation, the AP reported. Gunn told the AP that Moore's resignation ended the House's inquiry into the allegations and that any further claims would need to be pursued in court.
The House is now missing a Rankin County representative, and Gov. Phil Bryant will have to set a date for the special election to replace him. Moore chaired the House Education Committee, a crucial committee in the upcoming session if an education formula re-write is possible. Annison said the speaker hopes to name a new chairperson before the session.
Lt. Gov. Tate Reeves also swore in Neil Whaley on Monday, who flipped the formerly Democratic seat held by Sen. Bill Stone, the Senate minority whip.
Email state reporter Arielle Dreher at [email protected]. Read more at jfp.ms/state.