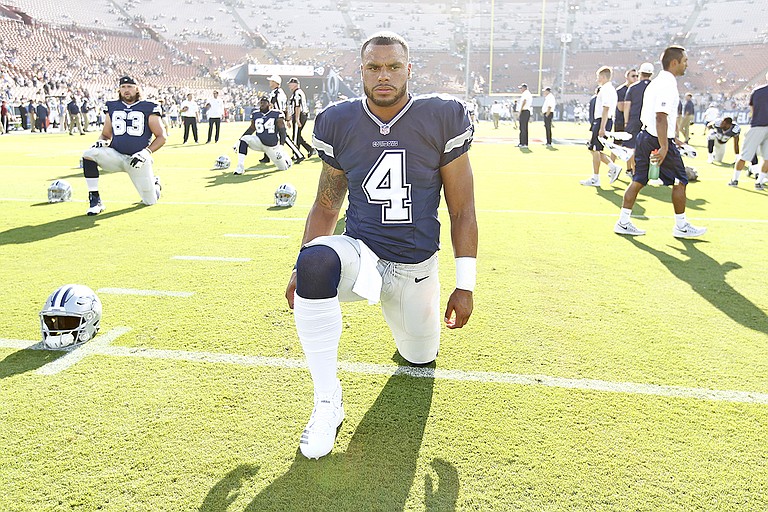 JACKSON — Dak Prescott chooses not to worry about things he can't control. He stays focused on the task in front of him, he says, controlling only what he can. When the 24-year-old is not studying film or on the field, he likes to get lost in NCAA football on PlayStation 3 to take his mind off the game.
"I play video games—just the fact they kind of take me away from my life or whatever is going on now ... and in something that's not exactly real," the Louisiana native told the Jackson Free Press in a phone interview this week.
It is only Prescott's second season in the NFL, but the 24-year-old is leading one of the best football teams in the country, based on last year's season, for the second year in a row. The quarterback, who grew up in a trailer with his mother and brothers in a small, rural Louisiana town, says his advice for young people growing up in similar circumstances is all about control.
"Control what you can control and those things are: your effort, those things are your attitude, your determination, your will and your passion for what you do and all that," said Prescott, who talks like a master in mindfulness. He said being present in his life and work come naturally to him; he didn't have to study to find the focus he needs.
"Go into whatever situation or whatever is handed to you, and make the most out of it. Make the best out of it, have a positive attitude, doing the most you can with your situation and with your moment and knowing that God and knowing that people around you will take care of the rest, things that are out of your control, but staying focused and believing in yourself through it all."
The former Mississippi State quarterback adapted quickly to situations out of his control. Last season, Prescott led the Cowboys in one of their best seasons in almost a decade, stepping in as starting quarterback when Cowboys veteran quarterback Tony Romo injured his back in the preseason, then leading the team to the playoffs, setting many records and ending up as Rookie of the Year.
Prescott has learned to lean in and stay focused even when he cannot control what happens in his personal life. He lost his mother to colon cancer in 2013 while he was playing football for Mississippi State—a sport she had pushed him to excel in, even when she was ill.
"Something as simple as losing my mom, the fact that I couldn't control cancer, I couldn't control what it was doing to her," he said from training camp this week.
"But all I could control is how I made her proud: what I did in school, what I did on the football field and how I treated others. And that's all I focused on in supporting my mother, and just trying to keep that same attitude throughout life."
Last season the Cowboys went 13-3, clinching their division and earning home-field advantage. They lost to the Green Bay Packers by three points in the NFC divisional playoffs after Prescott led a comeback to tie the game. This year, the team has been in headlines already after the NFL suspended Ezekiel Elliott, the breakout running back, for an investigation of alleged domestic-violence charges.
Prescott is not worried about the team without Elliott.
"We have great veteran running backs and great players that have played a long time in this league that have done it at a high level like Darren McFadden and Alfred Morris, and we have a great offensive line," he said. "The things Zeke did last year weren't just on Zeke. He's an amazing player, and he'll be missed, but we have players that have stepped in and taken advantage of their opportunities that have done well in the past over their careers."
Prescott said the NFL is great but that he does miss his MSU teammates, coaches and college football back in Starkville, which was just "something different." He encouraged quarterback Nick Fitzgerald to take Coach Dan Mullen's advice, trust his teammates, his coaches and himself.
"He's an athletic quarterback that can have a lot of success," Prescott said.
The Cowboys face the Indianapolis Colts in their second preseason matchup tomorrow at 6 p.m. in Dallas, and Prescott is expected to take the field for the first time this year.
Email reporter Arielle Dreher at [email protected]. Read her interview last year with Prescott before preseason began. Also see "The Art and Craft of Dak Prescott."