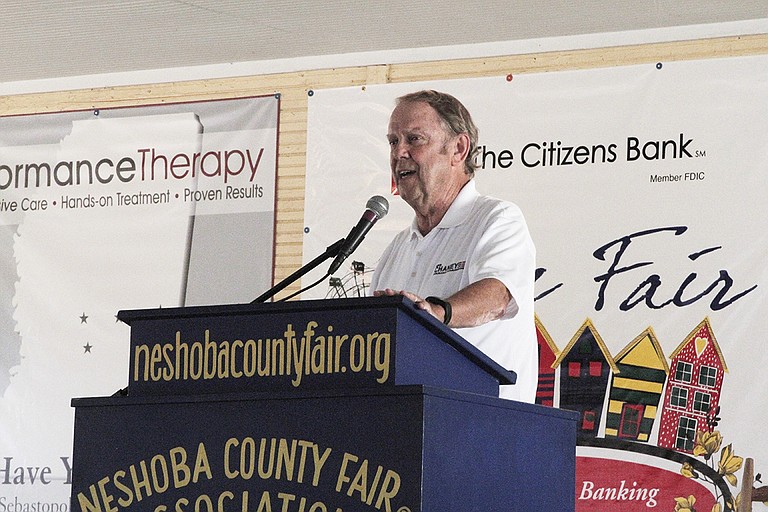 Wednesday, August 2, 2017
JACKSON — The Affordable Care Act, also known as "Obamacare," is still intact for now after a dramatic three-vote revolt from Republicans in the U.S. Senate to kill what was dubbed the "Skinny Repeal" effort. Even with the ACA intact, Mississippi Insurance Commissioner Mike Chaney is still concerned for Mississippians with certain plans that would see rate increases in 2018, despite the ACA's fate.
Chaney spoke at the Neshoba County Fair last week about two transitional relief waivers, which federal agencies recently approved, that will keep insurance rates stable for Mississippians on small employer plans (outside of the ACA marketplace) as well as youth under the age of 20 stable in the coming year.
In past years, states could ask the federal government to exempt certain health-insurance plans from ACA requirements, like additional taxes or covering essential health benefits. Mississippi had two of these transitional waivers, but both were set to expire, until Chaney sought the help of both U.S. senators from Mississippi.
Catching a Break
The first waiver could help men and women who are insured by individual or small-employers in the state through health-insurance plans that are not ACA-compliant, but instead were "grandmothered" into the program because they were bought after the enactment of the ACA and before October 2013. ("Grandmothered" plans are those susceptible to rate changes; "grandfathered" plans are not.) The idea behind exempting these plans from ACA-regulations was to keep Americans with them from experiencing sharp increases in their rates.
Several U.S. senators, including Sens. Roger Wicker and Thad Cochran, wrote a letter to the HHS Secretary Thomas Price in February alerting him to the waivers that were set to expire.
"One way HHS can protect Americans from the crippling effects of the law (ACA) is to extend the transitional relief policy for individual and group plans in 35 states," the letter says.
The senators framed the letter in the context of the imminent repeal of the ACA, and while that is still possible, keeping those "grandmothered" policies out from under the ACA's requirements will keep insurance companies from increasing rates and premiums. Without the extension of the waiver, all "grandmothered" policies would have had to follow all the ACA requirements come Jan. 1, 2018, without the extension of the waiver, meaning insurance companies would have been taxed at higher rates or had to provide more services than they provide now, leading to increased costs for consumers.
Chaney said HHS granted his request for up to 130,000 Mississippians to keep their "grandmothered" plans through 2018. "Without transitional relief, health-insurance rates would have gone up another 65 percent on average," Chaney said at the fair last week.
Keeping Kids' Cost Down
Chaney requested a second, separate waiver for Mississippi children that the Centers for Medicare and Medicaid Services, or CMS, approved this month, which would ensure that young people under age 20 keep their health-insurance coverage, without premium increases, through transitional relief. One of the ACA's reforms changed the age range, called an age band, for youth health insurance from 0 to 20 years old to 0 to 14, with separate one-year age bands, or groups, for each individual age after that. Instead of all youth under 20 staying in one age group, insurers would have had to create a separate group for 15 year-olds, 16-year-olds and so on.
"Mississippi health insurance insurers have advised the Mississippi Insurance Department that the new age curve taking effect in 2018 ... will have a significantly disruptive effect on premium rates for younger enrollees in the ACA individual and small group markets in the state," Chaney's May letter to the Office of Oversight at CMS says.
The commissioner said rates could have increased more than 50 percent for youth without the waiver.
"Just think about what I'm talking about. If you were paying $200 for your kid in college, it would have gone up $400, so this is big," he said.
In July, CMS granted Mississippi youth the waiver—protecting against any would-be increases in premiums.
Looking Ahead
While health-care reform legislation could still happen, in Mississippi, the benefits health insurers would have to cover, called "essential health benefits," would hardly change from ACA standards. Chaney changed the state's essential health benefits, which is a change he is authorized to make without legislation, since it's a regulation move, back in 2014. Mississippi's essential health benefits, which all insurers must cover, include everything from maternity and newborn care to chronic-disease management to mental health- and substance abuse-disorder services.
In other words, insurers must cover all those conditions without charging extra. Chaney told the Jackson Free Press that he modeled the state's policies on the BlueCross BlueShield and United Healthcare lists back when the U.S. House passed the American Health Care Act this spring. (The Senate dumped that proposal, however, and has yet to pass anything).
"We took their essential health benefits because that included private plans and policies, and that's what I used. They cover pregnancy, C-sections, postpartum depression under 'mental health parities,' and domestic violence. ... I caught a lot of hell over doing that," Chaney told the Jackson Free Press in May.
Chaney does not plan to change the state list of 10 essential health benefits, which is crucial for Mississippians that have insurance.
Email state reporter Arielle Dreher at [email protected].