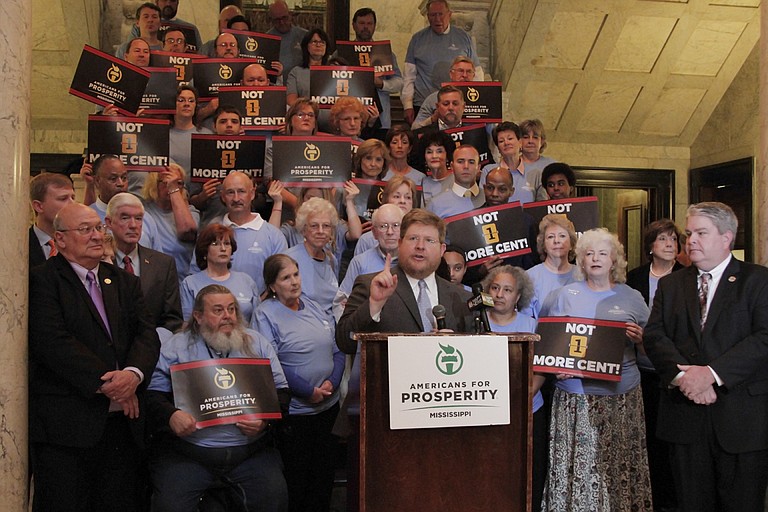 Wednesday, April 26, 2017
JACKSON — Melony Armstrong did not want to cut hair; she wanted to braid hair in her own shop. She believed that the time and money spent on beauty school would be useless for what she wanted to do, she says now. So she trained for half a year before she had learned enough from other hair braiders in different states to open up her own shop.
But she struggled to get a license and open her own hair braiding shop in the state due to what she calls daunting regulations back in the 1990s. The Mississippi State Board of Cosmetology requires beauty practitioners to attend beauty school for no fewer than 1,500 hours in nine months.
"By 1994, I finally felt I had enough experience to start my hair-braiding career, and that's when the government got in my way," Armstrong said at an Americans for Prosperity press conference at the Capitol in February. AFP is a conservative Koch brothers-supported organization that lobbies on behalf of businesses against over-regulation.
Armstrong said she tried to get the board to loosen regulations and not require her to attend beauty school where she would learn nothing about hair braiding. The regulators granted her a one-time license in wigology, a practice for wig specialists, Armstrong said, but when she wanted to train other hair braiders around the state, she found out she needed more training hours herself to be able to train others.
Then in 2005, former Gov. Haley Barbour signed a bill specifically changing requirements for hair braiders in the state. Today, Mississippi law has a specific section for hair braiding, and anyone engaging in the profession must pay a $25 fee and register with the Mississippi Department of Health. There are over 3,000 hair braiders registered with the department. AFP brought Armstrong to the Capitol to speak in support of House Bill 1425, which will affect about two dozen professions in the state including nursing, architecture, counseling, pharmacy and others that state boards regulate.
Protecting the Public?
The new law, which Gov. Phil Bryant signed April 11, has two goals for occupational regulations in the state—to "increase economic opportunities for all of its citizens by promoting competition and thereby encouraging innovation and job growth" and to "use the least restrictive regulation necessary to protect consumers."
Rep. Cory Wilson, R-Madison, who authored the legislation, said it puts Mississippi on track with other states around the country that are relaxing regulations and subsequently growing at a faster pace with more economic activity.
Wilson said four states regulate more moderate income professions than Mississippi, citing the libertarian think tank Institute for Justice's study which found that Mississippi has "erected barriers to entry" in 55 of 102 low- and middle-income jobs. The study also found that the actual licensing burdens are "fairly light" in the state, however, and ranks Mississippi 45th in most burdensome licensing laws. The institute also highlighted Armstrong's career and entrepreneurship in a 2009 paper.
The law's opponents argue against using "least restrictive regulations," and the majority of Democrats voted against all versions of the bill, which they say is an effort to reduce needed safety regulations. Sen. David Blount, D-Jackson, vocally opposed HB 1425 on the Senate floor, saying occupational licensing boards are in place to protect members of the public.
Blount, a licensed real-estate agent, emphasized that the Real Estate Commission did not exist to protect him but to protect the public from service providers.
"The meat of the coconut is to what extent are these boards protecting the public, or are they protecting the profession, and they exist to protect the public," he told the Jackson Free Press.

House Bill 1425 will affect 26 state licensing boards, a list from the governor's office circulated during the session shows. They all have "active market participants" on them, meaning professionals are on panels that regulate their own professions. That may mean that they understand their industry more than outsiders might, but it also presents a potential conflict because they are making decisions that affect their competitors.
The U.S. Supreme Court ruled against the North Carolina Board of Dental Examiners back in 2015, which attempted to block people who were not licensed dentists from whitening teeth in the state. Typically, state agencies are exempt from anti-trust laws in place to protect competition, but the U.S. Supreme Court said any board with members with an active interest in blocking competitors are not necessarily exempt from those laws.
The country's leaders established anti-trust laws back in the late 1800s to make sure the United States maintained a free, competitive market and to ensure that a group of people does not necessarily hold a monopoly on an industry. Or as Nashville-based Bradley Law Firm attorney and anti-trust specialist Chris Puri told the Jackson Free Press, "When you have (active) market participants, there's a natural tendency for them to have bias against competitive decisions (that) will disadvantage them."
States now have the responsibility to ensure that boards do not go too far in their regulations. The Supreme Court said that "states may provide active supervision" of boards, spurring national conversation about what could and should happen.
Limiting Job Growth
House Bill 1425 creates a commission of the governor, secretary of state and the attorney general who will meet quarterly to review changes to state policies of 26 occupational licensing boards. Wilson said the commission will have the power to veto any new rules, as the U.S. Supreme Court opinion suggested.
The governor already appoints members to most of the state's occupational licensing boards, and in most cases, state law requires the governor to appoint professionals with a lot of experience in their fields. For example, the Board of Psychology has seven members, six of whom must be licensed psychologists in Mississippi.
Lawmakers opposed to the new law asked why another layer of bureaucracy is necessary, and more importantly, why the governor, secretary of state and attorney general are needed to oversee boards regulating industries from architecture to funeral services.
"I guess the question would be if there's going to be a second layer of rule-making, do those people know anything about the profession that they're regulating?" Blount told the Jackson Free Press.
AFP supported the bill from its conception. Russell Latino, Mississippi's AFP director, said his group is supportive of limiting occupational licensing, especially when those rules place hurdles in the way of a person's ability to get a job. House Bill 1425, Latino argues, is something a bipartisan coalition could get behind: a check-and-balances approach to state regulations.
Latino points to a framework study that the Obama administration released in 2015, which found that more than a quarter of American workers have to get a license to do their jobs, and that while "licensing helps to ensure high-quality services (and) safeguard against serious harms ... licensing can reduce total employment in the licensed professions."
AFP is not responsible for the bill's language, Latino said. But when asked about the lobbyist's client report from 2016 that shows the group spent a little over $500 on meals and receptions for lawmakers that year, he admitted that the group did try to influence the lawmakers.
Email state reporter Arielle Dreher at [email protected] and follow her on Twitter @arielle_amara.