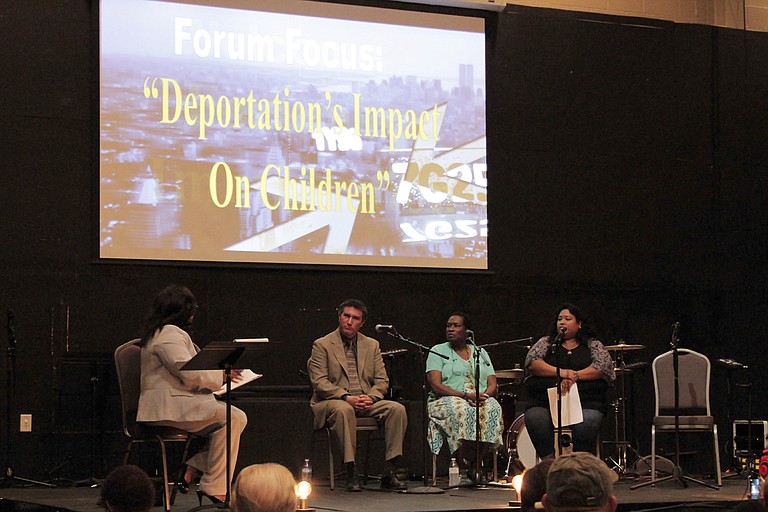 JACKSON — The 6-year-old's father was facing deportation, so the little boy took the stand to defend his daddy in an immigration court in Louisiana.
"I remember afterward that the little boy just cried and cried, and he was dressed in his best Sunday outfit with his suit and tie and everything, and he was just devastated," Patricia Ice, an immigration attorney at the Mississippi Immigration Rights Alliance, said at an immigration forum at the Fondren Church gym in Jackson Tuesday night.
The little boy was born and grew up here, and under the Obama Administration thus qualified and could apply for Deferred Action for Childhood Arrival, or DACA, status. Once President Donald Trump began signing executive orders on immigration, though, the climate for undocumented immigrants in the country and the state changed.
Immigration officials detained Daniela Vargas, a 22-year-old who grew up in Mississippi and had received DACA status twice before, after she spoke out in front of Jackson City Hall in March. Ten days later, and after her story made national headlines, officials released Vargas from a Louisiana immigration detention facility, but she is still under an order of supervision.
The fate of DACA status immigrants around the country remains unclear, however. In a Fox interview Wednesday, Attorney General Jeff Sessions said he could not promise that people who "are here unlawfully" won't be deported. On Tuesday, an immigrant who claims he had active DACA status but was deported filed a lawsuit against the Department of Homeland Security, CNN reported.
At the forum, Ice said children from families she has worked with are afraid, and many of them, like that 6-year-old boy, have never been to Mexico or their home country.
Maria Lopez, a Brandon native, told the story of a little boy who got hurt and waited three days to tell his father because he was afraid if they went to the emergency room that immigration officers would pick his father up.
While Trump clamps down on national security with unclear executive orders concerning immigration, some undocumented immigrants and their children are altering basic daily routines from getting to school or to the grocery store.
Juan Gonzalez is a teacher assistant at Madison County Schools and helps teach English as a Second Language courses. He said if families are scared, they likely keep to themselves and remain out of the sight of the community. Gonzalez also said children are aware of the deportations and raids going on around them.
"The children know probably more English than their parents, so they understand better what is happening on the news," Gonzalez said at the forum on Tuesday.
If Immigrations and Customs Enforcement officers deport a child's parents, some children are left with family members still in the U.S. or they go into the state's custody. Lopez told the story of a mother being arrested by immigration officials at a store, while her children were left behind.
"The kids ended up going into foster care, and I think they're up for adoption ... this is with the parents being deported," Lopez said Tuesday.
While the adoption case is not the norm, Ice said it is important for families to create preparation plans to avoid situations where children do go into foster care, and she encouraged families to make plans just in case.
Email state reporter Arielle Dreher at [email protected] and read more about immigration in Mississippi jfp.ms/immigration.