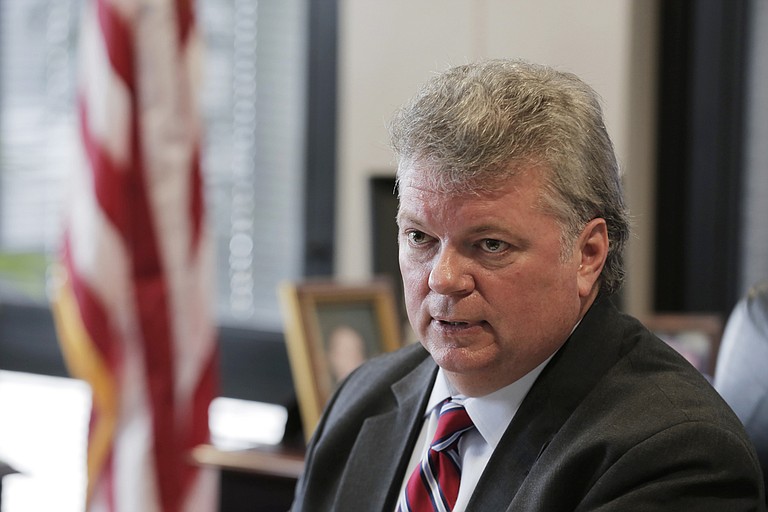 JACKSON — A bi-partisan attempt to fund road and bridge repair, as well as Mississippi's top attorney's legal budget, stalled in a last-hour fight between the two houses in the Capitol last week. That stalemate means that Gov. Phil Bryant must call lawmakers back to Jackson before July in order to pass two budgets for the Mississippi Department of Transportation and another for Attorney General Jim Hood's office.
The Senate blames the House for the hold-up. Lt. Gov. Tate Reeves, who oversees the Senate, maintains that both sides had agreed in conference on the three appropriations bills, and the House just decided not to pass them.
The House decided to send the two transportation budgets back for more work on deadline day in a sign to the Senate that they were serious about getting more funding to roads and bridges. House Speaker Philip Gunn, R-Clinton, and his committee chairmen say they have made three attempts to work with the Senate, including diverting online sales-tax revenue and issuing additional bonds to get additional funds to roads and bridges. But the Senate kept sending the House proposals back, or killing them, they say, in part because Reeves steadfastly refuses to use already-collected Internet sales taxes to pay for roads and bridges.
"[I]t wasn't an impasse on those (budget) bills at all; that was led over frustration over (not) getting the Senate chairmen and me to agree to raise the Internet sales tax," Reeves told reporters Wednesday after the session ended.
Gunn denies that the House's proposal raises taxes.
"Every day we wait, the cost goes up exponentially, and we've got to start shifting some dollars towards roads and bridges, and the plan we brought forward does that, and it does not raise anybody's taxes," he said.
The House proposal would divert Internet sales tax from "voluntary taxpayers" such as retailers like Amazon that choose to pay the state Department of Revenue even though they are not required to by law.
Reeves counters that collecting the tax is unconstitutional based on the Quill v. North Dakota U.S. Supreme Court case that said businesses had to have a physical presence, called a "nexus," in the state to collect online sales tax. Reeves told reporters that Amazon's rationale for collecting the tax is not "out of the goodness of their hearts."
"They (Amazon) are voluntarily collecting it in fear that Quill is going to be overturned, and they will be liable for past years' collections.... [I]f they collect it, and they remit it to the state, and Quill is overturned, then the state has no cause of action to go back three years and collect what they should have otherwise been collecting," Reeves said.
"It shifts the liability from their income and statement balance sheet to the individuals paying the fray—that's my interpretation, that's my belief.... [T]o those that say it's not a tax, my view is this: if it looks like a duck, if it walks like a duck, if it quacks like a duck, it's a tax."
No Gas Tax, Though
Both Gunn and Reeves agree that raising the gas tax is not an option for funding roads and bridges, which means the two leaders must try to reach an agreement in upcoming weeks. The House has pushed most of the proposals to fund roads and bridges this session. The Senate proposed a $50-million bond for infrastructure, as did the House, but compromise was elusive.
"The last (proposal) we made had four different options, proposals to put money towards roads and bridges. If you don't like all four, then pick three or pick two or give us something—but there's been absolutely no conversation, so we'll continue to put forward ideas," Gunn said.
Gunn said if they could agree on a strategy, the governor could call a special session to address funding for roads and bridges in addition to the three budget bills.
If not, the special session to pass budgets could be as short as one afternoon, he said.
Reeves says the special session will be an opportunity to look at MDOT's budget under a microscope.
"If, in fact, as we have been told, there are real safety issues ... with some of these bridges, I think it will be really interesting to see what have they prioritized to ensure that safety is our priority," Reeves said last week.
The Federal Highway Administration closed 72 bridges in March, due to their critical condition.
The Mississippi Economic Council estimates that the state needs to allocate $375 million annually to repair and restore the state's roads and bridges.
Last-minute Poison Pill
Lawmakers need to pass Attorney General Hood's office budget in a special session, due to a last-minute poison pill. Rep. David Baria, D-Bay St. Louis, objected to a provision added at the last minute that would require Hood's office to deposit lawsuit settlement receipts into the general fund within 15 days of receiving it in order to receive any state money to run the office.
Hood said his office is not delaying sending checks to the general fund, as implied. He said he had rushed lawmakers some of the original funds from the $34.4 million settlement with Moody's Corporation back in January because he knew what the budget situation looked like.
Still, Hood added, just because his office gets a check does not mean they are ready to distribute it. He said sometimes court orders mandate some money be spent on certain things. Hood says his office works as fast as it can, and that lawmakers can call to inquire about fund status.
House leaders agreed to take the measure out, using a special rule, but the Senate then needed to approve those changes. But Reeves told reporters that under Senate rules, it cannot re-consider budget bills. He said members of both Houses had agreed on the budget before Baria raised the final issue that delayed a final attorney general's budget.
Hood, the only Democrat elected to statewide office, said he is sure "cooling heads will prevail" between the chambers, and the governor will call a special session to finalize the budget.
The Legislature also considered several measures this session to limit Hood's authority to file lawsuits and litigate cases on behalf of the state, and while none of those attempts to curb his power prevailed, the majority tried to dictate what his office can and cannot do in order to receive state funding. The attorney general has the authority to sue corporations and brings those settlement funds from cases he wins into the state's treasury—which has long created political fissures between Hood and Republicans, including their corporate donors.
"It's just juvenile games that they're playing over there. When legislators start worrying about someone else getting credit for something, that's frustrating, and it's worse now than I've seen it in my 13 years as attorney general—where people do these little petty partisan moves that don't help people," Hood told reporters in his office Monday.
The governor could also include bonding authority for community colleges and universities in a special session because the initial legislation died due to the funding feud.
Email state reporter Arielle Dreher at [email protected]
press.com and follow her on Twitter at @arielle_amara.