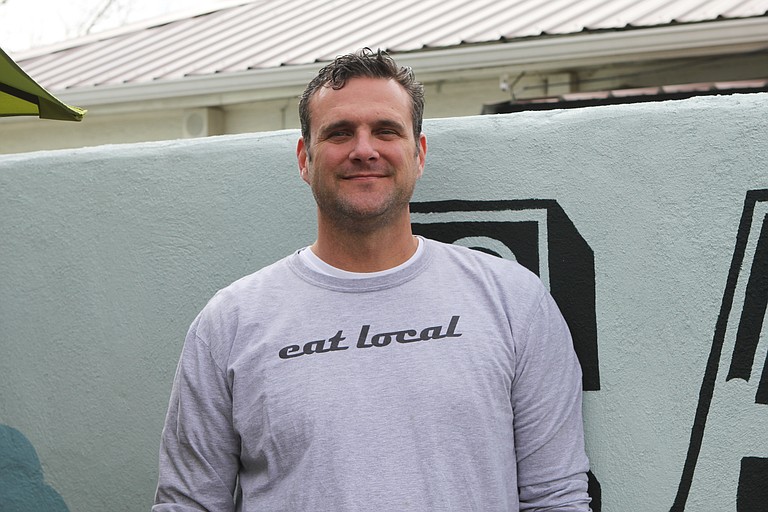 Tuesday, October 18, 2016
JACKSON — Chef Derek Emerson of Walker's Drive-In and Meredith Pittman of CAET Wine Bar will both participate in the Emeril Lagasse Foundation's sixth annual Boudin, Bourbon & Beer event at Champions Square in New Orleans on Friday, Nov. 4.
For this year's Boudin, Bourbon & Beer, more than 60 chefs from Louisiana and across the country will prepare their own styles of boudin sausage. Emerson and Pittman plan to serve up crispy boudin cakes with remoulade and pickled radish salad as their contribution to the event.
"Some 5,000 people are going to the festival, so it's a great thing to be invited to," Emerson told the Jackson Free Press. "This is the first time I've ever been to this event, and I'll be looking forward to seeing a lot of old friends of mine in the restaurant business who will be participating, including Emeril himself. He's been to Jackson a number of times and is a good friend of mine, as well."
Chefs Donald Link, Stephen Stryjewski and John Currence will co-chair the event with Lagasse.
The festival will feature a wide selection of craft beers, premium cocktails, wines and cigars, a silent auction and merchandise from sponsors Abita Brewing Company, Buffalo Trace Bourbon, Nat Sherman Cigars and Cigarettes, Au Bon Climat winery, Justin Vineyards & Winery and Landmark Vineyards. Musical guests include Sharon Jones and the Dap-Kings, Anderson East, Banditos and the Lost Bayou Ramblers.
Tickets are $99 per person, which includes the price of all food, beverages and entertainment, and can be purchased on Ticketmaster.com. For more information, visit boudinbourbonandbeer.com.
Moe's Southwest Grill Holding Grand Opening
The Jackson location of Moe's Southwest Grill (1220 E. Northside Drive) will hold it's grand opening on Thursday, Oct. 20, at 11 a.m. To celebrate the grand opening, Moe's is also hosting a fundraiser on Wednesday, Oct. 19, from 5 to 8 p.m. Guests will receive an entree, side and drink of their choice, with all proceeds from the $5 admission price benefitting Circle of Sisterhood, a nonprofit that partners with sorority organizations to help girls and women in poverty receive quality education.
Moe's is best known for its customizable menu, which allows customers to choose from more than 20 ingredients to create burritos, tacos, quesadillas, nachos and other items.
Business partners Josh Snyder and Jesse Husmann, who co-own the Jackson Moe's and several other locations in the South, plan to open additional Moe's restaurants in Madison, Ridgeland and Flowood by 2017.
The Jackson Moe's location will be open Sunday through Thursday from 11 a.m. to 9 p.m. and Friday through Saturday from 11 a.m. to 10 p.m. For more information, call 601-667-4753 or visit moes.com.
The First Tee Coming to Flowood
Local nonprofit Life Enhancement and Achievement Program plans to open a Central Mississippi chapter of The First Tee by July 2017. Founded in 1997, The First Tee is a program designed to teach children ages 5 to 17 about integrity and the importance of education through golf.
Course options include The First Tee Life Skills Experience, the National School program, Nine Healthy Habits program and Nine Core Values program. The First Tee of Central Mississippi will also partner with Jackson Public Schools and local branches of the Boys & Girls Club of America and the Salvation Army.
Joshua Friedel, a Brandon resident with 16 years of experience with local nonprofits, will serve as the executive director for the chapter. He has worked in fund development for LIFE of Mississippi, American Red Cross and the Jackson Zoo. He has also served as a consultant for the Mississippi Animal Rescue League and Clean Water for Malawi.
The main office of The First Tee of Central Mississippi will be located at 4209 Lakeland Drive in Flowood. For more information or to volunteer, call 601-201-6735 or email [email protected].
Growing Black Businesses Forum at JSU
The Mississippi Minority Enterprise Development Week Committee is hosting the Growing Black Businesses for a Global Economy forum and reception on Tuesday, Oct. 25, from 5:30 to 7:30 p.m. in the California Room at Jackson State University's Mississippi e-Center (1230 Raymond Road). Doors will open at 5 p.m. with networking, light refreshments and vendors.
MS MED Week, which President Ronald Reagan founded in 1983, celebrates minority businesses and owners in the state. Forum participants will hear from business and development experts and gain insight on how to prepare their businesses for the world.
Speakers include representatives from the Mississippi Development Authority, the Mississippi Small Business Development Center and the Women Business Center of Mississippi. Topics will include marketing, certifications, loans available for small businesses and government programs that local entrepreneurs can use to grow their businesses.
The event is free and open to the public. For more information, call 601-622-3728 or find the event on Facebook.