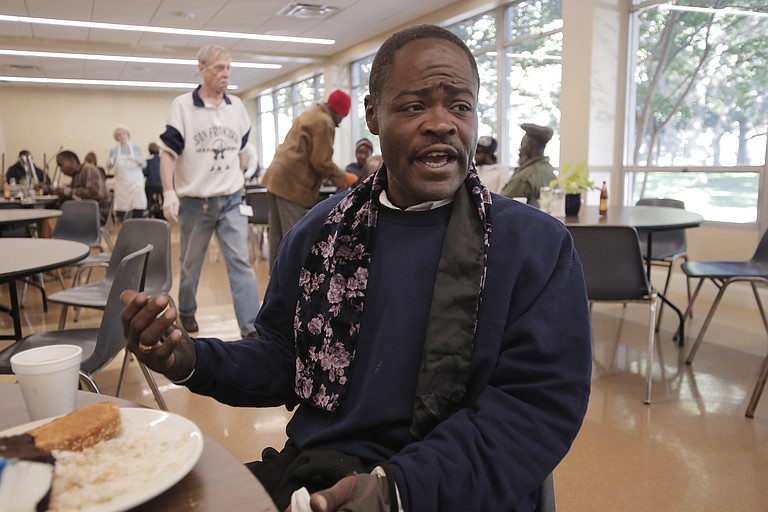 Wednesday, November 23, 2016
JACKSON — Bilal Qizilbash bought his 2016 Mazda 6 last April. "It had 4 miles on it when I bought it," he told the Jackson Free Press.
"Now, it has 43,000."
Qizilbash, a scientist who discovered that curly kale kills cancerous cells but won't damage healthy cells—his car tag says KALE YEA—spends most of his hours working for other people. Some of the miles on his car come from traveling across Mississippi lecturing on his cancer research.
Most of the miles result from his ripping up and down Jackson, collecting supplies and food for Jackson's homeless population. Qizilbash and other members of R U Hungry, a local movement feed hot, fresh restaurant meals every Friday night at Smith Park. R U Hungry cobbles together a smorgasbord of food at no expense to, on average, homeless people a week there.
Carl Berryhill, who lost his home to a fire just last year, says he guesses 300 to 500 homeless people use Smith Park as a resting point; Galloway United Methodist Church and Grace Place offer food and supplies throughout the week. Homeless people from all over the metro area, some forcibly in Jackson due to anti-homeless police efforts in surrounding counties, find themselves tromping the streets of downtown Jackson, flitting from shelter to church for their basic necessities.
The gleaming, gilded state Capitol building flanks the park on the north and the white, walled fortress of the governor's mansion sits directly to its south.
In one of the country's most impoverished states, homelessness can have a far-reaching direct and indirect impact on the lives of citizens. But in the case of R U Hungry, it gives some homeless people enough hope and stability, not just to provide for themselves, but for others: their children.
Invisible Victims
A 2014 American Institutes for Research study said in 2013, Mississippi held 26,108 homeless children—more than the population of the entire city of Ridgeland that year.
Mississippi ranked 46th in states with a risk of child homelessness, with the state's high rate of home foreclosures and children in poverty and without health insurance contributing to the number.
Forty-five-year old Quincy Carpenter's children aren't homeless—but he is. He says he lost three houses since the death of his wife and the mother of his children four years ago. He walks almost daily from Smith Park to where his 4-year-old daughter and 13-year-old son live with their adult siblings, and to the four-bedroom home on Meadowridge Drive he lost and wants to regain so he can preside over his family again. He says the feeding program is helpful because it offers him consistency. Not having to plan for food means he has more time to be a dad.
"When you're in transition, assistance with basic necessities helps so that you don't burden yourself, and you're free to have more time with your kids," he said.
Before he was homeless, Carpenter said, he was an active parent. "I was in the PTA, Watch D.O.G.S. I went on field trips," he said.
"It's usually women, but I was there."
A Family Problem
But where Carpenter might be lucky, other homeless parents, including single moms, experience unique challenges. The National Alliance to End Homelessness says families experiencing homelessness share many similar characteristics to housed families living in poverty; usually, they have high rates of domestic violence and mental illness, and depending on the education of the head of household—usually a single mother—they struggle to break free of the cycle. And economic and housing insecurity creates barriers to how involved they can be in their children's education.
Mostly men show up to R U Hungry on Friday nights, Qizilbash says. One female volunteer told the Jackson Free Press that if women with children show up, they usually appear without their children, but will take doggy bags back to their kids.
"Some women might hide their children because they're afraid they'll get taken away by social services," Qizilbash explained.
Berryhill says homeless women traveling with their children might hide them, and they avoid Smith Park to be out of harm's way from the homeless men there.
"It hurts me to say this, but some of my homeless brothers and sisters don't have the best intentions," he said.
For Carpenter, it's important that he have his coop all in one nest again.
"I know things are going right when I observe it myself," he said.
Sierra Mannie is an education reporting fellow with the Jackson Free Press and The Hechinger Report. Email [email protected].