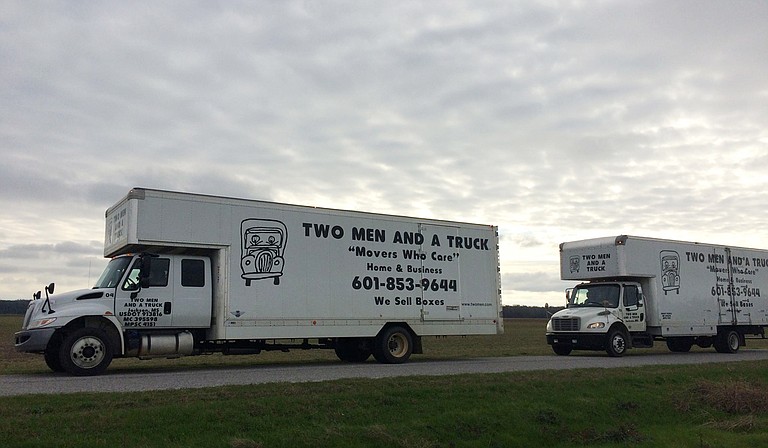 Two Men and a Truck, a national moving company based out of Lansing, Mich., offers all its general managers nationwide a chance to run their own franchise through the The Two Men and a Truck Moving People Forward Scholarship. Michael Sham, general manager of the Two Men location in Ridgeland, was the runner-up in the most recent scholarship competition.
The competition takes place over a year, with participating general managers being evaluated once a month based on their training and leadership qualifications for running their own franchise. The event culminated with an executive board interview with the company's CFO, sales director and other executive staff members.
As the runner-up in the contest, Sham, who has been with Two Men and a Truck since May 2013, won his own location and $10,000 to get it started. The winner, Randy Bloodsworth, received $50,000, which is the full franchise fee, and will be opening a location in Texas on March 1. Sham, who has been named a part owner of the Ridgeland location, chose Horn Lake as the spot for his Two Men location and has hired the staff that will be working there. Sham's location will open in May 2016.
"I chose Horn Lake because it's a growing area from which we'll be able to serve Oxford, Tupelo, Olive Branch, Southaven and other areas north of Batesville," Sham said. "After we get set up, I hope to be able to start helping customers move in April. Anybody who knows us in Ridgeland knows we'll do good over there, and I'd say we've got an excellently trained staff going into this."
Jeff Taylor, owner of the Ridgeland Two Men location, was looking for a general manager to take over while he cared for his wife, who was battling cancer when Sham applied in 2013. After meeting Sham for only five minutes, Taylor felt he possessed the leadership skills to take on the position.
"I remember Jeff telling me, 'Not many people like you have crossed my threshold,'" Sham said. "He had initially interviewed me for part-time work, but he said I'd be a perfect fit for the general manager position he was also looking to fill."
Sham, a 35-year-old Madison resident, had a great deal of leadership experience from serving for six years in the U.S. Navy. He enlisted at age 18 and often found himself leading men older than himself over the course of his service. Sham reached the rank of petty officer second class during his service.
Two Men and a Truck started 30 years ago as an after-school business for two high-school boys, brothers Brig and Jon Sorber. The brothers started moving people in the Lansing area using an old pickup truck and had their mother, Mary Ellen Sheets, develop a stick-men logo to put in a weekly community newspaper, which the company still uses now. Today the company has 2,300 trucks and 330 locations across 39 states in the U.S., and 24 international locations in Canada, Ireland and the United Kingdom.
Learn more about Two Men and a Truck at the company's website. Contact the Ridgeland Two Men location at 601-265-3648.
Bully's Wins James Beard Award
The James Beard Foundation, a New York City-based national nonprofit culinary arts organization named after the renowned food writer, announced the recipients of its 2016 America's Classics Award on Feb. 23. Bully's Restaurant (3118 Livingston Road) in Jackson is one of the five winners to receive the honor. The foundation gives the America's Classics Award to restaurants that have timeless appeal and are cherished for quality food that reflects the character of their communities.
Nearly 100 restaurants have received the America's Classics Award since the James Beard Foundation introduced the category in 1998. This year's winners will be celebrated at the 26th annual James Beard Foundation Awards Gala on Monday, May 2, at the Lyric Opera of Chicago.
The late W.B. Bully first opened Bully's Restaurant together as Bully's Snack Shop 36 years ago. Believing that the factory workers who would come into the shop each day for lunch deserved a hot meal, Bully asked his son, current owner Tyrone Bully, to bring a stove from their home, and soon the business shifted to a restaurant.
"It was my father's idea to open the restaurant, and he did it for the family, me and all my brothers and sisters," Bully said. "Bully's serves the neighborhood, and our motto is to serve and give each person the best meal we possibly can. It was frankly breathtaking when I first got an award from the James Beard Foundation in 2005, and it still is now."
Bully's serves a wide variety of soul-food items, such as macaroni and cheese, rice and gravy, sweet potatoes, fresh greens, squash, fried green tomatoes, pigs' feet and oxtails. The pride of the restaurant is its signature beef tips over rice, a family recipe that Bully says sells out every day.
Bully's Restaurant is open Monday through Saturday from 11 a.m. to 6:30 p.m. and is closed Sunday. For information call 601-362-0484.
Clubstore Outlet
Clubstore Outlet (1560 W. Government St., Brandon), an outlet store that sells overstocked merchandise from wholesale stores and other large retailers, opened its doors in Brandon over the weekend. David Neeley, franchisee and owner of the store along with three locations of The Cookie Store in Mississippi and Tennessee, held the grand opening for Clubstore Outlet on Saturday, Feb. 27.
Tapp Palmer, CEO of Clubstore Outlet, started the business in Miami, Fla., in 2008. He opened two locations in the state as test stores to see if the business could succeed, both of which closed after the test was finished after a few months. Neeley's store is the first true location of Clubstore Outlet. He leased the building his store is located in, which once housed a Sears, on Dec. 31, 2015.
Clubstore Outlet carries items such as appliances, electronics, food and furniture, with discounts of 30 percent to 90 percent off standard retail prices.
"I've been running my Cookie Store locations for about six years now, and I was looking for something else to get involved in when I found out about Clubstore Outlet," Neeley said. "I was interested in being the first to get in on this business and bring it to my hometown. Brandon needs a store like this as much as any small community could use it, a place that can give folks significant savings on clothing, toys, paper products and plenty of other things."
Clubstore Outlet is open Monday through Saturday from 10 a.m. to 8 p.m. For more information, call 601-706-4183 or visit clubstoreoutlet.com/brandon-ms.
Sassy Classy
Lashanda Brumfield, owner of Sassy Classy Curvy Bridal Outlet (2415 Highway 80 E., Pearl), opened her store on Jan. 8, and held a ribbon-cutting ceremony on Feb. 19. Brumfield, who has worked as a wedding coordinator for more than 10 years, says the store offers everything from bridal and formal gowns to dresses for bridesmaids and flower girls from 20 to 50 percent off regular retail prices.
"I opened Sassy Classy because I felt there needed to be a location for southern brides to buy something they'll love that's fits both their size and budget," Brumfield said. "I've done a lot of work coordinating and helping to plan weddings, and those are two things I've gotten the most complaints about from brides. My store especially caters to brides of a 14-plus and curvy build who want boutique gowns without boutique prices."
The store's prices start at $280 for bridal gowns and $98 for formal wear. Her store also offers a search service that allows brides to order any gown in a particular style that may not be in the store. Brands the store carries include Jovani, Justin Alexander, Allure Bridal, Modeca Bridal and more.
Sassy Classy Curvy Bridal Outlet is open Tuesdays after 4 p.m. by appointment only, Wednesday through Friday from 4 p.m. to 7 p.m., and Saturday from 11 a.m. to 7 p.m. For information call 601-421-8644 or visit the store's website.
BancorpSouth Fondren Renovations Underway
BancorpSouth has started a large-scale renovation of its facility at 2710 N. State St. The project involves completely tearing down the existing facility to build a new, larger one in its place.
The current BancorpSouth building has already been torn down, and its operations have been temporarily moved to an adjacent building that once housed Sun Gallery Tanning Studio while construction is taking place. Drive-through and night-drop services are not available at the temporary facility, but normal banking hours and other services remain the same.
When completed, BancorpSouth's new facility will encompass the space of both the former bank building and an adjacent building that was previously an Allstate Insurance Company location. When the newly renovated bank resumes services, BancorpSouth will tear down the Sun Gallery building to make way for an expanded parking lot.
For more information, call BancorpSouth at 601-968-1545.
Send business tips to [email protected] Read more local business coverage at jfp.ms/business.