It wasn't until recently that I first visited Best of Jackson award winner Fondren Public (2765 Old Canton Road, 769-216-2589). But when I went, I loved it. Here are five reasons why you should, too.
There's something for everyone. People know Fondren Public for its drink selection, which includes 24 beers on tap with craft brews such as Suzy B and Lucky Town Brewing Company. It also has bottled beers (including cider, my favorite) and plenty of liquors and mixers for those who want a cocktail.
It has long hours. On some weeks, I may not get out of work until after 8 p.m. While many restaurants close around then, Fondren Public stays open until 1 a.m., Monday through Thursday. And its location next to Cups in Fondren is pretty convenient.
The food is great. Fondren Public's menu offers plenty of southern staples with twists, such as the public chips, which have pickled onions and okra, Pepperjack cheese, scallions and pulled pork.
It's not a lonely bar. If you go to a bar alone sometimes, you can feel kind of out of place. Luckily, it doesn't feel that way at Fondren Public. I can go in a strike up a conversation with someone, or just put on my headphones and write and still feel like I belong there.
There are games. Many may know Fondren Public has a bocce ball court out back, but the bar also has a shuffleboard court and arcade games in an area near the front. While you're grabbing a few drinks, you can play a few games and socialize with friends, which can make for some really good times. Just don't let drinks turn you into a sore loser. No one likes that.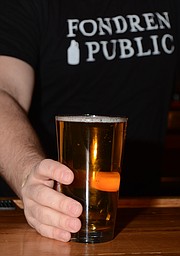 If you're in need of some other great drinking and hangout suggestions, check out these Best of Jackson finalists.
Best Bar: Fondren Public
Finalists: Capitol Grill (5050 Interstate 55 N., Suite F, 601-899-8845) / Fenian's Pub (901 E. Fortification St., 601-948-0055) / The Apothecary at Brent's Drugs (655 Duling Ave., 769-257-3517) / Hal & Mal's (200 S. Commerce St., 601-948-0888)
College Student Hangout: Fondren Public
Finalists: Cups Espresso Cafe, Fondren (2757 Old Canton Road, 601-362-7422) / Fenian's Pub (901 E. Fortification St., 601-948-0055) / Sneaky Beans (2914 N. State St., 601-487-6349, sneakybeans.com) / Ole Tavern on George Street (416 George St., 601-960-2700)
Best Local Beer Selection: Fondren Public
Finalists: The Pig & Pint (3139 N. State St., 601-326-6070) / Saltine Oyster Bar (622 Duling Ave., Suite 201, 601-982-2899) / Burgers & Blues (1060 E. County Line Road, Suite 22, Ridgeland, 601-899-0038, burgersblues.com) / The Iron Horse Grill (320 W. Pearl St., 601-398-0151)