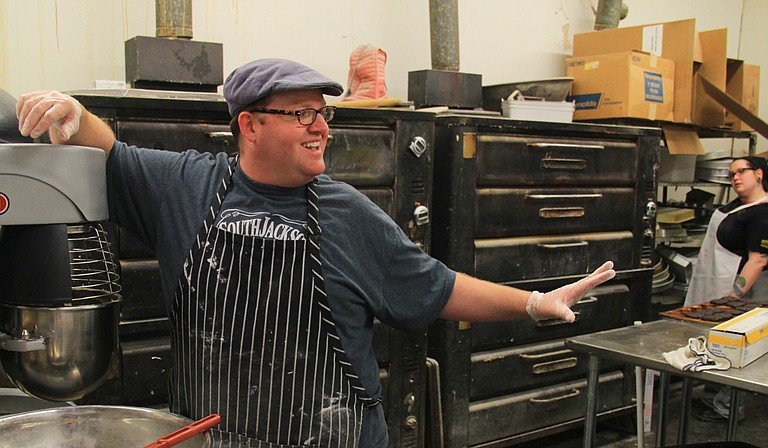 Early next year, Mitchell Moore, who owns Campbell's Bakery (3013 N. State St.) in Fondren, will open a second location at 123 Jones St. in Madison. Moore said in a comment on his Instagram profile that the new location does not mean the current Campbell's location will close.
"(We're) never closing or moving from Fondren," Moore said. "Fondren is and forever will be our home. This is just growth."
To maintain the level of quality he has always been committed to, Moore will keep all baking at the Fondren location and deliver fresh products to the Madison location each morning. Moore told the Jackson Free Press that the new location will offer most of the same items as the Fondren Campbell's, but with a few special additions, such as a larger breakfast menu and a variety of espresso drinks.
"We want to be good neighbors here, which is why we don't offer espresso here in Fondren that would compete with our neighbor Sneaky Beans," Moore said. "The Madison location doesn't have a neighboring espresso seller that it would be competing with, which is why we're bringing it there."
Moore will work with a local coffee roaster to provide for the new location, though he is waiting to identify the provider until he finalizes the details of his arrangement with them.
Campbell's of Madison is set for a soft opening Jan. 11, 2016, with a grand opening and ribbon cutting to take place a few weeks later. Moore will host a "Buy One, Try One" event before the grand opening, in which customers will be able to try any one other item on the menu free with any purchase.
For more information, call Campbell's Bakery at 601-362-4628.
Kenya Coffee Comes to Cups
Cups Espresso Cafe has brought Kenyan coffee back to its menu this month as its fall micro-lot offering. Cups periodically imports limited quantities of specialty coffees from small farms and cooperatives in other countries to give Mississippi residents a chance to try more exotic offerings that aren't available year-round. The specialty blend available now is Kenya AA kiangotha coffee from Kabare Cooperative, which operates in the Kirinyaga District of Kenya.
The cherries that Kenya AA kiangotha coffee beans come from undergo a special fermentation period before the growers pulp them to separate out the beans. Then, they wash the beans in the fresh waters of the Mukengeria River and let the beans dry in the sun on raised beds. The washing and sun drying of the coffee brings out subtle citrus flavors and a sweet aftertaste.
The Kenyan coffee will only be available while supplies last for the current harvest season. For more information, visit Cups' website or visit a location near you.
Kickoff Wine and Spirit Tasting at McDade's
In celebration of the upcoming football season, McDade's Wine & Spirits (1220 E. Northside Drive) is hosting a special kickoff wine-and-spirit tasting Friday, Aug. 28, from 3 to 7 p.m.
McDade's will offer four wines and four spirits at the event. The wines are Black Box Chardonnay, Pinot Evil Pinot Noir, Friends Red Blend and Ste. Michelle Dry Riesling. The spirits are Basil Hayden's Bourbon, Crown Hand Selected Barrel, Pinnacle Cucumber Vodka and Monopolowa Vodka.
Participants must be 21 or older. For more information, contact McDade's at 601-366-5676.
Drip Drop Hosts College Talent Show
Throughout September, Drip Drop Coffee Shop (100 E. Capitol St., Suite B) will host a weekly college talent show for students of Mississippi College School of Law, Belhaven University, Millsaps College and Jackson State University. The shows will take place Sept. 3, 10, 17 and 24, from 6 to 10 p.m. in front of Wasabi Sushi & bar (100 E. Capitol St., Suite 105).
The winner of each show will receive $100. Drip Drop house musician Baby Jan Smith, Jim McFadden of Kirkland Hair Studio (100 E. Capitol St., Suite 100) and Hugh Davis of High Def Performing Arts (1750 Ellis Ave., Suite 200) will be the judges.
To sign up, call Drip Drop at 601-398-2318 or Wasabi at 601-948-8808.
Broad Street Gets New Wireless Charging Stations
Broad Street Bakery, the first public space in Jackson to offer free Wi-Fi more than 10 years ago, has added a new benefit for wireless-using customers with the addition of Vessl wireless charging stations at the bakery. Customers can leave their driver's license with the cashier, take the charger to their table and then bring it back when finished.
Vessl chargers allow customers to charge their smartphone anywhere inside Broad Street and work with all major smartphones and many tablet devices. They also recharge mobile devices up to 30 percent faster than normal smartphone chargers.
For more information, contact Broad Street Bakery at 601-362-2900.